SINGAPORE: About 30,000 job seekers found work last year through the Adapt and Grow initiative designed to help Singaporeans affected by the economic slowdown and restructuring, said Prime Minister Lee Hsien Loong on Friday (Jan 11).
This was an increase from the 25,000 in 2017 – an "encouraging" figure that pointed to growing momentum in the Government's efforts to help Singaporeans grow their skills and adapt to changing job demands, Mr Lee told reporters after a visit to the Workforce Singapore's (WSG) Careers Connect centre located at the Lifelong Learning Institute in Paya Lebar.
Amid an ongoing restructuring of the economy and disruptive forces that have impacted the labour market, Mr Lee acknowledged that "many people are anxious" about what that means for their livelihoods and families.
Therefore, help, such as WSG and its array of programmes, is available for individuals given that the country cannot "avoid the changes that are happening".
"The way forward is to go with the change and therefore, become more productive, do better jobs and earn better pay," he stressed.
Mr Lee said he hoped his visit to the Lifelong Learning Institute, which is the "first significant visit" that he is making in 2019, will reinforce this "right signal".
This is because while the economy chalked up "high" numbers for growth and productivity levels over the past two years – indicating that the economy transformation is seeing progress – there remains uneven patterns across sectors.
For instance, domestic services sector lagged behind export-oriented industries such as manufacturing, he said.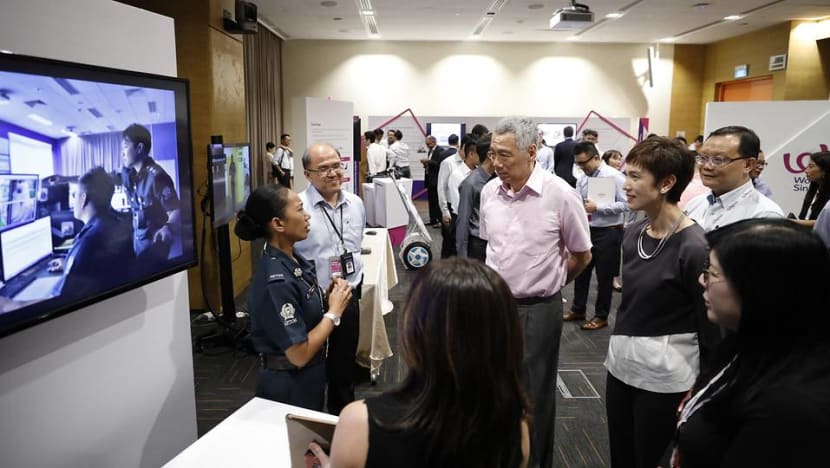 This came even as Singapore's gross domestic product (GDP) grew at 3.3 per cent and 3.6 per cent respectively for 2017 and 2018, while productivity hit 4.5 per cent in 2017.
There are also uncertainties when it comes to whether the local economy can continue to keep up its good performance, Mr Lee added.
In his New Year message, the prime minister had warned of major uncertainties in the global economy in 2019 amid growing trade conflicts, nervous financial markets and signs of slowing growth.
"These are high numbers but I'm not sure if we can sustain them," he said on Friday.
Therefore, Singapore's economic restructuring aimed at pushing up productivity and creating better jobs will likely remain a "long journey".
"Our economy has grown, our productivity has gone up, our workers' wages have gone up," Mr Lee said. "We have kept (unemployment) down and our employment rates have gone up for the old people and women. I think we have made a lot of progress."
"We are not done. I don't think we will ever be done," he said, when asked for his assessment of the country's restructuring efforts. "But 10 years from now, if we do our work right, we will be in a stronger position than we are today."
HELP FOR WORKERS AND BUSINESSES
During his near three-hour-long visit on Friday, Mr Lee spoke to job seekers at the career centre as well as those that have successfully found new jobs.
He also toured an exhibition which showcased WSG's efforts in partnering employers to help customise training programmes for workers as well as enable adoption of technology.
Noting that he had been planning to visit the Lifelong Learning Institute, the prime minister said: "I want to find out first-hand how are we helping people go from old jobs to new jobs, how are we helping people to train for new jobs and … meet people who were affected and who have made the journey."
One of them is Charles Chia, who approached WSG after losing his job in 2016.
He found a new job 10 months later as a new product integration engineer at global semiconductor test and assembly services provider UTAC Holdings, but the transition from the electronics cluster to the semiconductor field proved to be "overwhelming".
Fortunately, Mr Chia was placed under the Place and Train Professional Conversion Programme (PCP), which he said eased his career switch.
"There's a lot of soft skills that's transferable from my previous experience as a program management engineer to my new job," the 40-year-old told Channel NewsAsia. 
"But even though I'm still in the manufacturing sector, it's a different industry after all. So in terms of the relevant expertise, like tech knowledge and skillsets, I wasn't that well-equipped."
He added: "Through the PCP programme, I went through a very structured on-the-job training and mentoring, and I was able to slowly pick up the different sets of requirements to do my job."
Employers, such as home-grown apparel manufacturer Teo Garments, said they have also benefited from initiatives like the PCP. 
According to its managing director Wilson Teo, the company needed help in digitalising its manufacturing operations, as well as mapping out an e-commerce strategy for its infant and child wear brand OETEO.
The PCP programme helped to plug these talent needs, especially in new emerging areas like digitalisation.
"It is tough for businesses to retrain workers on their own, especially given that digital skills is a new domain. It's not that easy to find candidates with relevant skills and I can't train them myself too because this is a new area," said Mr Teo.
Over the past two years, the company has employed six candidates from the PCP programmes. One of them is a digital marketer whose prior experience in advertising proved to be a complementary skill.
Said Mr Teo: "PCP candidates have experience in other areas and this is very important especially for our business where there's a lot of multi-tasking. Their experiences have been very useful for us."