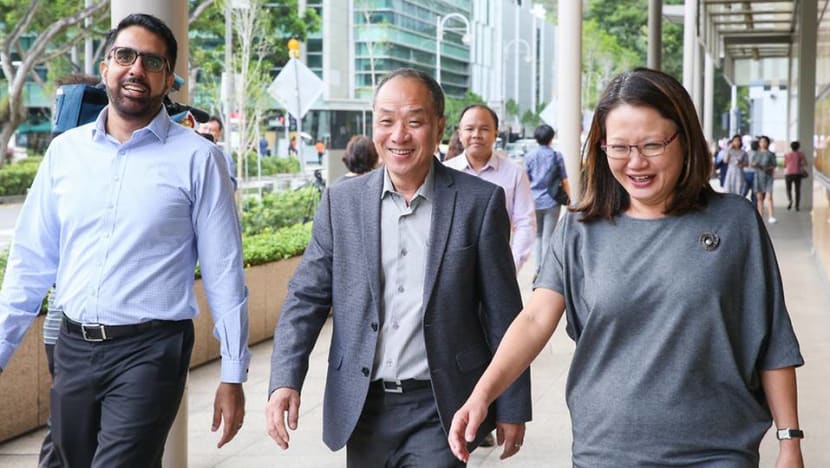 SINGAPORE: Three Workers' Party (WP) Members of Parliament embroiled in two civil suits over their alleged mismanagement of the Aljunied-Hougang Town Council (AHTC) made an appeal online for funds on Wednesday (Oct 24).
Former WP chief Low Thia Khiang, secretary-general Pritam Singh and chairman Sylvia Lim said on their website In Good Faith that they have paid for the legal expenses thus far using their personal savings and contributions from friends.
"We have not used any funds from the Workers' Party. The total we have paid to our own lawyers to date is close to S$600,000, covering the work done before the trial," they wrote on the website.
"The costs incurred so far have depleted our personal resources."
In response to media queries, WP's Non-Constituency MP Daniel Goh verified that the appeal for donations is legitimate.
"The website belongs to the three defendants and they initiated the appeal. It is not linked to WP," he said.
Mr Low, Ms Lim and Mr Singh are being sued by AHTC and Pasir Ris-Punggol Town Council for alleged breaches of fiduciary duties relating to the appointment of the managing agent for AHTC, FM Solutions and Services (FMSS). They have also been charged with making "improper" payments of more than S$33 million, mostly to FMSS.
The defendants have denied these allegations. Ms Lim and Mr Low have both given their testimonies in an ongoing trial that started on Oct 5 and Mr Singh is expected to take the stand on Thursday.
"We will fight the claims vigorously. If we lose the suits and are adjudged to pay large sums of money, and are unable to pay, we would face bankruptcy," they wrote on the website.
They added: "We need financial resources to fight the legal battle and to deal with the prospect of being made a bankrupt.
"We now appeal to the public for financial support."
They asked for contributions to be made through PayNow using a phone number they said was Ms Lim's "public line", via Internet fund transfers to a bank account, or as cheques made out to any of the three MPs.