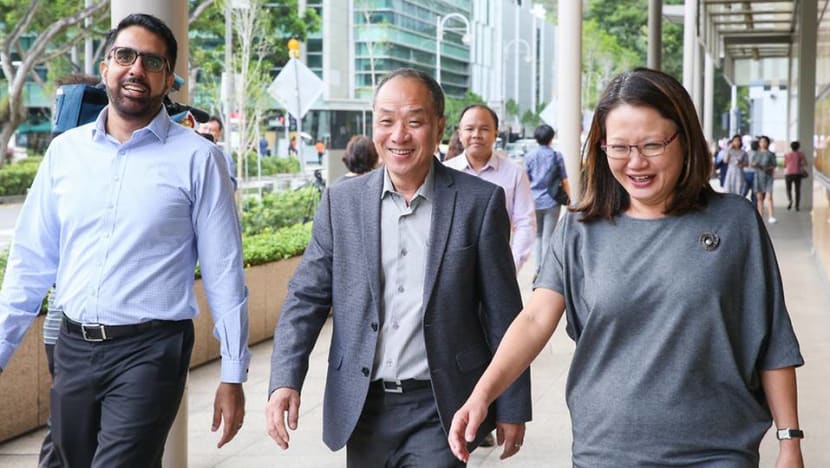 SINGAPORE: Workers' Party (WP) Members of Parliament Sylvia Lim, Low Thia Khiang and Pritam Singh have raised more than S$1 million in donations from the public, three days after launching an online appeal for funds to help pay the legal expenses in a civil lawsuit over their alleged mismanagement of the Aljunied-Hougang Town Council (AHTC).
The total amount raised as of 10am on Saturday (Oct 27) was S$1,008,802, the trio said in an update on their website In Good Faith.
"We are very touched by the incredible outpouring of support from the public … We are closing the appeal for now, as the amount raised substantially covers the legal fees required at this point in time," they wrote.
Mr Low, Ms Lim and Mr Singh are being sued by AHTC and Pasir Ris-Punggol Town Council for alleged breaches of fiduciary duties relating to the appointment of the managing agent for AHTC, FM Solutions and Services (FMSS). They have also been charged with making "improper" payments of more than S$33 million, mostly to FMSS.
The defendants have denied these allegations.
The three individuals launched the appeal for funds on Wednesday, saying that they had depleted their personal resources after paying their lawyers close to S$600,000 for work done before the trial.
"We need financial resources to fight the legal battle and to deal with the prospect of being made a bankrupt," they wrote then.
The WP said on Thursday that the appeal for funds was a private undertaking by the three individuals and did not involve the political party. 
In their update on Saturday, Mr Low, Ms Lim and Mr Singh wrote that they would provide updates via the website on how the funds were used.
"We thank you from the bottom of our hearts. The financial support is crucial but the moral support you have given us is incalculable," they said.