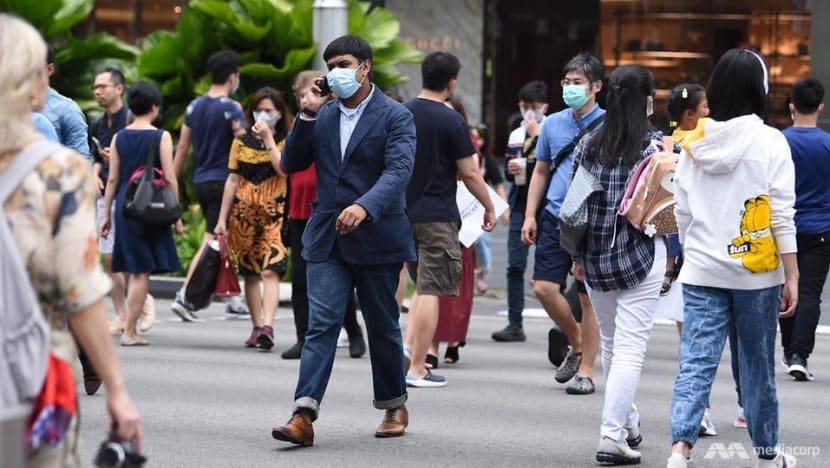 SINGAPORE: Two new cases of the Wuhan virus have been confirmed in Singapore, the Ministry of Health (MOH) said on Tuesday (Jan 28). 
The new cases bring the total number of people with the coronavirus in Singapore to seven. Both patients are Chinese nationals from Wuhan in Hubei province. 
A 56-year-old male arrived from Wuhan on Jan 19 and subsequently developed a cough on Jan 25. 
MOH said he then presented himself at Changi General Hospital on Jan 26 and tested positive for the virus the next day. 
The ministry said he stayed at his family home at Pasir Ris Grove before his hospital admission.
In a Facebook post, Senior Minister Teo Chee Hean said officers from the National Environment Agency (NEA) visited the condominium in Pasir Ris Grove and were working with its management to disinfect and clean common areas such as lifts, the playground and the gym. 
"They have also advised the occupants of the affected unit, who have disinfected their home," said Mr Teo, who is Member of Parliament for Pasir Ris-Punggol GRC. 
"The occupants are now under home quarantine and are required to stay at home and monitor their health," he added. 

On Wednesday, Mr Teo put up another Facebook post to say that he had visited several families in the block where the confirmed case was reported. 
"Neighbours were concerned but understanding," said Mr Teo, adding that they were also appreciative of efforts to ensure proper cleaning of common areas.  

The seventh patient to be confirmed with the Wuhan virus is a 35-year-old male, who arrived in Singapore on Jan 23. 
He developed symptoms on Jan 24 and went to Raffles Hospital, from where he was transferred to the National Centre for Infectious Diseases by private ambulance, MOH said. The man subsequently tested positive for coronavirus on Jan 27 at 11pm. 
Prior to his admission, he stayed at Marina Bay Sands, the Health Ministry added. MOH said all seven people who have been confirmed to have the virus are in stable condition.
MOH said the trend of infection among the population of Chinese nationals from Hubei in Singapore is accelerating. The ministry added that 95 per cent of confirmed cases in Chinese cities were recently in Hubei province.

This confirms the conclusion that the infection has spread most widely in the province, the ministry said.
MOH added that there is "no evidence of community spread in Singapore currently, but this presents a heightened risk to Singapore". 
As such, enhanced measures are being put in place to limit the risk that travellers from Hubei pose to Singapore. 

These include quarantine for recent travellers from Hubei already in Singapore who are assessed to be of higher risk.
Returning residents and long-term pass holders with travel history in Hubei or with Chinese passports issued in Hubei will also be quarantined. 

New visitors with recent travel history to Hubei within the last 14 days or holding Chinese passports issued in Hubei will not be allowed entry or transit through Singapore from noon on Wednesday. 

Minister for National Development Lawrence Wong, co-chair of a multi-ministry task force that was set up to deal with the Wuhan virus, said the Government has drawn plans covering all contingencies.
"These were measures that are part of our plans. And because of the escalating situation we have decided to activate them now,"  he said.
Mr Wong emphasised that there has been no community spread of the virus, but said Singaporeans have to be prepared for new updates by the day, or by the week.
"You never know how the situation can worsen. Of course we would all like it to stabilise and eventually for this to go away, as Severe Acute Respiratory Syndrome (SARS) did after a few months. We don't know what will happen, but we have to be psychologically prepared it can worsen," he said.
The deadly virus has killed more than 130 people in China so far, with more than 5,000 confirmed cases.

In an update on Tuesday, MOH said as of noon on Jan 28, 91 of the suspect cases have tested negative for the Wuhan coronavirus and seven have tested positive. 
Test results for the remaining 72 cases are pending. 

MOH also said it has identified 160 close contacts of seven confirmed cases. 
Of the 130 who are still in Singapore, 116 have been contacted and are being quarantined or isolated. Efforts are ongoing to contact the remaining 14 close contacts, the ministry added.
The Singapore Government on Monday announced a new set of measures designed to contain the virus, including enhanced temperature screening and compulsory leave of absence for students and teachers returning from China.
Singapore's first confirmed case was a 66-year-old Wuhan man who stayed at Shangri-La's Rasa Sentosa Resort and Spa. 
This was followed by the confirmed cases of the man's 37-year-old son and a 53-year-old woman from Wuhan.
On Sunday, MOH announced the fourth confirmed case of the Wuhan virus - a 36-year-old Chinese man from Wuhan who had stayed at Village Hotel Sentosa.
A fifth case was confirmed on Monday: A 56-year-old female Chinese woman from Wuhan who arrived in Singapore with her family on Jan 18.
Subscribe to our Telegram channel for the latest updates on the Wuhan virus outbreak: https://cna.asia/telegram