Singapore forms Wuhan virus ministerial task force, imported case 'inevitable': Gan Kim Yong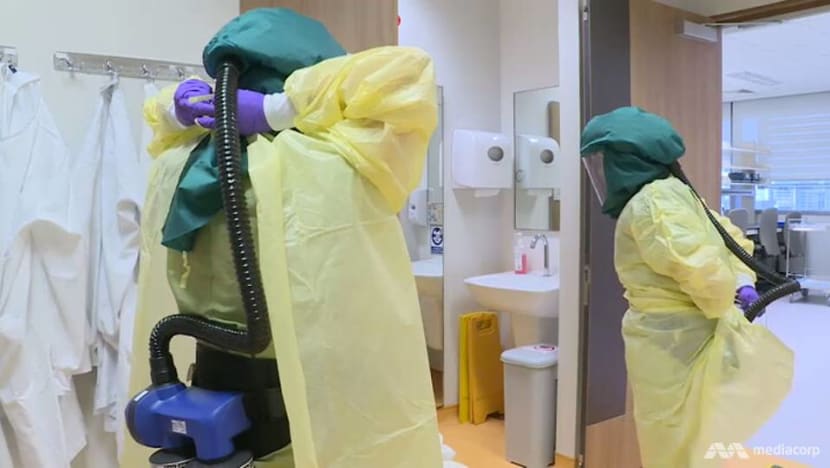 SINGAPORE: Health Minister Gan Kim Yong said on Wednesday (Jan 22) that he will co-chair a multi-ministerial task force to deal with the "eventuality" of the Wuhan virus on Singapore's shores. 
He will lead the committee with Minister for National Development Lawrence Wong. 
"It is inevitable that we will see an imported case sooner or later," said Mr Gan, adding that this is because of the evolving situation and the high volume of traffic in and out of Singapore. 
He was speaking to reporters after an update from the Ministry of Health (MOH) on the Wuhan virus situation. Three more suspected cases have been identified in Singapore and are undergoing testing.

The task force will have its first meeting on Thursday, Mr Gan said. He added that it is important for the Government to understand the situation because there are "a lot" of unknowns. 
"I think it's better for us to preempt some of these potential risks and do what we can to mitigate the risk," he said.
Measures introduced have to be proportional to the situation, but because the situation is evolving quickly, response has to be quick, he said.
"I think having a task force set up already will allow us to mount a very quick response, depending on the development of situation," he said.

When asked whether the Government foresees the Wuhan virus to be as serious as the SARS (Severe Acute Respiratory Syndrome) outbreak of the early 2000s, Mr Gan said that given that many features of the new coronavirus are unknown.
"It is better for us to take precautions, and to ensure that we protect Singaporeans," he said.

Mr Wong, who also spoke to reporters, said that he will play a coordinating role among ministries like the Ministry of Finance, Ministry of Education and Ministry of Manpower. 
While the lead agency is MOH, the situation goes beyond one agency, and requires a whole-of-government and even whole-of-Singapore response, Mr Wong said, adding that the task force was set up in consultation with Deputy Prime Minister Heng Swee Keat.
"I will be helping Minister Gan to coordinate the responses across different government agencies to ensure that we have an effective and strong response, and our assurance to Singaporeans is that we will spare no effort," he said. 

In a press release on Wednesday, the Health Ministry advised travellers to avoid non-essential travel to Wuhan.
"MOH reminded the public to continue to exercise caution and attention to personal hygiene when travelling to the rest of China," the release said. 

The Ministry of Social and Family Development (MSF) on Wednesday said it has issued advisories to preschools and student care centres, informing them on precautionary measures "to ensure the wellbeing of children and staff". 
The Early Childhood Development Agency (ECDA) has also reminded preschools to be vigilant in conducting health checks and to monitor the health of children and its employees, said MSF in the media release. 
"As infants and young children are more vulnerable to infectious diseases, preschool staff are advised to defer non-essential travel to Wuhan during this period," said the ministry. 

MSF added that it was also working closely with the community-based and residential facilities under its purview to make sure that "necessary precautionary measures are taken". 
Wuhan, the Chinese city at the centre of the SARS-like outbreak, has urged people to stay away as it strives to contain a disease that has spread across the country. 
The death toll from the virus has reached 17 while more than 400 people have now been infected in 13 provinces and municipalities in China.
The disease is spreading just as hundreds of millions of people are travelling in packed trains, planes and buses across China to gather with friends and family for the Chinese New Year holiday, which starts on Saturday. 

In a Facebook post, Mr Wong urged Singaporeans to do their part by being socially responsible.
"The Government will spare no effort to defend and protect Singapore and Singaporeans. We stand ready to marshall all our resources towards this end. But the most important defence is for us to be psychologically prepared," he said.

On Wednesday, Singapore began isolating all pneumonia patients who have been in China in recent weeks. Those with acute respiratory infection and have visited a hospital in China within 14 days before their symptoms surfaced will also be isolated. 
Previously, only patients with fever and pneumonia and who have travelled to Wuhan have been subject to isolation. 
Follow us on Telegram for the latest updates: https://cna.asia/telegram
Source: CNA/hs(mn)/mn/ad(hm)