Wuhan coronavirus: Licence fees waived for hotels, travel agents and tour guides, cleaning costs subsidised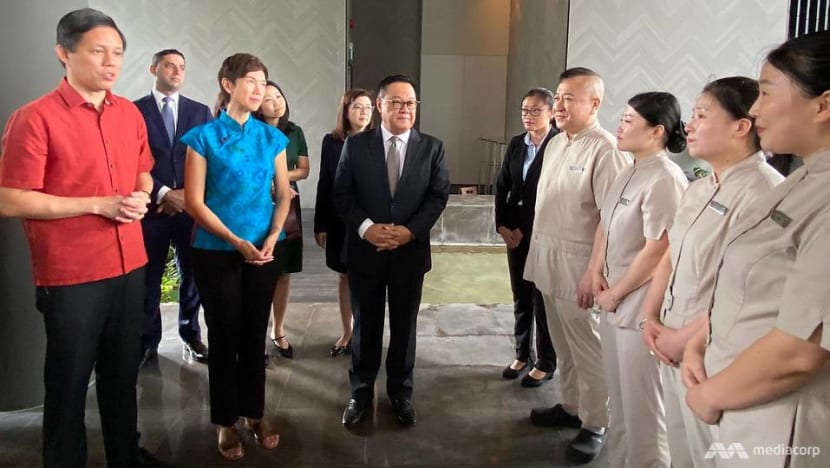 SINGAPORE: Licence fees for hotels, travel agents and tour guides will be waived as part of measures to help the tourism sector in Singapore that has been "directly affected" by the Wuhan coronavirus, the Singapore Tourism Board (STB) said on Sunday (Feb 2).
STB will also defray the cleaning costs of hotels that provided accommodation to the confirmed and suspected cases of the coronavirus infections.
These schemes are the first steps in a wider set of measures to help tourism businesses "mitigate the immediate impact" of the coronavirus outbreak, STB added.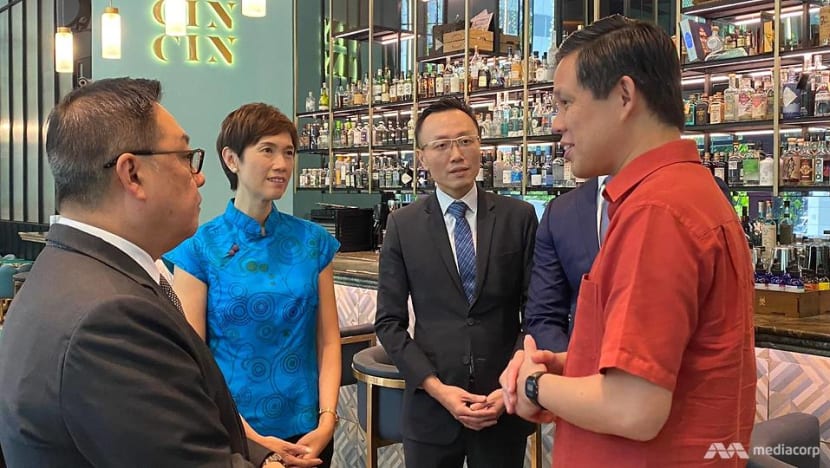 These measures come after feedback from trade associations and chambers, said Minister for Trade and Industry Chan Chun Sing.
He said at the Oasia Hotel Downtown: "I just want to assure the businesses and our workers that the survival of the businesses, and in the turn, the sustainability of the jobs for Singaporeans will be our primary focus."

Oasia Hotel Downtown was where Singapore's 13th confirmed case of the Wuhan virus stayed prior to being tested positive for the coronavirus. The 73-year-old arrived in Singapore on Jan 21 and developed symptoms seven days later.

Mr Chan told reporters that Singaporeans should be "mentally prepared" for the impact of the coronavirus to be "wider, deeper and longer" than the Severe Acute Respiratory Syndrome (SARS) outbreak in 2003.

This is because China's trade with Singapore and its GDP have both gone up four times since then.
"What we must be mentally prepared for is that the impact of any disruption to the Chinese economy, to the supply chains, is likely to be much wider, much deeper, because of the interlinkages with the global economy - certainly with the Singapore economy," he said.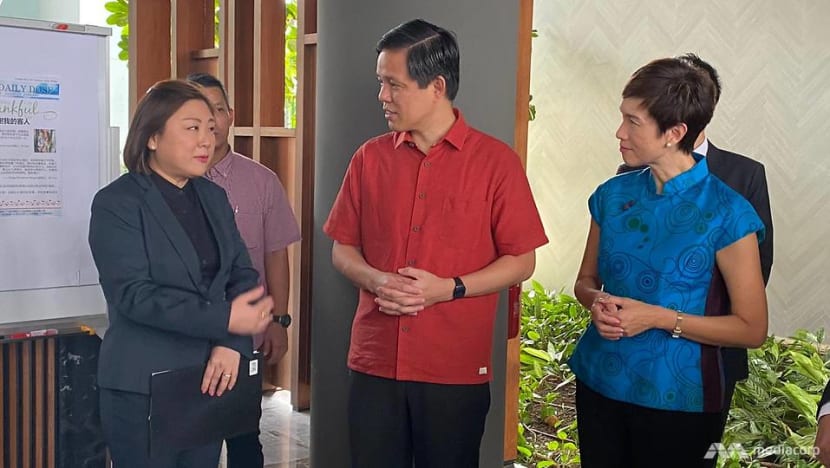 "The tourism sector has already been directly affected by the novel coronavirus, due to a decline in visitor arrivals, especially from China," STB said in its media release on Sunday.

Tourists from China account for about 20 per cent of Singapore's total international visitor arrivals, with about 3.6 million visitors to Singapore in 2019, the tourism board added.
Earlier this week, Minister for National Development Lawrence Wong announced wider travel restrictions to include all new visitors – regardless of nationality – with recent travel history to China. 
These visitors will also not be allowed to transit in Singapore, as part of restrictions that came into effect at 11.59pm on Saturday.  
Those with Chinese passports, with the exception of Singapore permanent residents (PRs) and long-term pass holders, will also not be allowed to enter Singapore. 
All forms of new visas to Chinese passport holders have been suspended, and Singapore's status as a visa-free transit facility has also been suspended for those with Chinese passports.
HELP WITH CLEANING AND LICENCE FEES
There have been 18 confirmed cases of the Wuhan coronavirus in Singapore. Of the 18, 16 are travellers from Wuhan and two are Singaporeans who were evacuated from Wuhan on Jan 30.
The tourism board said hotels that provided accommodation to suspected and confirmed cases will get help with their environmental cleaning and disinfection costs.
"STB will cover up to 50 per cent of third-party professional cleaning fees, capped at S$20,000 per establishment for hotels with confirmed cases; and S$10,000 per establishment for hotels with suspected cases," the board added.
This will be backdated to Jan 23, when the first confirmed case in Singapore was detected.
Licence fees for hotels for the rest of 2020 will also be waived by the Hotels Licensing Board. "Similarly, travel agents and tourist guides whose licences are due for renewal in 2020 will not need to pay to renew their licence fees," STB said.
Chief executive of STB Keith Tan said: "Over the past week, STB has been in close contact with our tourism partners to understand their difficulties and to assess the impact. 
"We know the situation is likely to persist, and recognise we need to move quickly to support the industry and build confidence. 
"STB will continue to identify targeted and effective ways to support the tourism industry so that they are well-positioned to grow swiftly once we start to recover."

Full details of the overall package of relief measures will be announced at Budget 2020 on Feb 18.
The Government is "keenly aware" that some front-line workers are "particularly worried" about coming into contact with unwell guests or customers, added Manpower Minister Josephine Teo.

She said that the Singapore National Employers Federation and the Singapore Business Federation will issue an advisory to employers with such workers.

"(The advisory will explain) what they can do to provide these workers with support. They need guidance on how to deal with unwell customers, and the advisory will give some specific suggestions," she said.
Workers who are placed on leave of absences are not unwell and should not be evicted by landlords, co-tenants or dormitory operators, added Mrs Teo.
There have been reports of such evictions, Communications and Information Minister S Iswaran had said on Friday.
"There's really no need to do so. It is completely unhelpful. And this is a time where we actually need to provide care and support to each other," Mrs Teo said.
She noted that placing workers on leave is an extra precaution to minimise social contact.

"We must always be mindful that even as we take these extra precautions, we should be supportive to the people who are affected by the leave of absence," she said.
Download our app or subscribe to our Telegram channel for the latest updates on the Wuhan virus outbreak: https://cna.asia/telegram