Now live-streaming: Millennial duo brings their fish shop online
Virtual wet markets seem to be trending and these thirty-somethings are on board, selling locally-caught seafood via Facebook to a captive audience. In partnership with Singtel.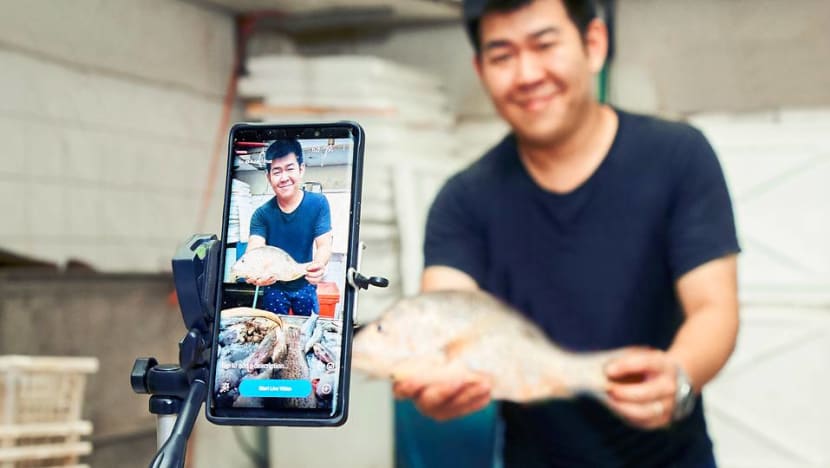 Every Friday evening, instead of unwinding to the latest Netflix series or heading to a bar — or partaking in some other activity often associated with the spirit of TGIF — Collin Chua, 31, and Ryan Goh, 34, can be found busying themselves in their fish shop at Tampines Street 44. Behind half-closed shutters, the owners of Seafood Boy, together with two staff, unload and weigh the bounty they've collected from local fishermen, and prepare to auction off the day's haul via a Facebook Live session.
They are not the only ones. Live auctions are a pretty ubiquitous phenomenon on Facebook these days. Countless merchants and retailers — both big and smaller brands — are tapping on the platform's live video broadcast feature to sell, promote or educate the masses about their products and offerings.
The premise, at least for Seafood Boy, is simple: Facebook users, many of whom are already followers of the company's page, participate in the weekly auctions by joining a live stream, which features Goh showcasing one fish (displayed on a bed of ice) at a time. Interested participants then bid for the fish in question in real-time by posting how much they are willing to pay for it on the video's comments section.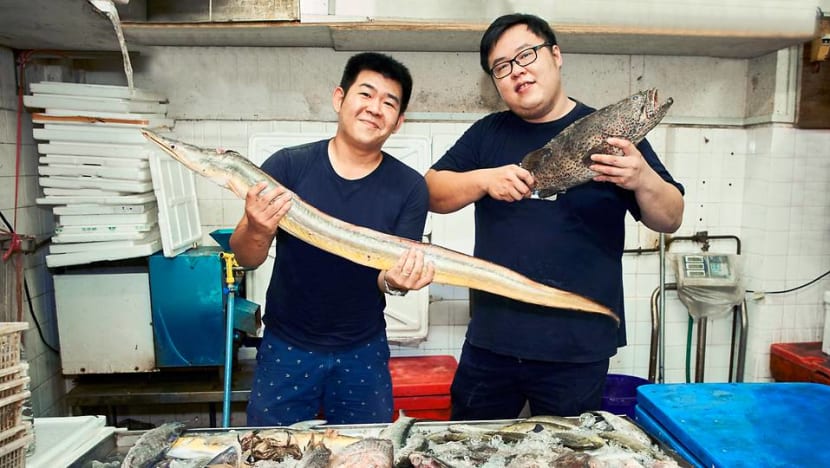 SINGAPORE FRESH
Following in the footsteps of his grandfather and father, who were both fishmongers, and taking over Seafood Boy, are a no-brainer for Chua. "But of course, I wanted to venture outside our comfort zone and take the business to the next level," he said.
That was when Chua, together with Goh, decided give the business a digital spin. They do however continue to run their physical shop for their longtime, more traditional customers. Their predecessors welcome this online expansion, as it helps widen Seafood Boy's customer base to include younger, more digital-savvy folks, who may not frequent wet markets but still enjoy fresh catch.
I wanted to venture outside our comfort zone and take the business to the next level.
But more than just boosting sales, Chua and Goh are also motivated to go online to further their goal of conserving Singapore's fishing scene. "A few years ago, there were hundreds of boats owned by Singaporeans that would go out and catch fish," explained Goh. "But now that number has dwindled." The duo hopes that by supporting local fishermen, they can keep the trade alive a little longer.
So just what are the varieties available in our waters? Besides the greasy grouper, common catch include crimson snapper, parrot fish, golden grouper and even eels. These are put on display at Seafood Boy's weekly online auctions, which use Facebook live technology to reach up to 100 customers at one go.

STAYING ON THE LINE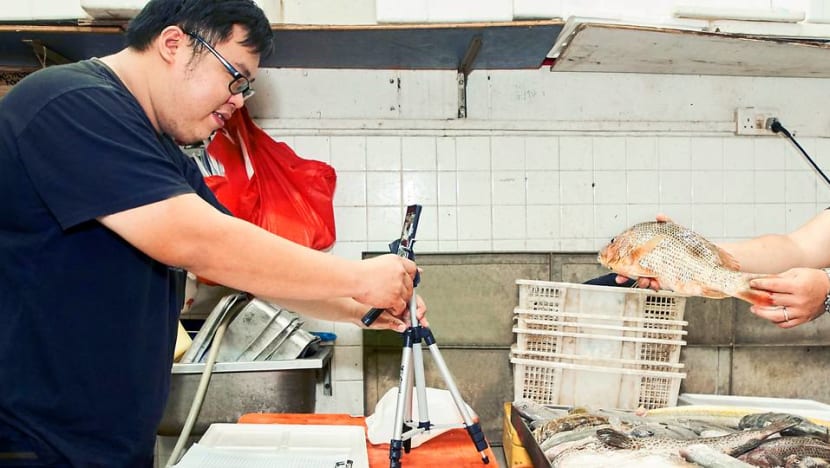 Fortunately, operators like Singtel — which provides the network Seafood Boy is on — offer some of the fastest surfing speeds up to 1.5Gbps, covering 99.9 per cent of Singapore with connectivity, even during peak periods. This applies not just to video streaming, but web surfing, file downloads and cloud computing.
For the auction to go off without a hitch, both buyers and sellers must operate on a fast and reliable internet network.
"If there is a lag or glitch, the experience would be very disruptive for us and also to the people tuning in to the live video," said Goh. "Should the connection be unreliable, some people might not have the patience to stick around, and this can affect sales."
Steady, good connection is paramount not just in the network, but also with their customers. Chua and Goh are aware of the short attention spans of an online audience, and the need to keep them constantly engaged. "We cannot keep doing the same thing and showcasing the same fish. We have to change things up every now and then to keep our offerings exciting," said Goh. "Showing off a colourful variety that looks attractive on a mobile screen, for example, sure helps sustain our customers' interest!"
Singtel has been named Asia's Best Mobile Carrier by Telecom Asia in 2018 and provides the fastest mobile network in Singapore, based on the Infocomm Media Development Authority (IMDA) IMconnected Report. Find out why streaming is better with Singtel here.