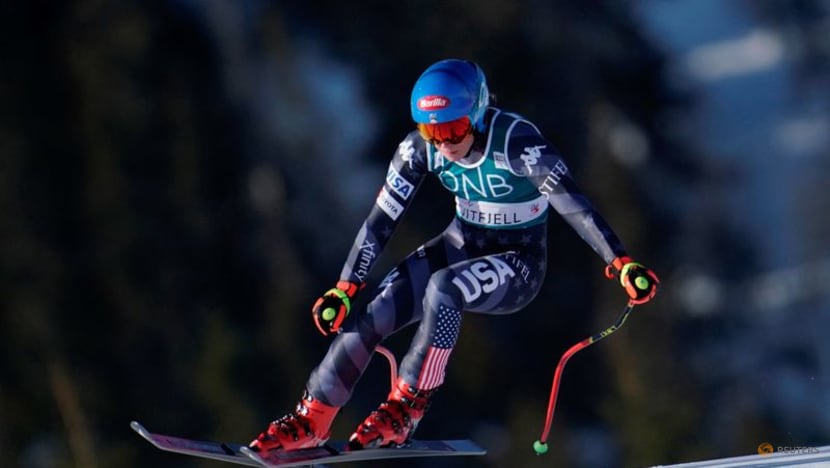 Mikaela Shiffrin secured her fifth overall women's World Cup title when she took fifth place in the downhill in Kvitfjell, Norway, on Saturday, but her wait for a record-equalling 86th World Cup win continues.
With seven races left, the American has an unassailable lead at the top of the standings over second-placed Lara Gut-Behrami of Switzerland, who finished in 21st place.
"It is pretty wild actually. You know the overall, or any season titles it's always strange to explain how it feels on the day you win it if you didn't win the race. But I have started to get used to the feeling," Shiffrin said.
Shiffrin, who won three consecutive overall World Cup titles from 2017-19 as well as one in 2022, is now one shy of the women's record held by Austrian Annemarie Moser-Proell, winner from 1971-75 and in 1979.
Another Austrian, Marcel Hirscher, holds the record for men and women with eight titles in a row from 2012-19.
Shiffrin is also one race win away from equalling Swedish men's slalom great Ingemar Stenmark's decades-old record of 86 World Cup victories. She broke the women's record of 82 World Cup wins in January.
"I mean actually it's really hard not to think about that because I am talking about it constantly, everybody is asking about it," Shiffrin added.
"I know it's what people actually want to know but my goal was really the overall Globe. That's what I talked about the whole beginning of the season. It was the big point for me, enough that I even talked about it in interviews.
"It (equalling and then over-taking the record) might not happen this season but I think I am skiing well enough that it could. It's a pretty amazing position to be in."
Shiffrin is next in action in the super-G on Sunday.
Home favourite Kajsa Vickhoff Lie won the race, becoming the first-ever Norwegian woman to win a World Cup downhill.
"It's amazing, it's indescribable but also it's extremely describable. It's just the best feeling ever," Vickhoff Lie said.
"I actually did it. I have no words for that."
Sofia Goggia finished 0.29 seconds behind Vickhoff Lie, with the Italian's second-placed finish earning her a fourth downhill crown.
"I'm super happy, a fourth downhill globe is not a few and three in the last three seasons, three-in-a-row it means a lot to me," Goggia said.
Olympic champion Corinne Suter came in third.