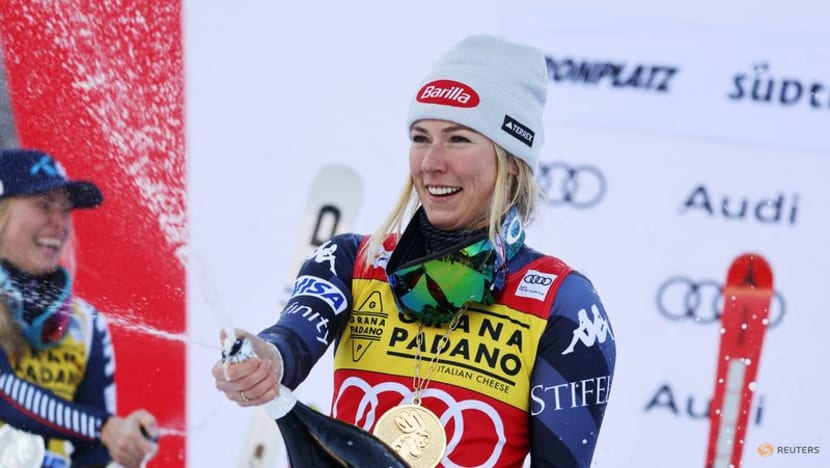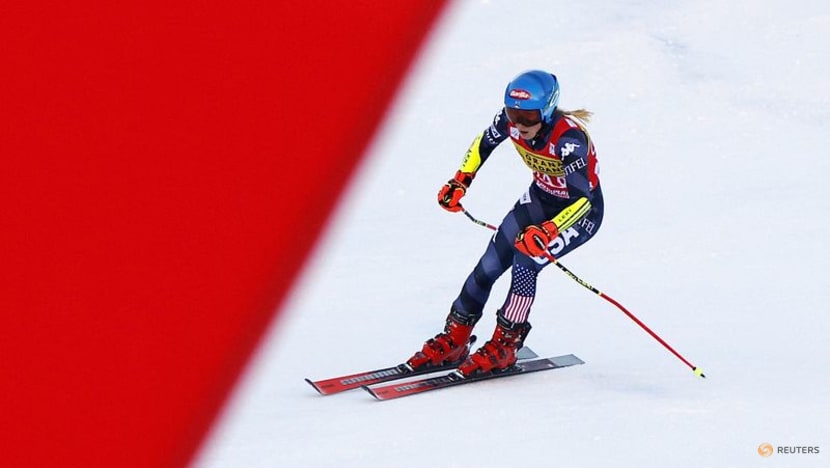 :Mikaela Shiffrin took a record-extending 84th women's Alpine skiing World Cup victory on Wednesday by completing a back-to-back giant slalom double in the Italian resort of Kronplatz.
Still fizzing from Tuesday when she moved clear of retired compatriot Lindsey Vonn with a record 83rd win, the unstoppable American kept her calm to dominate the first run and then triumph by a hefty 0.82 seconds.
Norway's Ragnhild Mowinckel was second and Sweden's Sara Hector finished third.
Shiffrin, 27, is now only two wins short of the absolute record of 86 wins racked up by Swedish men's slalom great Ingemar Stenmark in the 1970s and 1980s.
"I think between the second race in Kranjska Gora (Jan. 8, when she equalled Vonn's record) and these two races yesterday and today it's the best GS skiing I ever did," she said.
"I feel so good with it. I love the feeling I have on GS skis right now. It's a pleasure to race but for sure it's also stressful.
"After yesterday I was quite tired today and I'm on not the best moment in my monthly cycle so I'm like emotional and tired and I just want to sleep."
The victory took Shiffrin's career World Cup giant slalom tally to 19 wins, one short of retired Swiss great Vreni Schneider's women's record of 20 in the discipline.
She can tie Stenmark at the weekend if she wins two slaloms in the Czech resort of Spindleruv Mlyn but the record will have to wait until after the world championships on French snow in Courchevel and Meribel from Feb 6-18.
A fifth large crystal globe for the overall World Cup winner also looks inevitable, with Shiffrin now on 1,517 points to Swiss rival Lara Gut-Behrami's 906.
She had explained after Wednesday's first leg that breaking the record had made it hard to switch off.
"It was a really nice evening and so nice to see messages from people and so much support and so much excitement about the race. I was definitely looking a lot at all of that and then tried to go to bed and have a good night of sleep," she said.
"But I was awake at midnight, I was awake at three, then I was awake at five. I was hungry all night. I was like 'Oh my gosh, I'm a mess'."
The crowd at the finish area would not have recognised that description as she showed her rivals once again the depth of talent they are up against.
"At the end of the day it's really just two runs that are one minute long," she said.
"You always have energy to do that."
Shiffrin added that she did not have a goal in terms of numbers.
"This season I was thinking if I could get four wins, five wins, maybe six, then that's the most I could possibly get. And that would be a great season. And now it's nine I think. That's actually enough for me. I don't need more.
"But I really like skiing this way, so I'm going to keep pushing. When I'm in the start gate on the second run, I'm like 'I don't need it but I want it and so I'm going to try my best'. That's how I feel mentally."