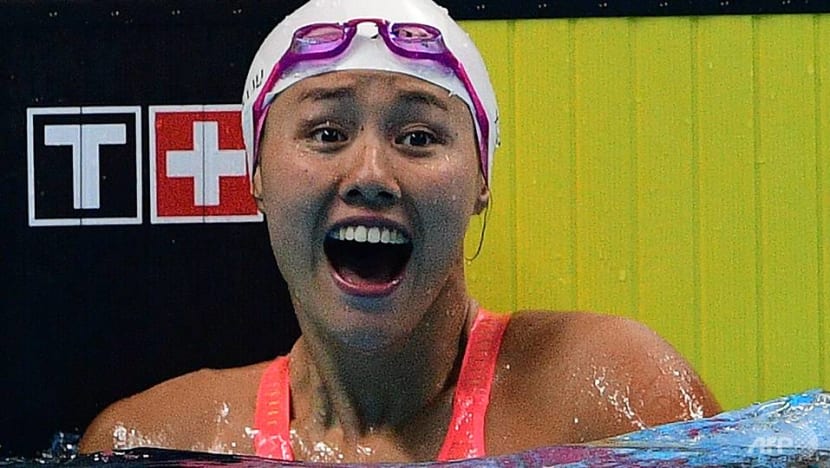 JAKARTA: China's Liu Xiang sparked an explosive night of Asian Games swimming by smashing the world record in the women's 50m backstroke on Tuesday (Aug 21).
The 21-year-old set the first new world best time at the six-day Jakarta meet, storming to gold in 26.98 - the first time a woman has broken the 27-second barrier.
Japan's Rikako Ikee crushed it in the women's 100m butterfly to win her fourth gold in three days, while Chinese giant Sun Yang scooped his third as the Asian rivals fought tooth and nail for supremacy of the pool.
Liu shaved eight hundredths off countrywoman Zhao Jing's previous bodysuit world best set in 2009.
"It was like a dream," gasped the former world bronze medallist. "I didn't expect to do that. I've improved my kick in the last few months and I think maybe that's what made the difference."
Fu Yuanhui, also of China, took silver in 27.68 with Japan's Natsumi Sakai claiming bronze.
Ikee complained of being "shattered" after the morning heats but showed no signs of fatigue in the final as she won in a Games record 56.30.
Her time was over a second clear of China's Zhang Yufei and comes just 10 days after Ikee claimed the Pan Pacific title in Tokyo.
"It was a perfect race plan and a great swim," said the 18-year-old, who has also won gold in the 50m fly, 100m free and the 4x100m free.
"I didn't think I had that in me after the heats. But I stayed calm and didn't panic," added Ikee, who returned to help Japan to silver in the women's 4x200m free.
"I hate losing so hopefully I can keep this winning run going until next year's world championships."
World champion Sun powered to gold in the 400m freestyle after winning the 200m and 800m titles earlier in the week, also equalling the record of eight Asian Games swimming gold medals held by compatriot Xu Yanwei.
GROUPIE FANS
The three-time Olympic gold medallist clocked a winning time of 3:42.92 - more than four seconds clear of Japan's Naito Ehara.
"It proves I'm still at the top of my game in the 400," said Sun, who triggered swoons from his flag-waving groupie fans when he waved in their direction.
"I've swum six races in three days but I hung in there. It's a nice reward for all the hard work."
No stranger to controversy, Sun has caused a flap with team sponsors this week by wearing a different tracksuit in Jakarta to the one worn by his team-mates.
Despite sporting the official white tracksuit on Tuesday, when asked to comment he growled: "I'm used to it by now -- it makes no difference to me!"
Japan's Yasuhiro Koseki beat countryman Ippei Watanabe by a fingertip to win 200m breaststroke gold.
Koseki went out strong and clung on to win in 2:07.81 - pipping world record holder Watanabe by one hundredth of a second.
"The last few metres were painful," winced Koseki. "I was hanging on for dear life - I thought I was going to croak."
Earlier, China's Yu Hexin secured gold in the men's 50m free in 22.11, from Japanese pair Katsumi Nakamura (22.20) and Shunichi Nakao (22.46).
Yui Ohashi hit back for Japan with a runaway victory in the women's 400m individual medley, winning in 4:34.58 from Korean Kim Seoyeong (4:37.43) and fellow Japanese Sakiko Shimizu (4:39.10).
China's women's 4x200m victory kept their noses in front of Japan with 11 gold medals to 10 for their fierce rivals.
Get the widest coverage of the 18th Asian Games (Aug 18 – Sep 2) from Jakarta and Palembang, Indonesia on Mediacorp. Go to toggle.sg/AsianGames2018 for details.