Football: Maradona reportedly taken to hospital
Diego Maradona was admitted to a hospital with signs of depression on Monday (Nov 2), three days after his 60th birthday.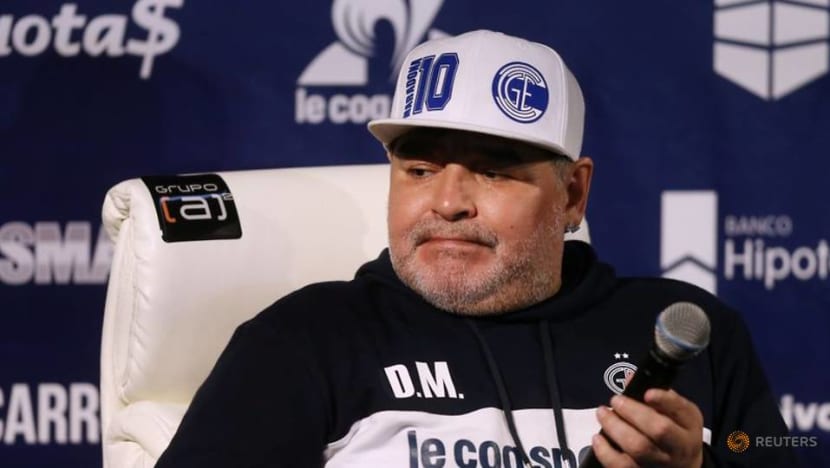 BUENOS AIRES: Diego Maradona was admitted to a hospital with signs of depression on Monday (Nov 2), three days after his 60th birthday.
A Maradona staffer told the Associated Press the former footballer's health condition is "not serious".
He requested anonymity because he was not authorised to speak about the issue.
"He has been very sad for a week, didn't want to eat," the staffer said, adding that Maradona's personal doctor Leopoldo Luque took the former footballer to a hospital so he could undergo health checks.
Maradona, 60, was reportedly taken to the Ipensa clinic in La Plata, about an hour from Buenos Aires.
He coaches the local club Gimnasia y Esgrima.
Local media reports said Maradona, who won the World Cup with Argentina in 1986 and is widely considered to be one of the greatest players of all time, was admitted to hospital to undergo tests as he was feeling poorly for some time and will be held under observation for "several days".
Maradona turned 60 last Friday, and showed up that night for Gimnasia's national championship match against Patronato, which his team won 3-0.
He left before the end of the first half, which raised questions about his health.
Luque denied Maradona contracted COVID-19, though Maradona had isolated at home for days after a person he works with showed symptoms of the disease.
"He did not have energy, the birthday was a factor that complicates it in some aspect," the doctor said.
"My idea is to have him hydrated for three days, see the evolution and adjust the medication. There is no emergency at all."
The former Boca Juniors, Barcelona and Napoli player is in a regular room at the clinic and Luque said Maradona can choose to go home whenever he wants.
Maradona has suffered frequent periods in hospital over the years, often due to the extravagant lifestyle that accompanied and followed his playing career.

The former Napoli striker was also admitted to hospital in January 2019 with internal bleeding in the stomach.
He also fell ill at the 2018 World Cup in Russia, where he was filmed passing out in an executive box at the game between Argentina and Nigeria.
Maradona was taken into hospital in 2004 with severe heart and respiratory problems linked to cocaine use.
He later underwent drug rehabilitation in Cuba and Argentina before a stomach-stapling operation in 2005 helped him lose weight.
In 2007, he checked himself into a clinic in Buenos Aires to help him overcome alcohol abuse problems.