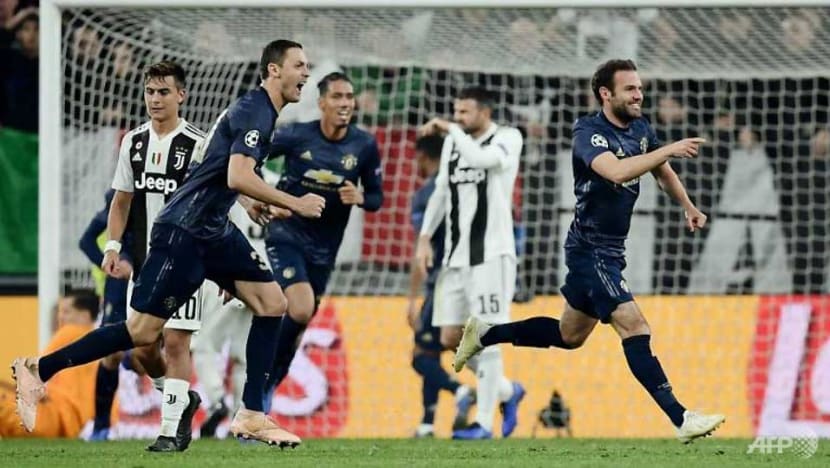 TURIN, Italy: Cristiano Ronaldo scored his first Champions League goal for Juventus but a stunning Manchester United comeback snatched a 2-1 win for the Premier League side to delay the Italians' passage to the last 16 on Wednesday (Nov 7).
Ronaldo struck with a magnificent first-time shot on 65 minutes to seemingly leave Juve on course for the knockout phase, but Juan Mata equalised with an 86th-minute free-kick before Leonardo Bonucci turned into his own net.
Delighted United manager Jose Mourinho walked out onto the pitch at the Allianz Stadium cupping his ears and winking towards the crowd after a win that gave his side seven points from four games - two points behind leaders Juventus with two games to play in Group H.
Juventus had proved wasteful with Sami Khedira and Paulo Dybala both hitting the woodwork before five-time Ballon d'Or winner Ronaldo brought the capacity 41,470 crowd to their feet when he picked up a Bonucci cross from just inside United's half.
"It's not that we spoiled his (Ronaldo) goal, but five minutes from the end this shouldn't have happened basically," said Juventus coach Massimiliano Allegri, whose side fell to their first defeat of the season.
"It leaves a bitter taste in the mouth, but we can't win all the time. It's better to have this type of stumble tonight.
"What really annoys me is losing a match we deserved to win, but at this stage it doesn't matter that much, we still have nine points."
It was the eighth goal this season for the 33-year-old who arrived from Real Madrid last summer in a deal estimated to cost €340 million in total over four years, on top of the 110 million-euro transfer fee.
It was also the 121st Champions League goal for Ronaldo who holds the all-time record in the European competition, and first since a 90th-minute penalty he scored for Real Madrid against Juventus in the quarter-final, second leg in Spain last April.
"We played a fantastic game, to our top level, as we cannot be any better than this," said Mourinho.
"A point or three would have changed little for Juventus, but three points makes a big difference to us."
UNITED RIDE LUCK
Allegri had urged his side to achieve their first aim of the season by reaching the last 16, and a draw would have been enough.
Manchester United were without injured forward Romelu Lukaku with Alexis Sanchez taking his place alongside Jesse Lingard and Anthony Martial.
Ronaldo came close after five minutes when Bonucci laid it on for Dybala on the edge of the box, with the Argentinian chipping it over for Ronaldo whose volley was blocked by Victor Lindelof.
But the hosts sprung into action on the half hour with a low Cuadrado cross taking a deflection off Matic's knee before David De Gea reacted superbly to keep the ball out.
Ronaldo then teed up Khedira but the German's low shot rattled the base of the post after 35 minutes.
United were then saved by the crossbar after the break with a curling Dybala effort flying over De Gea only to fail to dip enough.
But Ronaldo broke the deadlock when Bonucci curled over a pass which flew over Lindelof and straight into the path of Ronaldo who volleyed in past a helpless De Gea.
United though had the final word turning the game round in just four minutes, substitute Mata bending in a free-kick from the edge of the box to give the visitors a scarcely deserved equaliser.
Juve were then left in shock as Ashley Young's free-kick from the left bounced in off a combination of Bonucci and Alex Sandro after a frantic scramble in front of goal.
Mourinho conceded he had got carried away with his celebration.
"They insulted me for 90 minutes. I came here to do my job, nothing more," said the former Inter Milan coach.
"I didn't offend anyone at the end, I just made a gesture that I wanted to hear them louder. I probably shouldn't have done it, with a cool head I wouldn't have."
UEFA Champions League results:
Benfica (POR) 1 Ajax (NED) 1
Bayern Munich (GER) 2 AEK Athens (GRE) 0
Lyon (FRA) 2 Hoffenheim (GER) 2
Manchester City (ENG) 6 Shakhtar Donetsk (UKR) 0
CSKA Moscow (RUS) 1 Roma (ITA) 2
Viktoria Plzen (CZE) 0 Real Madrid (ESP) 5
Valencia (ESP) 3 Young Boys (SUI) 1
Juventus (ITA) 1 Manchester United (ENG) 2