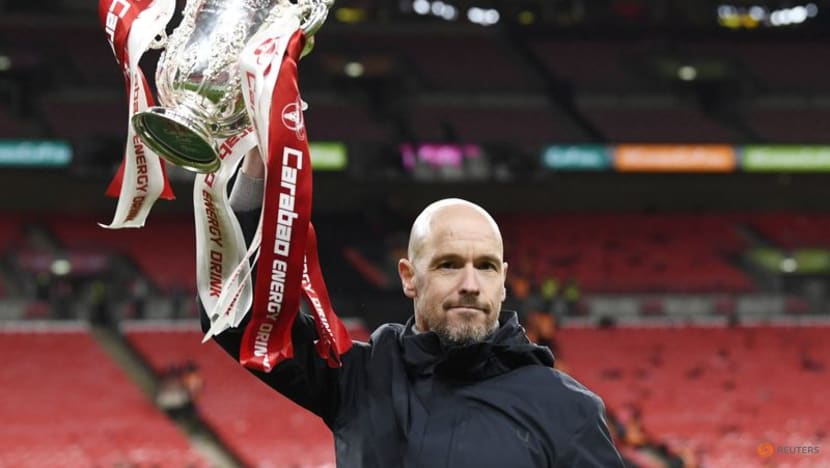 LONDON: Manchester United's near six-year trophy drought was almost overlooked in the build-up to the League Cup final as Newcastle United's wait for major silverware spanned nearly seven decades.
A clinical 2-0 victory at Wembley got the Old Trafford trophy cabinet door swinging open again though and, perhaps more importantly, gave a glimpse of greater things to come under astute Dutch manager Erik ten Hag.
The former Ajax Amsterdam boss arrived at Old Trafford with the club in a state of some turmoil on and off the pitch after finishing in sixth place in the Premier League last season.
But while there is little he can do about the future ownership of the 20-time English champions, which the American Glazer family have expressed a wish to sell, on the pitch he is shaping a team that looks capable of reviving the glory days.
A season that began under a Cristiano Ronaldo-shaped cloud has been transformed since the Portuguese talisman was finally shown the door after a toxic fall-out.
Ten Hag has quietly gone about his business, moulding an intelligent team that works tirelessly and is beginning to make winning a habit. A sixth League Cup triumph ended the club's longest wait for a trophy since 1983.
And the season could still get better. They are in the fifth round of the FA Cup, the last 16 of the Europa League after knocking out Barcelona in midweek and in third place in the Premier League and not out of the title race.
Ten Hag experienced some difficult early days. A 4-0 hammering at Brentford in August had some predicting he might be out before the leaves fell off the trees and then there was a humiliating 6-3 defeat at Manchester City.
Since that drubbing at The Etihad in early October, United have lost only twice in all competitions, forward Marcus Rashford has turned into a world-beater and the signing of midfielder Casemiro has looked like a stroke of genius.
A defence built around the terrier-like Lisandro Martinez and the cultured Raphael Varane snuffed out Newcastle on Sunday, winger Antony is becoming a fan favourite and even old-fashioned centre forward Wout Weghorst, a puzzling signing at the time, looks as though he would run through brick walls for Ten Hag.
It is not so much about individuals though. For Ten Hag the key is having every player pulling in the same direction.
"Winning a trophy shows that its worth to suffer and sacrifice to give every day your best," he told reporters. "If you want to prove something you have to win something.
"This shows we are on a good pathway and it's going in the right direction. We will be happy for 24 hours but we will not be satisfied because satisfaction leads to laziness."
Ten Hag said the confidence of Sunday's win could be a key for the rest of the season.
"I hope this is a big inspiration, but you can't look too far ahead," he said. "It's a big win this and we are really happy tonight. Winning breeds confidence as long as you don't go over the top and keep doing the right things."