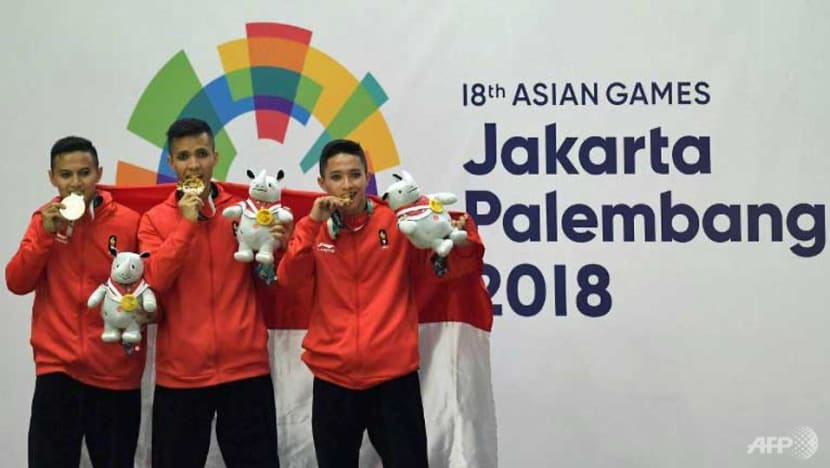 JAKARTA: Asian Games hosts Indonesia smashed their record gold medal haul Monday on a day tainted by referee controversy, while Son Heung-min's hopes of a military service reprieve were kept alive by a penalty deep in extra time.
Indonesia dominated its homegrown ancient martial art of pencak silat, scooping all eight gold medals as they doubled their previous best tally at the regional Olympics.
But there were controversial scenes as a Malaysian athlete withdrew in protest two seconds before the end of his final, accusing judges of bias.
Mohd Al-Jufferi Jamari, the 2016 world champion, punched a hole in the wall of the warm-up area, but officials told AFP he was unlikely to face sanctions.
There were also golds for Indonesia in both the men's and women's speed climbing events.
The successes brought their gold count for the day to 10, and their total for the Games to 22 - double their previous best, when they last hosted the regional Olympics in 1962.
And there was more reason to cheer for local fans in Jakarta as homegrown badminton star Jonatan Christie stormed into the men's final with a 21-15, 15-21, 21-19 victory over Kenta Nishimoto of Japan.
The world number 15, who began his route to the gold medal match by knocking out top-seeded Shi Yuqi of China, said he was "overwhelmed" by the support in badminton-mad Indonesia.
He will face off against Taiwan's Chou Tien-chen on Tuesday, who ended the dream run of fellow Indonesian shuttler Anthony Sinisuka Ginting in the other semi-final.
SON'S DREAM SURVIVES
Spurs forward Son Heung-min's bid to avoid career-threatening military service by winning gold came perilously close to disaster in South Korea's thrilling clash with a hotly tipped Uzbekistan side.
The South Koreans were trailing with 15 minutes to go before hat-trick hero Hwang Ui-jo equalised to force extra time. A late Hwang Hee-chan penalty was enough to send the Koreans through.
"I didn't see where he put the penalty but I'm proud of him," admitted the relieved Korea captain.
While Son's campaign continues, NBA star Jordan Clarkson is on his way home after his Philippines side lost out to South Korea in the basketball.
The remnants of Japan's basketball team - after four players caught buying sex were sent packing in disgrace - were also eliminated in a 93-67 thrashing by Iran.
A day after a joint Korean team, symbolising this year's rapprochement on the Korean peninsula, won their first Asian Games gold in the women's dragon boat racing, their men's team took a bronze in the 1,000m race.
And the South's weightlifters joined their Northern neighbours in celebration as Kim Kuk Hyang secured North Korea's eighth gold on the last day of the sport these Games - doubling their previous record.
"I think we have shown the world that the people of Korea are the greatest as one," Kim said.
Earlier, Iranian giant Behdad Salimikordasiabi claimed a hat-trick of Asiad golds in the men's superheavyweight class.
And farmer's son Neeraj Chopra skewered India's first-ever Asian Games javelin gold medal, despite recently learning of the death of his former coach.
In the medal standings China's haul continued to rocket, claiming eight more golds including wins in both men's and women's cycling team sprints.
The Asian Games giant now has 86 golds, followed by Japan on 43 and South Korea on 28.
Get the widest coverage of the 18th Asian Games (Aug 18 – Sep 2) from Jakarta and Palembang, Indonesia on Mediacorp. Go to toggle.sg/AsianGames2018 for details.