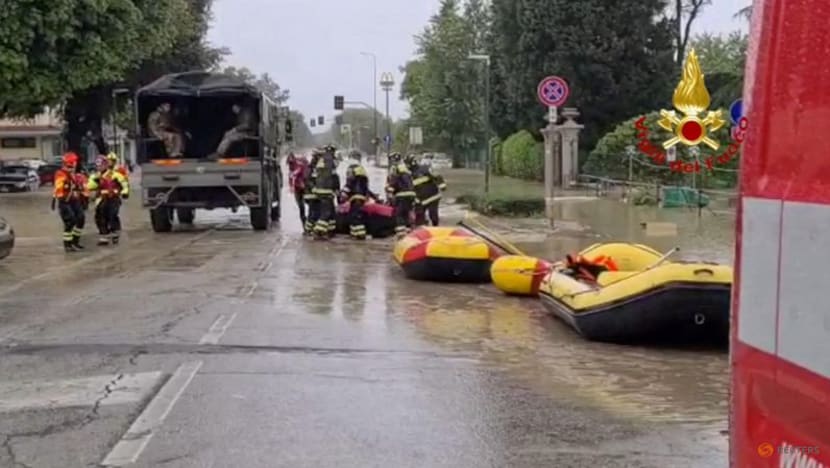 :Formula One and local organisers called off the Emilia Romagna Grand Prix at Imola on Wednesday as torrential rain and flooding caused devastation across the northern Italian region.
The sport said the event could not be held safely this weekend and the decision was "the right and responsible thing to do given the situation faced by the towns and cities in the region".
There is little scope for a rescheduling on a crowded calendar that initially had a record 24 events but dropped to 23 in January when China was cancelled and is now set to end up with 22.
Italy's civil protection agency had issued a red alert weather warning for the region on Monday and Transport Minister Matteo Salvini called on Wednesday for the race to be postponed "to concentrate all efforts on coping with the emergency".
Last year's race drew a weekend crowd of 129,000 and 64,000 on the Sunday.
The Imola circuit has the Santerno river flowing alongside it and while the paddock remained free of flooding, water levels were rising and surrounding areas including car parks and some access roads were waterlogged.
Officials said at least eight people had died and thousands were evacuated from their homes in towns and cities across the region.
Formula One chief executive Stefano Domenicali, who was born in Imola and worked at the track in his youth before joining Ferrari, said the decision not to proceed was correct.
"We need to ensure safety and not create extra burden for the authorities while they deal with this very awful situation," he said.
The race was scheduled to be the sixth round of the season and the first in Europe.
Ferrari joined other drivers and teams in supporting the cancellation.
"Even though it's our home race and therefore even more important to us, the main priority at the moment has to be the safety of all those living and working in the affected areas," the Italian team said in a statement.
Principal Fred Vasseur said it was "heartbreaking to see what people are going through".
Mercedes seven-times world champion Lewis Hamilton told fans on social media: "We wish we could be racing but this is definitely the right decision."
Formula One personnel were asked to leave the circuit on Tuesday amid fears of flooding. The paddock remained closed on Wednesday.
Cars were not due to be on track until Friday but advance team and technical personnel had arrived to set up the garages and hospitality.
The Grand Prix was scheduled to be the first triple header of the season, with Monaco and Spain following on successive weekends.
Red Bull have won every race so far and double world champion Max Verstappen is 14 points clear of team mate Sergio Perez.
"We support the decision... safety to all those involved and in the region is paramount and has to take priority," the team said on Twitter.