'This has been my dream since day one': Singapore's Constance Lien wins world title in jujitsu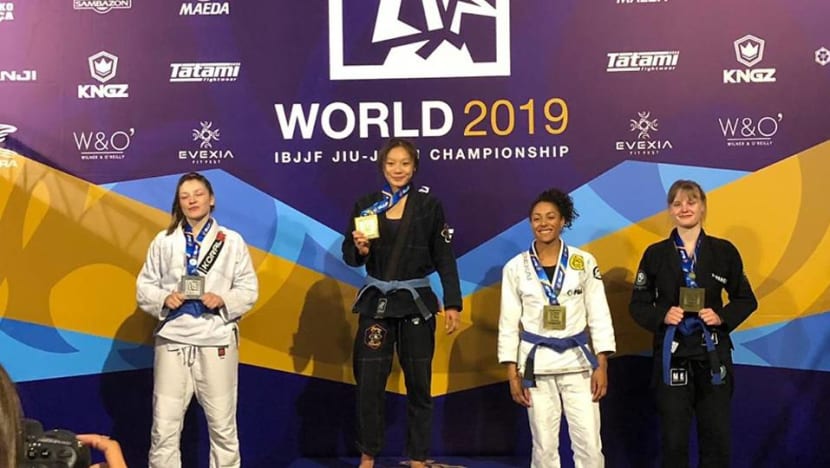 SINGAPORE: Sixty competitors, six rounds and at the end of it all, stood one winner - Singapore's Constance Lien.
As the time finally ticked down at the 2019 World IBJJF Jiu-Jitsu Championship in Long Beach, California on Thursday (May 30), the 19-year-old leapt up and let out a triumphant shriek.
Singapore's first Asian Games medallist in the sport of jujitsu had added a world title - a gold medal in the blue belt featherweight category - to the list of her burgeoning achievements.

"This has been my dream since day one," Lien told CNA. "I couldn't stop crying the moment I knew I won.
"It wasn't an easy fight - I was fighting the best of the best. It was an intimidating experience and I wouldn't have gotten so far without the support of my gym, my instructors, my training partners and my family and God.

"This support system means so much to me and it really made a difference."
Lien, a former swimmer, beat Jaine Da Silva Fragoso to win the title.
"It has been a long time coming," she said. "This has been my ultimate goal and now I'm moving on to the next level, the purple belt.

Lien had made history last year by clinching Singapore's first medal in the sport, a silver, at the Asian Games in Indonesia. She was also crowned Sportsgirl of the Year at the Singapore Sports Awards earlier this month.
Lien, who recently graduated from Temasek Polytechnic, has taken a year off her academic pursuits to focus on jujitsu. 
Next up for her will be the Ju-jitsu Asian Championship in Mongolia this July, which also serves as a qualifier for this year's SEA Games.

The youngster will be relishing the opportunity. She said: "Every competition is another challenge, you never know what will happen."