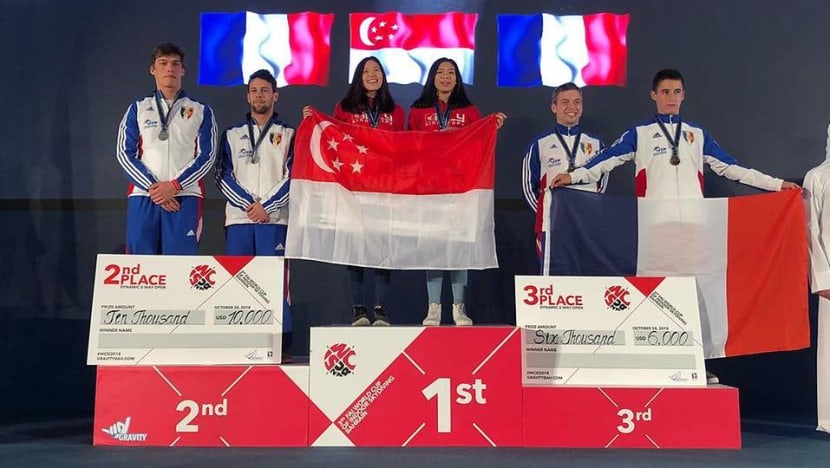 SINGAPORE: Indoor skydivers Kyra Poh, 16, and Choo Yi Xuan, 17, clinched their first gold at the Federation Aeronatique International (FAI) World Cup over the weekend, iFly Singapore said in a media release on Tuesday (Oct 30).
The duo, known as Team Firefly, beat 18 teams to win the world champion title for the dynamic two-way event, the media release said. 
Poh and Choo, the only female pairing at the meet, completed the speed round against France's Team Aerogravity in 56.83 seconds - just 0.77 seconds ahead of the French team.
The competition, held in Bahrain, ended on Sunday. 
Poh also won a silver medal in the Solo Freestyle Open Category after conceding 0.2 marks to Latvia's Tom Ivans, who won first place. She was the youngest competitor in the category and had qualified for the junior category for participants aged 18 years and below.
Choo came in second in the Solo Freestyle Junior Category after Kayleigh Wittenburg from the USA beat her with 0.4 marks. This is Choo's first attempt and win at a freestyle event in an international competition. 
"We felt super emotional when they raised our hands and announced us as the champion!" said Poh. "We trained for this competition on a very tight schedule as we just came back from the Asiania Championship prior to it.
"Our exams also took place during the same time as our training. We did our absolute best and are so happy that the effort paid off."
Choo said: "We'll work hard to retain our dynamic two-way title in the next world championship. Most importantly, we want to grow together as a team."
The duo have been involved in the sport as Team Firefly for eight years, iFly Singapore said. 
Last year, Poh was crowned junior freestyle champion at the FAI World Indoor Skydiving Championship 2017. She also bagged two gold medals at the 2017 Wind Games in Spain.