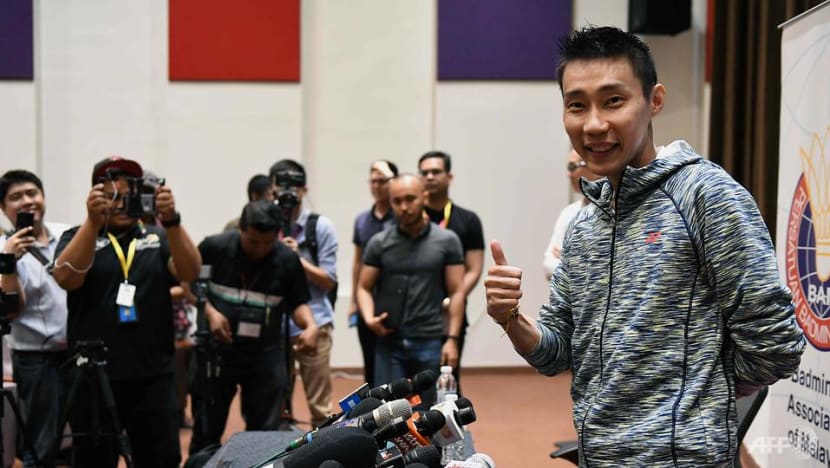 SINGAPORE: Malaysian badminton player Lee Chong Wei downplayed rumours of his retirement on Thursday (Nov 8), saying that he could resume training as early as next month after successful treatment for nose cancer.
The Badminton Association of Malaysia (BAM) announced in September that Lee had been diagnosed with early stage nose cancer and was seeking treatment in Taiwan. 
On Thursday, the 36-year-old said that his cancer had gone into remission and that he would "slowly" return to the court in December.
He is also targeting a competitive comeback at the All England Open in March.
"I finished all my treatment ... and have recovered very well," a healthy-looking Lee told a press conference in Kuala Lumpur.
"I want to come back to court," he said, adding: "As of now, I am not retiring."
The three-time Olympic silver medallist was making his first public appearance since his shock diagnosis was announced in September.
Lee, who returned from treatment in Taiwan last month, said it was his "dream" to play in the Tokyo 2020 Olympics, which would be his fifth Summer Games.
"I think qualify (for the Tokyo Olympics) should be no problem for me," he said, but added that his health was his current priority.
"I love badminton. I just try my very best and I'll come back soon," he said.
The player however conceded that if his health does not improve enough, he may have to hang up his racquet: "If my condition is very bad, then I think it's time I stop. Now I don't know my condition right? I must go back to court first."
TOLL OF THE DISEASE
The player said he was relieved after doctors confirmed he was cancer-free following 33 treatment sessions in Taiwan, and voiced his gratitude to his fans and family.
"Thank you to all fans, my family and the association for praying for my good health as well as supporting and inspiring me, especially when I was going through a difficult patch to combat cancer," he said.
The father of two said that when he found out about the illness, "I was crying for a week, couldn't eat, couldn't sleep".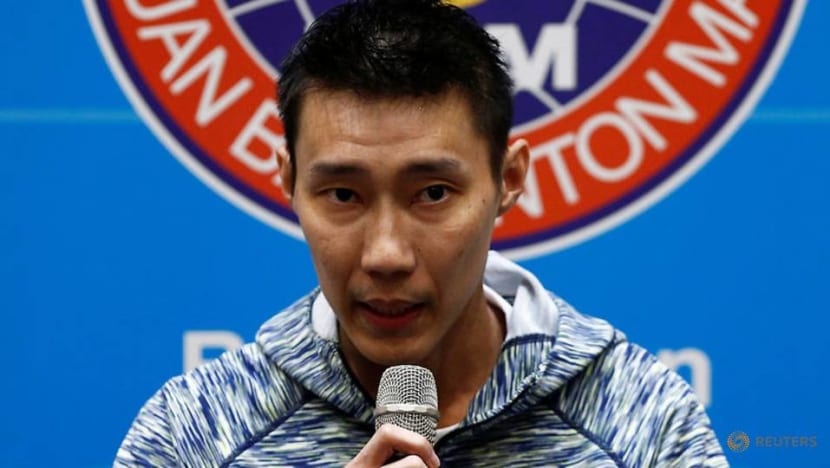 "I began examination after experiencing symptoms of breathing difficulty and coughing blood, but when I found it was positive for cancer, I was devastated, I could only cry and my mind went blank," said Lee.
On the advice of his doctors he travelled to Taiwan for treatment, during which he lost 5kg.
"In the first two weeks in Taiwan, I was able to withstand the treatment but by the third week, the proton therapy was getting increasingly difficult for me … It was very painful on my entire body especially the mouth and neck.
"At that time, I could not talk or eat and only drank milk, I was great pain each time I tried to swallow something, in fact my neck had already darkened due to the treatment," said Lee.
"This is the toughest period of my life," Lee added. "But I had the support of my loved ones to continue fighting."
Lee said that he underwent more than 30 sessions of treatment under the care of seven doctors. He said they have since given him a clean bill of health, and that he had regained 3kg since coming home.
"I DO NOT WANT TO STOP"
Lee earlier pulled out of two major tournaments due to poor health. He had been advised by his doctor to take a rest and undergo treatment after suffering a respiratory-related disorder, BAM said in July.
Missing the World Championships in July and August was a particular blow for the former world No 1 as it is one of the major titles missing from his trophy cabinet.
Lee's unsuccessful attempts to capture Malaysia's first-ever Olympic gold medal at three consecutive editions of the Games were followed avidly back home, as was his long-running rivalry with Chinese superstar Lin Dan.
His last shot at Olympic gold at Rio 2016 ended in failure when the Malaysian lost to China's Chen Long in a nail-biting final.
Lee had previously said Rio would be his last Olympics, but on Thursday he said he still has his sights set on his coveted Olympic gold, although he will be 38 by the time the next Games comes around in Tokyo. 
"I do not want to stop. The Olympic gold has always been my dream. What's the use of playing in the Olympics if one wants to lose?" he said. "Obviously, everybody wants the Olympic gold medal."
Lee had fought his way back to the top of the rankings after returning from a doping ban in 2015.
He tested positive for a forbidden anti-inflammatory drug at the 2014 world championships and many feared it would end his career, but he bounced back strongly after authorities accepted he took the drug inadvertently.
Additional reporting by Sumisha Naidu. 
Source: CNA/afp/na/zl(ra)