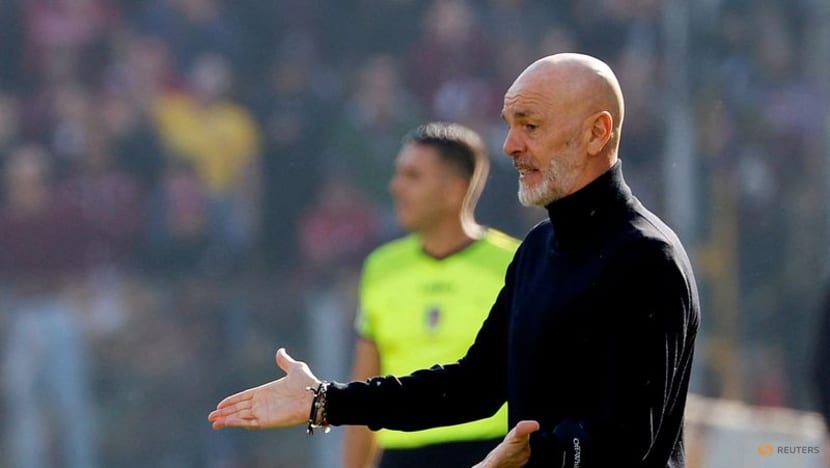 AC Milan need to improve upon their recent performances and raise their level when they visit a "confident" Lecce side in Saturday's Serie A game, coach Stefano Pioli said.
Champions Milan are third in the standings on 37 points, level with second-placed Juventus and seven points behind leaders Napoli, who face each other later on Friday.
Lecce are in 11th place following a five-game unbeaten run.
"It will be a very difficult match because they are very confident, they are doing well on the pitch, mentally and physically," Pioli told reporters on Friday.
Milan come into the game on the back of a 1-0 Coppa Italia defeat to Torino and a 2-2 league draw with AS Roma. Milan had more shots on target than their opponents in both matches, but were unable to put away the opportunities that fell their way.
"We are disappointed and regret that we didn't get the results we wanted in both matches, in both games we were in control...," Pioli said.
"Attention, determination and quality are the factors that must lead us to win these games. We lacked clarity, we were frantic, shooting a lot and hitting the target little.
"We have to raise the level of our performance from the point of view of technical quality and decision making."
Pioli added that he was so frustrated after their defeat to Torino that he had wanted his players to sleep at Milan's Milanello training ground so he could discuss their failings in the match.
"I saw will and determination in the players ... I saw a desire to do something more and to learn from our mistakes," Pioli said.
"I asked the team to sleep at Milanello after the defeat against Torino because when there's something wrong I find it hard to wait for the next day, I preferred to immediately explain the things we have to do better."
Pioli said Divock Origi and Simon Kjaer are available to face Lecce after injury, adding that winger Ante Rebic, who missed their last three games due to a muscle injury, could be fit in time for their Suppercoppa final against rivals Inter in Saudi Arabia next week.