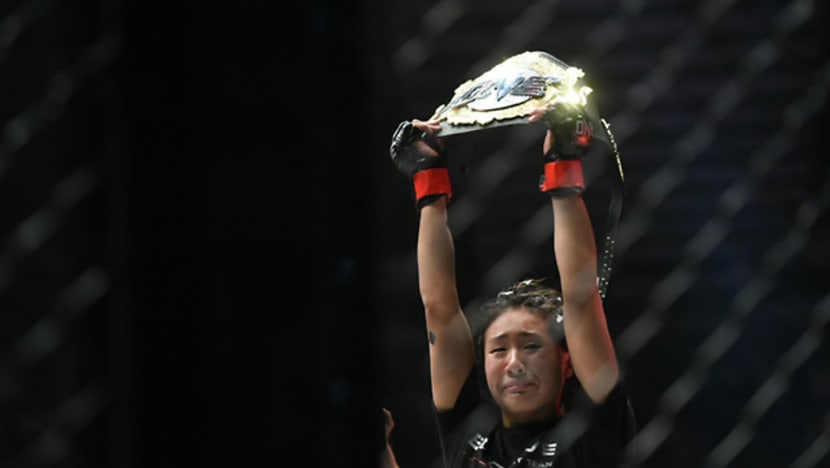 SINGAPORE: Mixed martial arts (MMA) star Angela Lee could potentially lose her undefeated record when she faces China's Xiong Jing Nan for the strawweight title (up to 57kg) next month, ONE Championship founder and chairman Chatri Sityodtong said on Thursday (Oct 18). 
Lee has been ONE's atomweight (up to 52kg) champion since May 2016, but is vying to become the first female MMA fighter world champion across two divisions by snatching Xiong's strawweight title.
The pair will headline ONE Championship's Heart of the Lion event at the Singapore Indoor Stadium on Nov 9. 
Speaking at a global conference call on the upcoming event, Sityodtong said: "Angela Lee is facing the biggest challenge of her life. I actually don't know why Angela is doing this, moving up a weight class to fight a bigger, stronger world champion with knockout power.
"But this going to be an explosive fight. I predict this fight is going to end in one or two rounds. It could be Angela's first potential loss, it's a high stakes game. I know she's going to come prepared and I know Jing Nan is going to come prepared but this is a world champion fight," added the MMA promotion's supremo. 
Lee has nine wins to her name with zero losses, while Xiong has 15 wins and a defeat. Sityodtong highlighted that he regarded Lee as a "heavy underdog" for this fight because she is facing a "very, very dangerous" opponent but does not reject the possibility of her upsetting the odds. 
"If you guys remember, she became the youngest world champion. So she's not one to shy away from challenges. But let's be very clear, she's up against a more experienced opponent, a stronger opponent with more power. I think Angela is risking it all in this fight," he added. 
Lee, who was also present at the press conference, said she was looking to make a statement in the strawweight division, and promised "fireworks" at the Singapore Indoor Stadium. 
"I have a lot of respect for Xiong, I think she's a heavy hitter, and she's working very hard to rub off the rest of her game ... But for this fight, this has been by far the best preparation that I've had in my entire career," said the 22-year-old. 
"My team and I have been working very hard in all areas to get me ready for this match and I've just been counting down the days so I look forward to shocking the world and taking that second world title," added the Hawaii-based fighter. 

OFFER FROM ONE WAS TOO GOOD TO TURN DOWN: EDDIE ALVAREZ   
Also present in the conference was ONE's latest signing and former Ultimate Fighting Championship (UFC) and Bellator lightweight champion Eddie Alvarez. 
The American is coming off an eight-fight stint in the UFC, with his title win against Rafael dos Anjos in 2016 a key highlight. He lost the title to Conor McGregor in the next fight. 
When asked about his move, Alvarez said UFC "did a good job" in getting him to stay "considering the average pay of UFC athletes" but the offer from ONE was too good to turn down.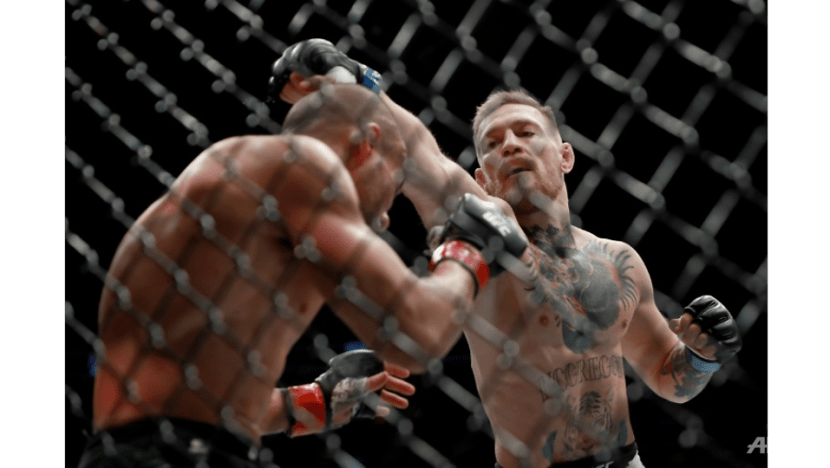 "(UFC) did their best to keep me. But there's a certain model, they pay a certain amount for certain fighters for certain reasons. So everybody is a different case. It is what it is. No harm, no foul. But it is business first with these promotions and ONE looked out for me, looked out for my family, they understood my wants and my needs, and I think its important at this point to return the favour," said the 34-year-old. 
Alvarez is eyeing the ONE lightweight title, to complete the achievement of winning major titles in the three largest MMA promotions. 
"Its something new for me and something that I don't have ... If I were to retire and there was an organisation out there that was the best in the world and people come up to me and say 'Yea but you didn't win the ONE world title' then that will bother me," he said. 
"I'm going to save myself the bother and fly to Asia and take on the best lightweights there, and win that world title," he added.