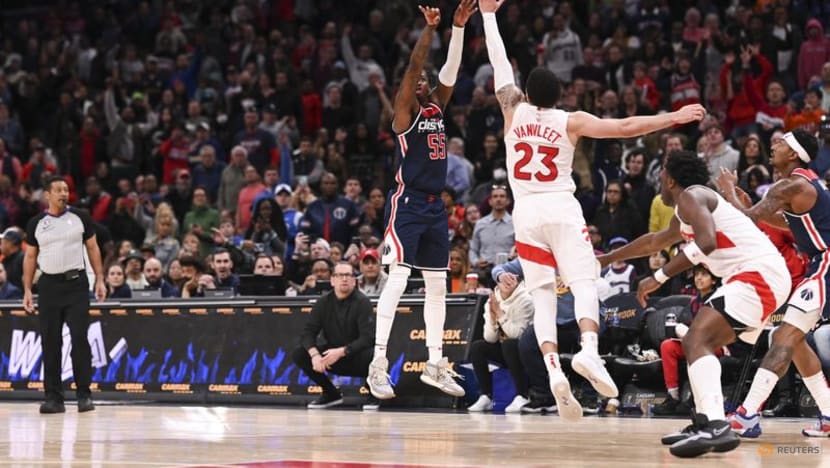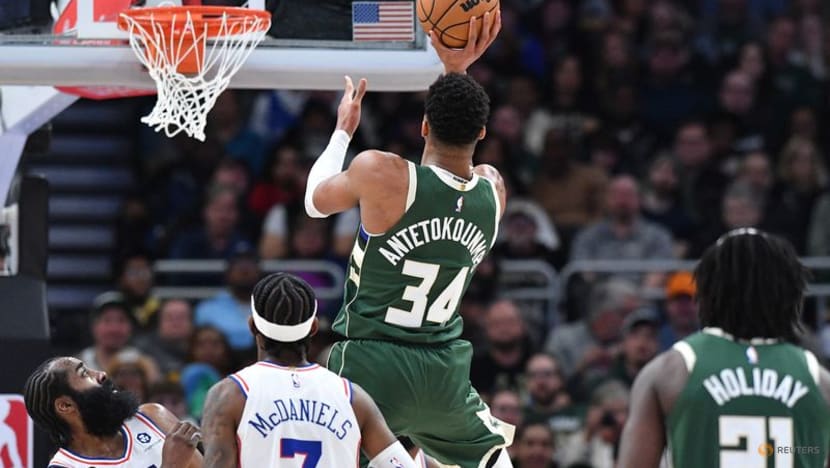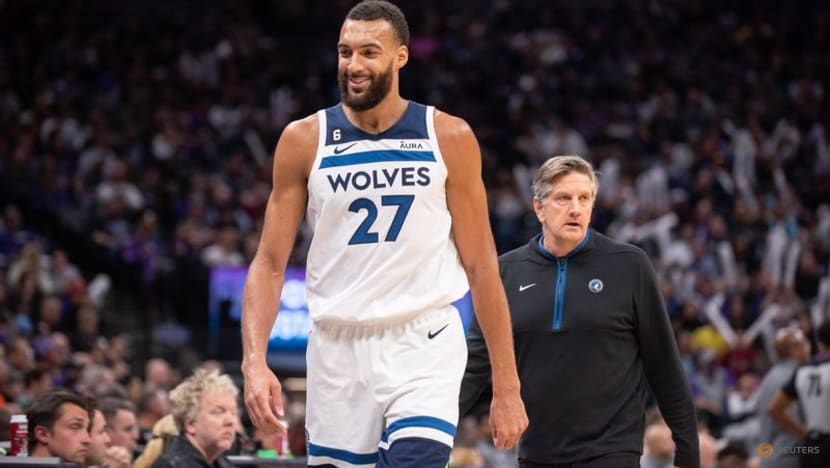 James Harden had 38 points, nine rebounds and 10 assists as the visiting Philadelphia 76ers rallied from an 18-point deficit to snap the Milwaukee Bucks' 16-game winning streak with a 133-130 victory on Saturday.
Joel Embiid tallied 31 points and 10 assists and Tyrese Maxey scored 26 points for Philadelphia, which outscored Milwaukee 48-31 in the fourth quarter. Giannis Antetokounmpo led the Bucks with 34 points and 13 rebounds, Brook Lopez scored 26 points and Jrue Holiday added 26 points and 13 assists. Grayson Allen made six 3-pointers and finished with 20 points, all in the third quarter.
Milwaukee led by 18 in the third quarter before Philadelphia used a 23-9 run to tie the game at 108 midway through the final period.
After Antetokounmpo converted two foul shots with 1:43 remaining to put the Bucks ahead 125-121, Harden and Embiid hit consecutive 3-pointers to give Philadelphia its first lead since the second quarter. Maxey made two free throws to extend Philadelphia's lead to four with 25 seconds left, and the Sixers converted their final four foul shots to seal the comeback win.
Timberwolves 138, Kings 134
Anthony Edwards scored a team-high 27 points and answered Sacramento threats with two critical hoops in the final two minutes, allowing visiting Minnesota to hold off the Kings.
After Rudy Gobert and De'Aaron Fox traded hoops, Edwards came through with the first of his big buckets, a layup with 1:51 to go that became a three-point play when he was fouled by Kevin Huerter. The Kings immediately countered, this time on a Domantas Sabonis layup to get within two, and the hosts had chances to tie and go ahead. But Fox couldn't connect on a driving layup with 57 seconds left and, after an offensive rebound, Harrison Barnes on a 3-pointer five seconds later.
Edwards then put the Timberwolves in command at 136-132 with an interior basket with 33 seconds remaining. Gobert notched a 13-point, 14-rebound double-double for the visitors. Drilling six of his nine 3-point attempts, Huerter had a game-high 29 points for the Kings, who saw a five-game winning streak come to an end.
Raptors 116, Wizards 109 (OT)
Fred VanVleet made two 3-pointers in overtime and finished with 25 points - adding 10 assists - as visiting Toronto defeated Washington.
Gary Trent Jr. scored 26 points off the bench for the Raptors, who split the two-game set in Washington. Kristaps Porzingis recorded 22 points and 11 rebounds for the Wizards, who committed 24 turnovers. Bradley Beal added 21 points and 10 assists.
Kyle Kuzma made two free throws with 1:00 to play in overtime to cut Toronto's lead to one. But VanVleet answered with his second 3-pointer of overtime. Trent's jumper had Toronto ahead by five with 2:43 left in regulation. Porzingis answered with a dunk and Delon Wright's 3-pointer tied the game at 105 with 30.1 seconds to play to force the extra period.
Cavaliers 114, Pistons 90
Darius Garland collected 21 points and seven assists and Donovan Mitchell added 20 points to fuel host Cleveland to a victory over Detroit.
Garland made 8 of 11 shots from the floor - including 5 of 6 from 3-point range - to help the Cavaliers complete a four-game season sweep of the Pistons. Jarrett Allen scored 15 points while joining Mitchell in playing their 400th career games. Cleveland's lead ballooned to 105-70 after Evan Mobley, Ricky Rubio and Danny Green each scored three points to begin the fourth quarter. The Cavaliers were not seriously threatened the rest of the way.
Marvin Bagley III collected 20 points and 13 rebounds and Hamidou Diallo added 14 points for the Pistons. Detroit played without leading scorer Bojan Bogdanovic (bilateral Achilles tendinopathy). Bogdanovic is averaging 21.6 points per game this season.
Heat 117, Hawks 109
Bam Adebayo had 30 points and 11 rebounds to lead Miami to a win, expanding its lead over Atlanta in the Eastern Conference playoff race.
Miami also got 20 points from Tyler Herro, who made three of the team's 13 3-point baskets. He added six rebounds and five assists. Jimmy Butler and Caleb Martin both scored 15 points, and Butler added 11 rebounds and seven assists. The Heat remain in seventh place in the Eastern Conference and stretched their lead over eighth-place Atlanta to 1 1/2 games.
Atlanta was led by Saddiq Bey, who came off the bench to make four 3-pointers and score 22 points. Clint Capela had a double-double, with 16 points and 13 rebounds. But Dejounte Murray scored just 10 points and Trae Young, who came into the game averaging 27 points, was held to eight.
Rockets 122, Spurs 110
Tari Eason scored a career-high-tying 20 points to pace eight players in double figures for Houston, which snapped an 11-game losing skid with a road victory over San Antonio.
The Rockets were bolstered by their reserves, as Eason added five rebounds, two steals and two blocks. Josh Christopher and Usman Garuba added 14 and 11 points off the bench, respectively. Houston, which received double-doubles from starters Alperen Sengun (16 points, 10 rebounds) and Kenyon Martin Jr. (14 points, 13 rebounds), will host the Spurs on Sunday.
Devonte' Graham led the Spurs with 28 points on 7-of-12 3-point shooting. Jeremy Sochan and Zach Collins - who grabbed 10 boards - scored 14 points apiece for the Spurs, who were without Devin Vassell and Keldon Johnson.
-Field Level Media