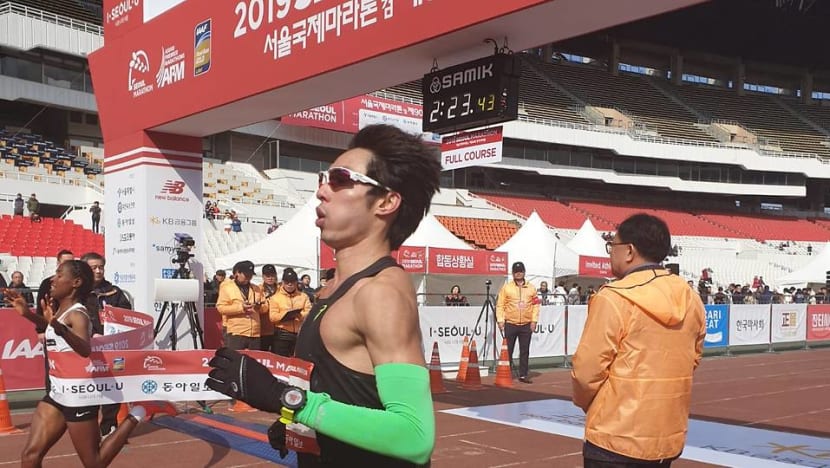 SINGAPORE: Runner Soh Rui Yong has rewritten the national record for the men's marathon after clocking 2:23:42 at the Seoul Marathon on Sunday (Mar 17).
Soh's effort smashed the long-standing previous national mark, which was held by Murugiah Rameshon. Rameshon's 2:24:22 time at the 1995 SEA Games in Chiang Mai had stood for more than 23 years before Soh's effort on Sunday. 
The record is pending ratification from the Singapore Athletic Association. 
In a Facebook post following his run, Soh posted a picture of himself showing his official time for the race with the caption: "It's only impossible till someone pulls it off." 
Speaking to Channel NewsAsia on Sunday afternoon, Soh said the achievement felt sweet as he had been preparing to break the record since the end of last year. The preparation included training for more than five weeks in Flagstaff, Arizona, in the United States. 
"I spent more than 100 days of training and I'm happy it has culminated in a performance like this," said Soh. 

The runner added that he was aware the air in Seoul was polluted recently but he was relieved that rain over the last few days had cleared the conditions for Sunday morning's race.

Soh came in 25th in the race while Kenyan Thomas Kiplagat won the event in 2:05:59. 
This is Soh's second national mark this year after he rewrote the half marathon record in January. Soh had clocked 1:06:46 at the Houston Marathon, eclipsing Mok Ying Ren's 1:07:08 set at the 2016 Arizona Rock & Roll Half Marathon. 
Soh also holds the national 10,000m record of 31:15:95 which he set in the 2014 Portland Track Festival in Oregon, US. 
Soh, who is also the 2015 and 2017 SEA Games marathon champion, is next eyeing qualification for the 2020 Tokyo Olympics.  
He acknowledged that achieving this will be a tough task, and he is looking to identify upcoming races that will enable him to finish in the top 10 positions of a world marathon major.