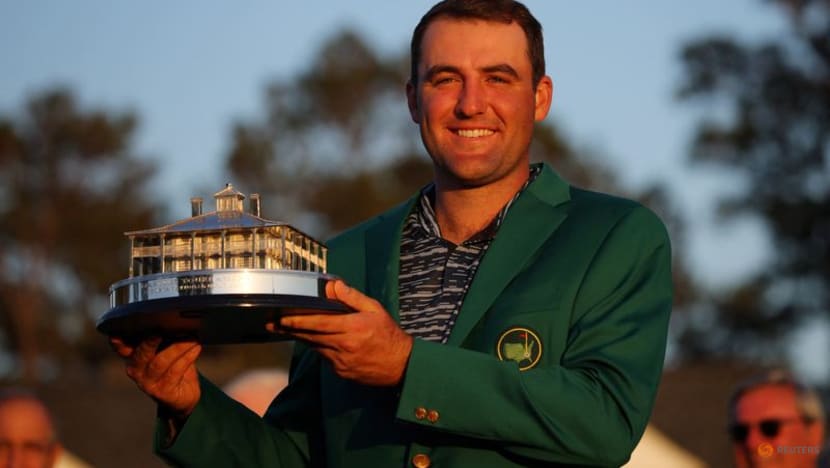 Back at Augusta National for a round ahead of his Masters defence, Scottie Scheffler was more willing to share his feelings on Wednesday than what is on the menu for the Champions Dinner he will host.
Scheffler said that wearing the Green Jacket around the stately grounds made last year's victory seem "more real", and approached the champion's Zoom call with the same caution he would entering Amen Corner on a Masters Sunday with a two-shot lead.
It is well known that what happens inside Augusta National, stays inside Augusta National and Scheffler played by the rules, checking in with the club's senior manager of communications Pat Kravitz on occasion for fear of stepping out of bounds and revealing the slightest detail of the ultra-private club.
"Am I allowed to tell people that?" questioned Scheffler, when asked about what past champion he shares a locker with. "Pat is shaking his head, he says no."
Scheffler could also not reveal who he played with beyond his father and coach or the menu he chose for the traditional Champions Dinner until given the go ahead.
"I can't really comment on that," said Scheffler. "There will be an announcement very soon, everybody will know but I don't believe I am allowed to speak on that.
"I'm always scared (of a slip up)."
Given the all clear from Kravitz the secret was revealed: steak and fish.
While the menu, which also includes chocolate chip cookies and ice cream, would seem safe and to everyone's liking the company may be a little hard to swallow with supporters of the PGA Tour and the breakaway Saudi-backed LIV Golf sitting down at the same table to break bread.
Normally an evening of tall tales and good natured ribbing, this year's meal could also serve up plenty of tension with PGA Tour backers Tiger Woods and Jack Nicklaus sitting across from LIV front men like Phil Mickelson and Dustin Johnson among others.
Scheffler, who as host gives a toast, said he was not sure what he might say but had no plans to play peacemaker, hoping that the party atmosphere would trump any bad vibes.
"I haven't totally decided what I will say," said Scheffler, who heads into his defence in good form coming off a win at last week's Players Championship.
"I'm not quite sure what the vibe will be like but I think we're all there to play and celebrate the Masters.
"All being past champions, I think the dinner will be really special for all of us to gather together again.
"I'm sure we'll put all that other stuff aside and just have a good time together because a guy joined another Tour doesn't mean that I'm not friends with them anymore or I think differently of them as people.
"We're just going to hang out and have a good time."