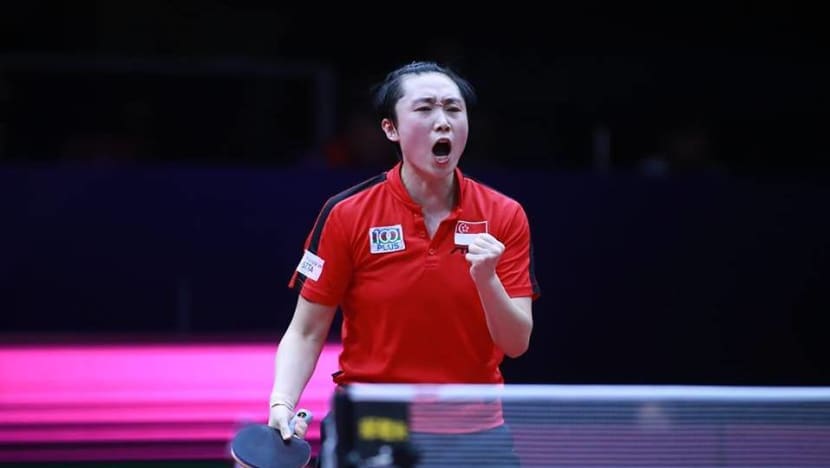 CHENGDU: Feng Tianwei won the bronze medal at the ITTF Women's World Cup in Chengdu, China on Sunday (Oct 20). 

The Singapore table tennis player clinched bronze after defeating Lily Zhang of the United States 11-6, 11-8, 11-8, 5-11, 15-13 in the 3rd place play-off. 

Earlier on Sunday, Feng fell in the semi-finals after losing to Chinese top seed Zhu Yuling. 
Feng lost 11-1, 11-13, 9-11, 11-5, 11-5, 11-5 to the Chinese player. Zhu went on to lose in the final to compatriot Liu Shiwen. 
On Saturday, Feng ousted Japanese Kasumi Ishikawa in a thrilling quarter-final match, winning 12-10, 7-11, 11-8, 8-11, 8-11, 12-10, 11-7. 
Feng had earlier defeated Romanian Bernadette Szocs 11-8, 12-10, 11-8, 11-8 in the round of 16. 

"I am very satisfied with my performance here," said the 33-year-old in an interview on ITTF's website. 

"Actually my goal was to reach the top eight, but now I have brought home the bronze medal," she said. 

Currently ranked 12th in the world, Feng recently thrashed world number one Chen Meng at the German Open. 
Feng is a three-time Olympic medallist, having clinched a team silver from 2008 and bronzes in the singles and team events in 2012.
She was also part of the Singapore side that upset China to win a world title in 2010.