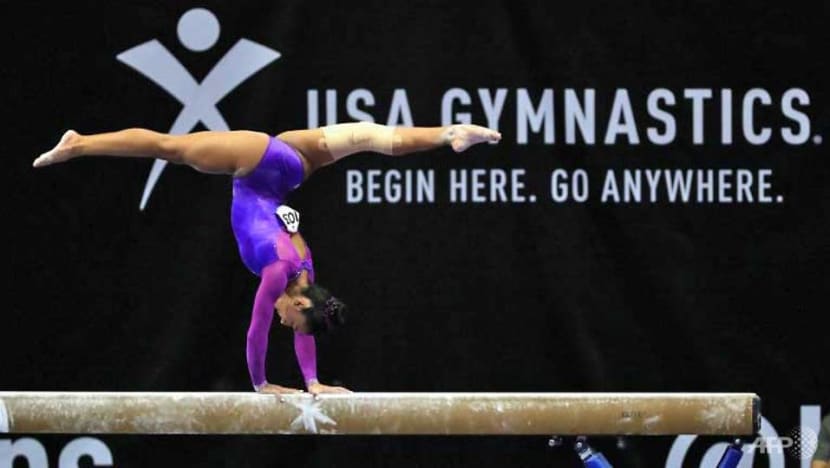 LOS ANGELES: USA Gymnastics said on Wednesday (Dec 5) it had filed for bankruptcy protection as the embattled governing body continues to grapple with the aftermath of the Larry Nassar abuse scandal.
In a statement on the organisation's website, USA Gymnastics said it had filed for Chapter 11 bankruptcy in Indiana in order to settle lawsuits brought by Nassar's victims.
"This filing will enable USA Gymnastics to continue to support its athletes, to fully operate and meet its responsibilities to the entire membership and to expeditiously resolve the claims made by the survivors of sexual abuse perpetrated by Larry Nassar," the organisation said in a statement.
"We owe it to the survivors to resolve, fully and finally, claims based on the horrific acts of the past and, through this process, seek to expedite resolution and help them move forward," said Kathryn Carson, recently elected as chair of the USA Gymnastics Board of Directors.
USA Gymnastics is fighting for its survival after the United States Olympic Committee last month vowed to disband the organisation over its failure to reform following the Nassar abuse case.
Former US team doctor Nassar was jailed for life earlier this year after abusing more than 250 athletes, including several stars of the United States' gold medal-winning teams at the 2012 and 2016 Olympics.
USA Gymnastics, which had been accused of covering up Nassar's crimes, has been in a state of perpetual crisis ever since the scandal erupted.
In October, newly installed chief executive Mary Bono resigned after just four days following an outcry by Olympic stars Simone Biles and Alexandra Raisman.
Bono had taken over from chief executive Kerry Perry, who had resigned after just nine months after criticism of her performance by USOC.
It was not immediately clear what impact Wednesday's bankruptcy filing could have on the various lawsuits USA Gymnastics is facing as a result of the scandal.
A report in the Wall Street Journal said the move would mean an immediate halt to "discovery", the legal process that allows parties in a lawsuit to gather evidence from each side.
The report also suggested it could disrupt the decertification process triggered by USOC last month.