Taking setbacks in his stride and never giving in to a fear of failure
A child with intellectual disabilities inspired Assoc Prof Hyunsoo Shawn Je to become a clinician scientist to make a difference in the lives of those suffering from neural disorders.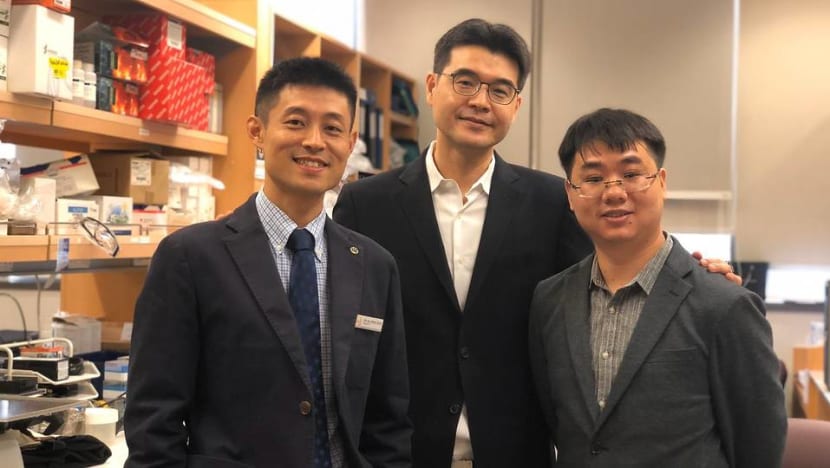 Twenty-five years ago, a young church volunteer, Mr Hyunsoo Shawn Je, would baby-sit children with intellectual disabilities to help their parents cope. One of the boys he watched over left a deep impression on him.
"This child hardly responded to any interaction, confined to his own world and only responded to hugs," he recollected. The child later turned out to have autism, a little-known condition at that time.
This early encounter with autism sparked an interest that eventually led Mr Shawn Je to join Duke-NUS Medical School (Duke-NUS) as associate professor, working in the school's Neuroscience and Behavioural Disorders programme.
Autism, a developmental disorder marked by difficulty in social interaction and repetitive behaviour is on the rise globally, with the World Health Organization's global rate of one out of every 160 children suffering from this condition. In Singapore, the rate is actually higher than the global average, occuring in one out of every 150 children.
Especially because the causes of autism have not yet been discovered, like many other neural disorders such as schizophrenia and Alzheimer's disease, researchers like Assoc Prof Shawn Je have made it their mission to find out more about these disorders – and one day, cure them.
GUIDED BY A SENSE OF PURPOSE
Said Assoc Prof Shawn Je: "As I realised that people with such conditions may not even know they have them, I began to ask myself how I could help them and others by finding out more about these disorders."
He was so inspired that he even changed his university major from mechanical engineering to biology, and then became a researcher. However, like many of his students today, he only encountered neuroscience in graduate school, having decided on the discipline due to his fascination with the human brain.
Today, Assoc Prof Shawn Je is furthering his award-winning research into the development of living three-dimensional "mini-brain" organoids that are grown in-vitro, which are key to the creation of cellular replacement therapies for neural disorders. He is assisted in the laboratory by his PhD students and research fellows at Duke-NUS.
THE HUMAN CONNECTION
Assoc Prof Shawn Je believes that it is ideal for researchers to spend time with the people who have the conditions that they are researching.
"That way, I feel that their research journeys will be more meaningful. As a biologist in the lab, we hardly meet the patients. We deal with cells, not people. I feel it is very important to know what kind of patients you are dealing with.
"I ask my PhD students and research team to volunteer their time and talk to patients so that they will know the missing link. If we step aside, we see totally different things, which enable us to appreciate our research objectives better," he said.
As he continues to work on neural disorders, Assoc Prof Shawn Je remains committed to the promise he made to himself a long time ago: "I still remember clearly that I was told to write a statement on why I wanted to join graduate school.
"I wrote: 'Someday, I will find the underlying mechanisms that cause mental disorders'. And years down the road, I am still working on this."
OVERCOMING THE FEAR OF FAILURE
Assoc Prof Shawn Je attributes his lifelong passion for neuroscience biology to having a sense of purpose in his research, even in the face of numerous challenges over the years, such as being scooped by multiple research groups and rejected when seeking grants or publications.
But instead of being discouraged by these setbacks, he chooses to view them optimistically.
"For the first challenge, it indicates that my research work is important and I am on the right track with the right questions. For the second challenge, it is about staying positive, not giving up, moving on and continuing to work on the research."
As an educator, he makes an effort to impart these values to his students.
"In most parts of Asia and more so, in Singapore, people tend to have a fear of failure. What if my experiments fail, what if I don't graduate? Such fear and a lack of vision towards your research will take away the fun element of being a clinician scientist."
"This is how I keep motivating my students – to have a sense of purpose, and also to have a sense of humility as they progress along their research," says Assoc Prof Shawn Je, the clinician scientist who is inspired by humans and passionate about research to improve their lives.
Find out more about how Duke-NUS scientists are contributing in the areas of neural disorders.