Want your child to master English and Chinese? Rote learning might not be the way.
An NTU study on K2 children – who went through Little Skool-House's curriculum – found that 93 per cent of them are highly proficient in English and Mandarin. How did they do it?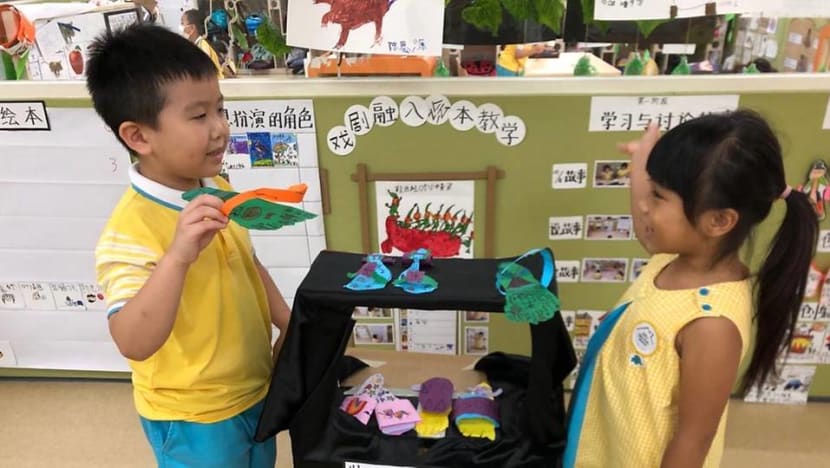 Many people would be familiar with the term "learning by heart", which is often associated with memorising and doing something over and over again. In fact, many of us might have grown up learning in this manner and believe that it is the best way to master a language.
But increasingly, evidence shows that such repetitive drills in rote learning – which focuses on memorising instead of understanding information – might not be the most effective learning method.
A recent Nanyang Technology University (NTU) study found that a group of children developed high proficiency in English and Mandarin in just six months. 
The study, conducted by cognitive psychologist Assistant Professor Setoh Pei Pei from the School of Social Sciences at NTU in collaboration with Little Skool-House, assessed the effects of the preschool's literacy curriculum on English and Mandarin language development in 68 of its Kindergarten Two (K2) students.
At the beginning of the second quarter of the year and the fourth quarter of the same year, the children's English and Mandarin proficiencies were measured using standardised tests, including the Peabody Picture Vocabulary Test and Expressive Vocabulary Test. Additionally, their home literacy environment and the frequency their family members use each language to interact with them were recorded through a parent questionnaire.
Assessments revealed that the majority of the children were English-dominant at the beginning of the study. Despite this and the fact that English was the more frequently used language at home for a high percentage of the children, study results showed that nearly 93 per cent of the children were highly proficient in both languages at the end of K2 in October.
LIVING THE LANGUAGE
What could explain this high prevalence of bilingualism among Little Skool-House students is the school's approach of allowing children to "live" the languages.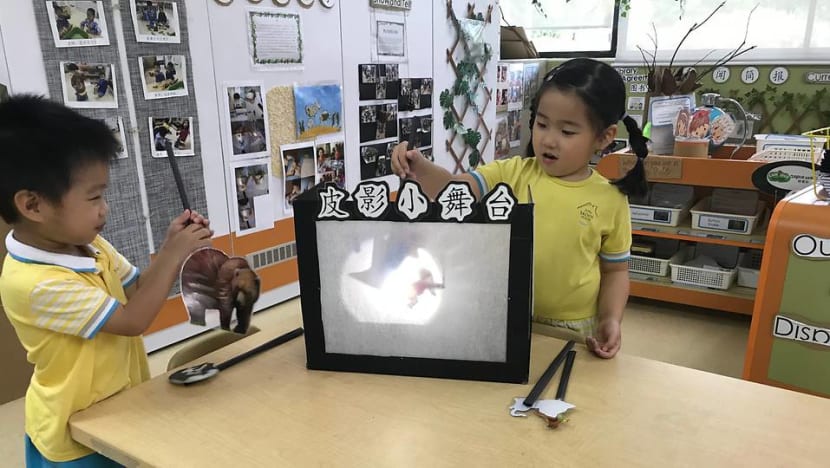 "The key is to let children 'live' the language rather than use rote memorisation and drills. Learning only the technical part of the language is not enough," said Ms Coreen Soh, deputy general manager of Little Skool-House. She explained that the school creates opportunities for students to immerse in a language in what they call "the cycle of learning".
To do this, Little Skool-House uses a specially designed curriculum known as the Pedagogy for Enhanced Mandarin Acquisition, through which children not only learn the technical aspects of the language but also get ample opportunities to apply the language in real life. It allows children to use Mandarin in interactions, such as in situations of negotiation, problem-solving and expressing thoughts, Ms Soh said.
"These experiences demonstrate the usefulness of the language to children, giving them a sense of competence and spurring them on to want to master the language. This is great news for many parents, who want their children to master the Chinese language without the stress of (making them do) countless worksheets," Ms Soh added.
Little Skool-House's literacy curriculum encourages students to live the language. Video: Mediacorp
MAKING LANGUAGE LEARNING PART OF DAILY LIFE
One of the curriculum's key pillars is systematic language formation, achieved through a structured reading programme that focuses on comprehension. The goal, said Ms Soh, is to help the children get ready for Primary One. "A strong foundation in both English and Mandarin during the preschool years determines success in school."
Learning is customised according to each child's readiness to help them progress towards daily usage and the communication of more complex thoughts.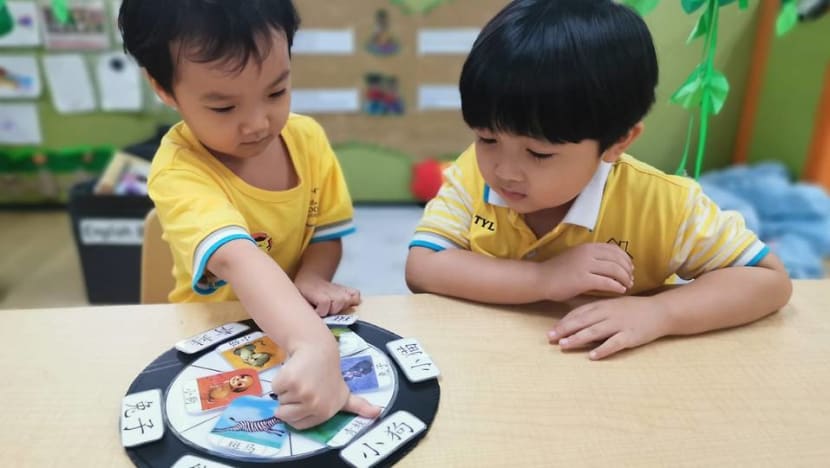 The children learn vocabulary, grammar, sentence structure and pronunciation using differentiated strategies and materials. In place of copying and memorisation, they play games and engage in fun activities like recipe writing, creating their own mini books and writing messages to their friends. There is also weekly journal writing, which allows the children to express their imagination and feelings.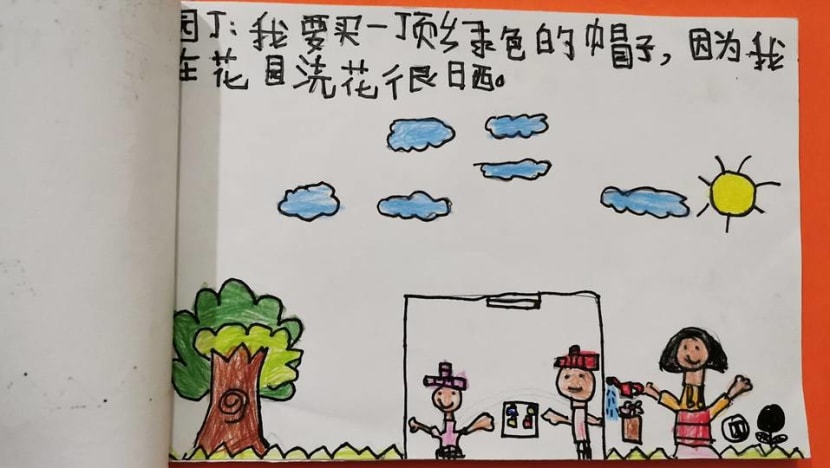 Ms Soh said: "If children use rote memorisation to memorise 10 words for a spelling test, they tend to forget these words easily as only short-term memory is used. But if these words are learnt in context, children understand them and thus remember them better."
A PROGRESSIVE APPROACH
A hallmark activity of Little Skool House's Mandarin curriculum is the Builder's and Innovation Project, which requires children to apply what they have learnt in mathematics, science and language to real-life scenarios through investigation. For their Builder's and Innovation Project, Nursery Two and Kindergarten One children at Little Skool-House investigated how the digestive system works and the electrical conductivity of different fruits last year.
"Doing the Builder's Project in Mandarin allows our children to discuss complex topics that go beyond simple everyday words. They get the opportunity to practise their inquiry skills. Similar to what they do in primary school, the children hypothesise, discuss research methodology, conduct research and interviews, experiment, collate results, make conclusions, share their findings and reflect on what they can do to improve," said Ms Soh.
Another hallmark of Little Skool-House is the Chinese Theatre Pedagogy programme, which offers children a chance to learn and use Mandarin while producing their own play. Their teacher facilitates this by introducing various storybooks and allowing the children to vote for the story they would like to proceed with for their play.
Explaining the rationale for this activity, Ms Soh shared: "The children negotiate in Mandarin to convince their classmates to choose a particular storybook that they prefer or let them play a role that they want to play. They also write their own adaptations of the story, make and sell their own play tickets and do self-assessments. As the children want to convince their friends and are having fun, they are eager to learn different words in Mandarin."
HIGHLY TRAINED TEACHERS WHO EMPOWER CHILDREN
Another important pillar of Little Skool-House's Pedagogy for Enhanced Mandarin Acquisition is its teachers, who undergo a rigorous training programme, overseas learning journeys, mentorship and on-the-job coaching.
Mandarin pedagogy expert in Early Childhood Education Dr Connie Lum, who developed Little Skool-House's teacher training curriculum, said the training programme equips teachers with the expertise to enable children to "live" Mandarin, rather than rely on rote memorisation techniques and worksheets.
Dr Lum is a committee member of the Lee Kuan Yew Fund for Bilingualism and author of 30 published books on teaching Chinese.
As a testament to the effectiveness of Little Skool-House's approach, the NTU study found that a high percentage of the studied children were highly proficient in English and Mandarin vocabulary. Children who were rated high in both English and Mandarin proficiencies increased from 76.8 to 92.6 per cent from March/April 2018 to October 2018. Parents also reported feeling very satisfied with the school's curriculum for their child's development.
Ms Soh said building a high proficiency in language requires children to be involved in every step of their learning process. The goal is for them to develop a genuine interest and love for learning, she added.
The Little Skool House is the chosen preschool for many employees of esteemed Singapore institutions, such as the Ministry of Education, Ministry of Social & Family Development and National University of Singapore. Find out more on how Little Skool-House inspires children to learn at littleskoolhouse.com/.