When restaurant savoir faire meets local street food flair
The Michelin Guide Kitchen Takeover sparks inspiration from chefs of different disciplines for a delicious inaugural collaboration.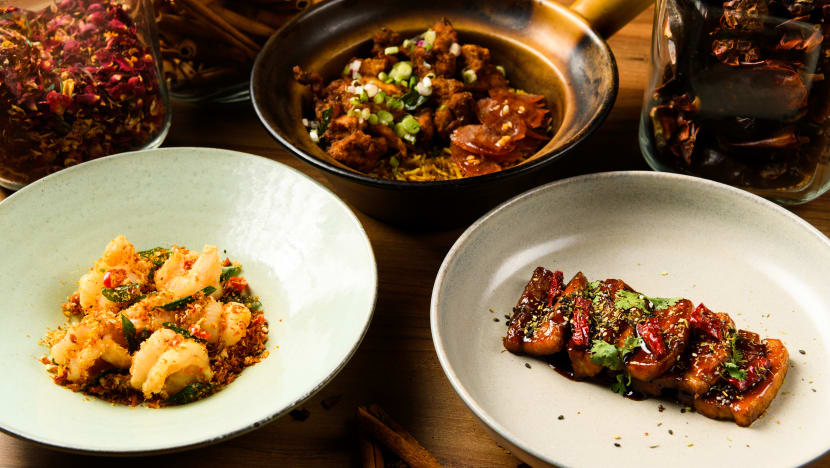 Singaporeans take our food very seriously, and our fervour for delicious fare has brought us growing offerings from both international restaurateurs and seasoned local hawkers alike. 
In 2016, the Michelin Guide began its Singapore chapter, awarding 29 restaurants its coveted stars. In a world-first, the gourmand guide also accorded Hawker Chan and Hawker Tang a Michelin star each for their stalls, which sell soya sauce chicken dishes and pork noodles respectively.
Just last month, global heritage-officiating body UNESCO added Singapore's Hawker Culture to its intangible cultural heritage list.
The accreditation redefines the boundaries of fine dining and good food. With a four-week pop-up event, the upcoming Michelin Guide Kitchen Takeover will yet again excite with contrasting top chef pairings from restaurant and street food brands. The result – a menu that melds Michelin panache with rich hawker heritage.
CELEBRATING CULINARY PERSPECTIVES
In a meeting of disciplines, eight chefs from Michelin-recommended establishments will pair up over several weeks from Jan 18 to Feb 26, and deliver four distinct menu creations via a pop-up event on Grab.
The Michelin Guide Kitchen Takeover intends to inspire dialogue within the F&B industry while allowing diners seeking off-the-menu experiences a chance to explore new gastronomic dimensions through the unique pairings. In the spirit of the SingapoRediscovers campaign, it invites locals to sample two worlds in one sitting, in a three-course sharing menu for two.
Customers will have to place orders in advance on the Michelin website or GrabFood app during the pre-order period, where a dedicated page will list the full collaboration and menu details. Each set is priced at S$88, with a flat S$10 delivery fee islandwide.
Lunch and dinner options are available, subject to each collaboration, but avid foodies take note: Sets are limited, so don't dawdle!
A DANCE OF FLAVOURS: THEVAR X KEK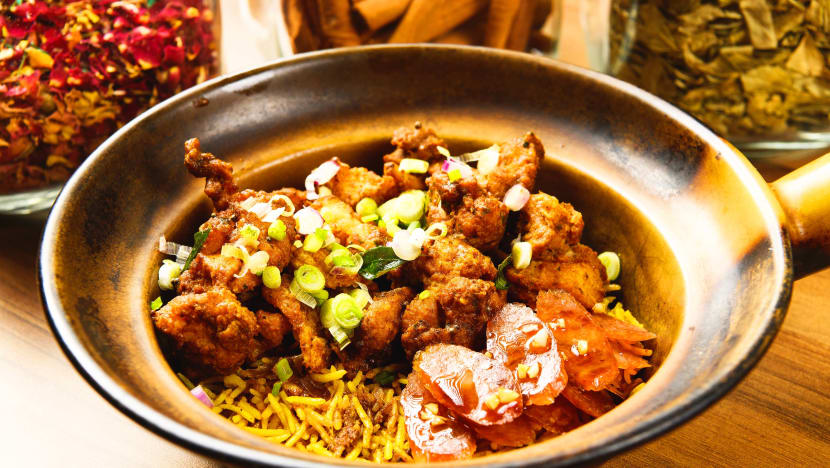 Imagine the provocative combination when colourful Indian spices meet the inimitable wok skills of Chinese stir-fry. Could this be the fragrant combination that will fire up your soul?
Chef Mano from Thevar is known for his surprising offerings inspired by his Indian roots and executed with European techniques, while Chef Wayne from KEK is the third-generation member helming the iconic 'zichar' restaurant, bringing signature Chinese dishes to the table.
You can expect classics enlivened with punchy flavours from the duo – Spiced Curry Leaf and Coconut Chutney Cereal Prawns, Coffee and Caramelised Tamarind Pork Belly, and Pepper Fry Claypot Chicken Rice.
Pre-order the Thevar x KEK set from Jan 18 to 21. Delivery will be on Jan 24, 11am to 2pm, and 4pm to 8pm. 100 sets only.
A CONTRAST OF TEXTURES: YEN YAKINIKU X CHEF KANG'S NOODLE HOUSE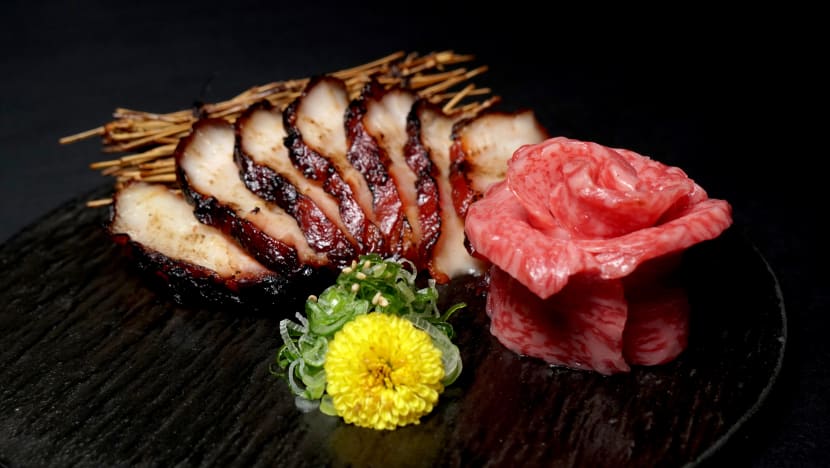 While we often focus on taste, the presence of textures in dining deepens the experience in a very visceral way. So when a selection offers this through an oceanic and farm platter, you can be sure of a memorable meal.
Combining the top-shelf wagyu beef of Yen Yakiniku with the marinated char siew and shredded abalone of Chef Kang's Noodle House might seem unlikely, but the two restaurants share an authenticity to their treatment of food.
Start with a Yen Special Salad with Chef Kang's Pulled Abalone, followed by BBQ Dream Duo 'Shuang Ping' of Char Siew and A5 Omi Wagyu with Homemade BBQ Sauce. Finish with Wagyu Fat Wanton Noodles – delicate wantons and springy egg noodles topped with wagyu beef fat and crispy pork lard.
Pre-order the Yen Yakiniku x Chef Kang's Noodle House set from Jan 22 to 24. Delivery will be from Jan 26 to 28, 6.30pm to 8.30pm. 80 sets only.
A RETURN TO SOURCE: CURE X MAN MAN
Food takes us places, and there's nothing like heartfelt fare from their country of origin to really let us travel with our taste buds.
Although neighbours along Keong Saik Street Road, the Irish Cure and Japanese Man Man restaurants couldn't be further apart on the globe. Yet, through their shared focus on quality produce that speak strongly of their native regions, Chef Andrew and Chef Teppei have designed a set that pays tasty homage.
The Silverhill Farm Duck Takoyaki features the exclusive hybrid duck with unagi glace and katsuobushi. Then comes the BBQ Unagi and Irish Corned Beef Porridge, with aged Irish beef and toasted unagi bone grains from the Aichi prefecture in Mikawa Town, and Cashel blue cheese. The Avonmore Macha Cheesecake completes as a unique dessert, made of Irish oats cookie and shiso.
Pre-order the Cure x Man Man set from Feb 17 to 20. Delivery will be from Feb 22 to 23, 11am to 3pm. 70 sets only.
A MEAT REVISITED: AKIRA BACK X SONG FA BAK KUT TEH
The beauty of pork is in its versatility. The meat soaks up all kinds of marinades like a dream, yet keeps flavours balanced by retaining its own juicy identity.
The chefs at Akira Back and Song Fa Bak Kut Teh are all too familiar with this given their expertise with the protein, and together, they have orchestrated a medley of ingredients to serve up the meat three ways. Investigating into technique and different cuts, this presentation of pork is primed to thrill.
Begin with the Kurobuta Bossam, where braised pork belly dances in a brew of apple fennel kimchi, XO sauce, salted vegetables, sweet peanuts and butterhead lettuce. It might look familiar but the Spicy Pork Maki is made with pork tenderloin, king oyster mushroom and a special spicy sauce. Finally, the Bak Kut Teh Hotteok features premium ribs with a side of handmade pepper dipping sauce.
Pre-order the Akira Back x Song Fa Bak Kut Teh set from Feb 24 to 26. Delivery will be on Feb 28, noon to 2.30pm, and from Mar 1 to 2, noon to 2.30pm and 6pm to 9.30pm. 60 sets only.
Look out for the campaign pop-up on the Michelin website or your GrabFood app and experience this uniquely Singaporean dining mash-up with SingapoRediscovers.

Menu subject to change due to availability of ingredients.