SYDNEY: Australian authorities are planning to evacuate thousands more people on Monday (Mar 22) from flood-affected suburbs in Sydney's west, which is set for its worst flooding in 60 years with drenching rain expected to continue for the next few days.
Unrelenting rains over the past three days swelled rivers in Australia's most populous state of New South Wales (NSW), causing widespread damage and triggering calls for mass evacuations.
"We need to brace ourselves, it will be a very difficult week," NSW state Premier Gladys Berejiklian told reporters.
Torrential rain which has submerged large swathes of NSW is in stark contrast to the weather conditions in the same regions a year ago, when authorities were battling drought and catastrophic bushfires.
"I don't know any time in a state history where we have had these extreme weather conditions in such quick succession in the middle of a pandemic," Berejiklian said.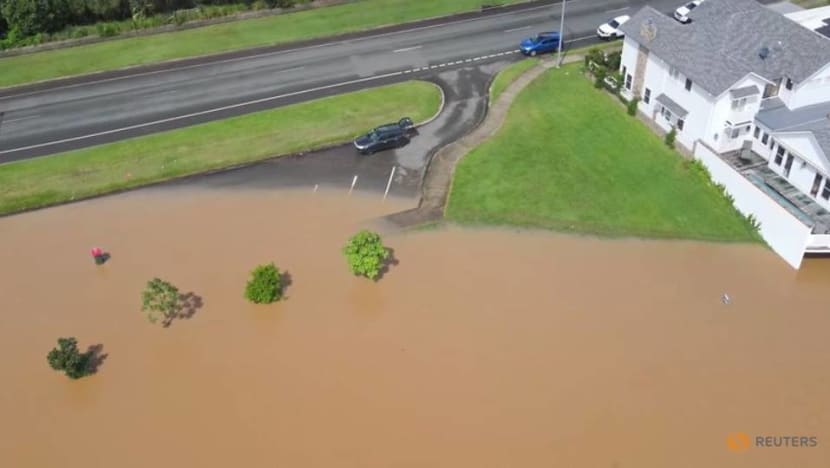 Sydney on Sunday recorded the wettest day of the year with almost 111mm of rain, while some regions in NSW's north coast received nearly 900mm of rain in the last six days, more than three times the March average, government data showed.

Authorities said around 18,000 people have been evacuated from low lying areas of the state.
FLOODING STOPS COAL RAIL DELIVERIES
Australia's Hunter Valley coal rail lines have been shut due to flooding in the state of New South Wales, the Australian Rail Track Corp said on Monday, halting deliveries into the port of Newcastle, the world's biggest coal export port.
"High rainfall, potential for more severe flooding beyond the current impacts to the network, strong winds, fallen trees and debris, power failures and fallen power lines and power poles are all concerns which led to operations being halted," said a spokesman at ARTC, which runs the rail lines.
It said tracks would be reopened when conditions are safe and water levels recede.
The Hunter Valley network serves mines run by BHP Group Ltd , Glencore PLC, New Hope Corp Ltd, Whitehaven Coal, and Yancoal Australia Ltd, among others.
The companies were not immediately available to comment on the impact on their operations.
The Port of Newcastle has two coal terminals with a total annual capacity of 145 million tonnes.
Large parts of the country's east coast will get hit by more heavy rains from Monday due to the combination of a tropical low over northern Western Australia and a coastal trough off NSW, the Bureau of Meteorology official Jane Golding said.
"We expect this heavy rain to fall on areas that haven't seen as much rain over the last few days, we expect the flood risk to develop in those areas as well," Golding told reporters.
Some places in Sydney's western regions have seen the worst flooding since 1961, authorities said, as they expect the wild weather to continue until Wednesday.
A severe flood warning has been issued for large parts of NSW as well as neighbouring Queensland.