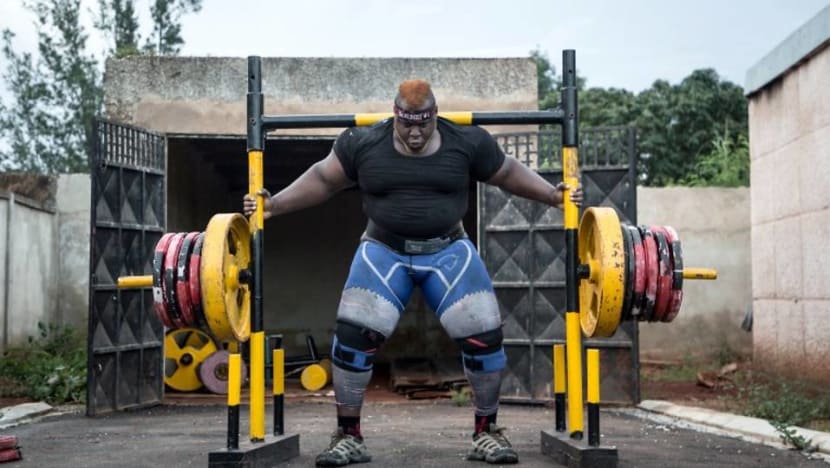 BOBO-DIOULASSO, Burkina Faso: Children once bullied Iron Biby because of his size. Now when he walks down the street in his native Burkina Faso, they run up and feel his muscly arms.
The contender for the World's Strongest Man competition is happy to oblige - after all, his biceps have a circumference of 63 centimetres.
But youngsters have not always been so kind.
"I was always overweight compared to my friends and brothers. It's rare here, so people made fun of me," says Biby, whose real name is Cheick Ahmed al-Hassan Sanou.
"I lacked confidence and was afraid to make decisions."
Today, however, the 26-year-old's mountainous dimensions - he weighs 180 kilogrammes and is 1.9 metres tall - have brought him fame as one of the strongest men in the world.
And he wants to use his stature to help his country, one of the world's poorest.
BORN HUGE
He has always been big - when he was born in Burkina Faso in 1992 he weighed nearly five kilogrammes.
As a child, he says he "tried every sport but was discouraged every time" because of his size.
"It was my dream to be a great athlete so I persevered."
He didn't discover bodybuilding until 2009, when, at the age of 17, he moved to Canada to join his older brother and finish high school.
"I had a complex. People were mocking me and I wanted to transform my body, so I started to train slowly," he says.
As fat turned to muscle, he quickly gained attention in the local gym scene.
In 2013, the amateur was invited to his first powerlifting competition - which he won.
Biby then swiftly rose to become a top 10 strength athlete and a regular contender for the title of "World's Strongest Man".
GUINNESS WORLD RECORD
Instead of normal weightlifting, these competitions test behemoths in a variety of feats of strength, including pulling trucks with a rope and lifting logs over their heads.
Biby, a fan favourite at the events, is the 2018 world champion in the log lift category and he has won the world axle championships too.
His proudest achievement is having gotten his name - and that of his country - in the Guinness Book of Records in September.
"The test was to see how many times you can lift a person weighing about 60 kilogrammes in a minute," Biby says.
"The former record was 45 reps. I smashed it with 69 reps."
HELPING OTHER ATHLETES
After finishing his studies in Canada, Biby returned to his hometown Bobo-Dioulasso, Burkina's second city, where he has become a popular figure.
When he comes back after international competitions he is welcomed home like a conquering hero, fans gathering around him to touch his huge arms and take selfies.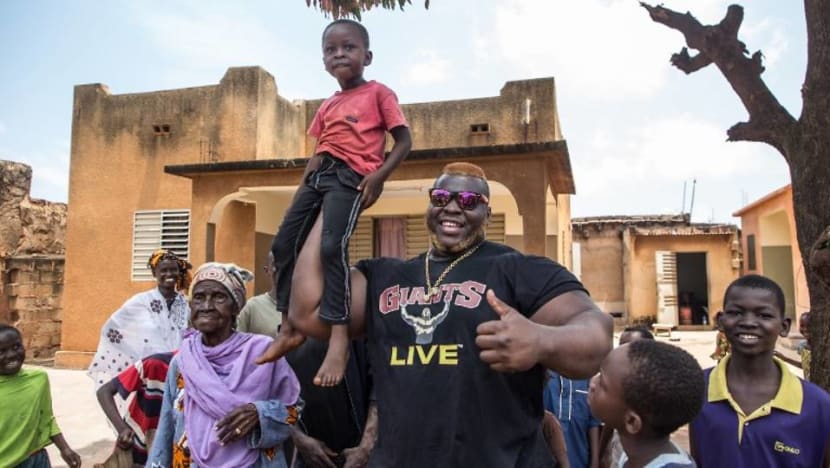 But the impoverished West African country does not have all the equipment he needs for training so he either has what he needs made or imported.
Biby trains four to five hours every day and has a 46-metre runway in his yard for dragging trucks.
To keep the weight on, he eats "up to eight chickens" during his four meals a day.
He makes his living by entering the competitions and from sponsorship, and now has plans for several projects in Burkina Faso, including a chain of sports centres across the country "for all athletes, not just in my field".
He also wants to launch a line of dietary supplements - "there is a lack of protein here" - and create a federation for fellow Burkina strongmen.
In the meantime, he is training for his next goal: beating the log lift world record.