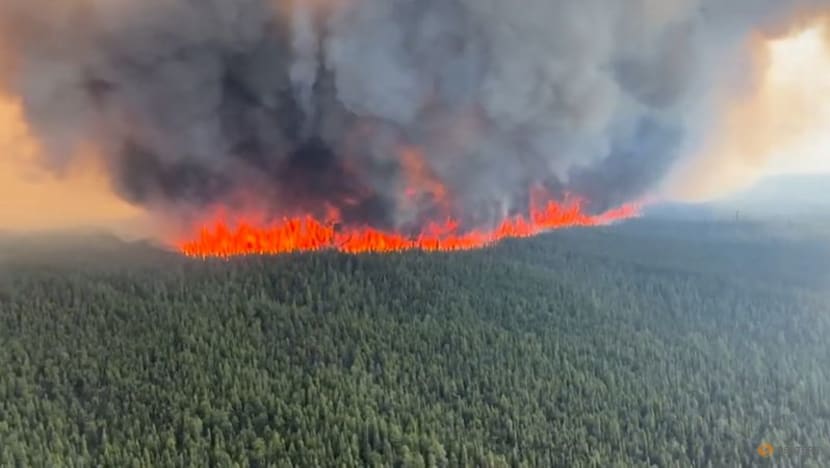 OTTAWA: Wildfires spread in the western Canadian province of British Columbia on Friday (Jun 9), while in the east, Quebec said it would start efforts to control blazes that have sent smoke billowing across North American cities.
Canada is enduring its worst start to the wildfire season, with 2,392 fires so far this year and 4.4 million hectares burned, according to the Canadian Interagency Forest Fire Centre (CIFFC), roughly 15 times the annual average over the last decade.
The CIFFC reported 424 active fires, of which 230 were out of control. It is unusual for blazes to be burning simultaneously in the east and west, stretching resources and fuelling concerns about the consequences of climate change.
About 2,500 people were told to evacuate the community of Tumbler Ridge in northeastern British Columbia on Thursday. Officials also expanded evacuation orders for the Donnie Creek fire, the second-largest recorded in the province.
A video distributed by the British Columbia fire service showed deserted streets in Tumbler Ridge, while nearby forests were ablaze. Some evacuees are finding shelter in Dawson Creek, a town about 120km to the north-east.
"It's devastating, it hits you right in the heart ... it's scary, knowing it's this early in the season," Dawson Creek mayor Darcy Dober told the Canadian Broadcasting Corp.
In the eastern province of Quebec, forestry minister Maite Blanchette Vezina said that as extra resources arrived, authorities would be better able to control the fires. Hundreds of firefighters from across the world have flown to Canada.
"This sprint phase is over - now we're in a marathon phase. So in the next days and weeks we will be working to contain those active fires to bring them under control and eventually extinguish them," she told a briefing.
Some rain is expected over Quebec and neighbouring Ontario this weekend but it may not be overly helpful, Environment Canada meteorologist Gerald Cheng told an online briefing.
"I caution everyone not to be too hopeful about the rain, because that comes with the risk of thunderstorms ... the precipitation could be very isolated," he said.
Temperatures in parts of British Columbia soared to more than 30 degrees Celsius this week, nearly 10 degrees Celsius above the seasonal average. While rain is expected over the weekend there is a risk of lightning strikes.
In the western province of Alberta, more than 3,500 people remain under evacuation orders and heat warnings were in effect over much of the central area.
Poor air quality is expected to persist in cities including Ottawa, Toronto, New York and Washington until Sunday when the wind direction shifts.
While airports in the New York region have been hit by smoke, travel in Canada is not being affected.
"At this time, there have been no major reported impacts to commercial aviation operations due to the wildfires," said Hicham Ayoun, a spokesperson for Transport Canada.