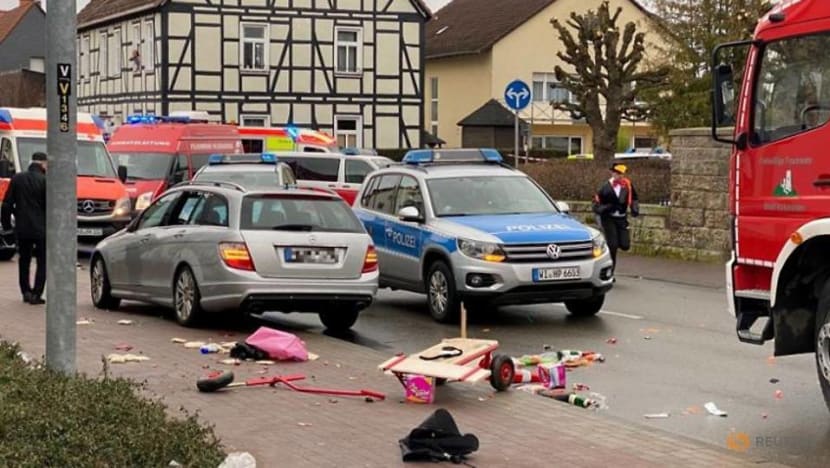 FRANKFURT AM MAIN: A car that rammed into a carnival procession in central Germany Monday (Feb 25) injured 52 people, including 18 children, police said, adding that the perpetrator's motive remains unclear.
"Among the victims are 18 children (while) ... at present 35 people are still undergoing treatment in the hospital and 17 were already able to leave," police in Hesse state posted on Twitter Tuesday.
Investigators were hoping on Tuesday to question a 29-year-old man suspected of ploughing a silver Mercedes car into a carnival parade in the western German town of Volksmarsen.
The incident on Monday shook Germans still struggling to take in last week's racist gun attack in the town of Hanau which left 11 people dead.

Officials cancelled all carnival parades across the state Monday, while a children's procession was called off Tuesday in state capital Wiesbaden.
But authorities have stopped short of calling the incident an attack, saying the driver was himself injured and could not be questioned immediately after he drove into the crowd.
"I saw him drive off, he looked as if he was on drugs and said 'soon I'll be in the papers'," a neighbour of the suspect told German broadcaster RTL.

Prosecutors in Frankfurt have opened an investigation against the German national on suspicion of attempted homicide.
Prosecutors said they had also arrested a second person who filmed the car ramming, citing a privacy law against gawkers.
Several German media outlets, including public broadcaster ZDF, reported that the man was believed to have been under the influence of alcohol or possibly drugs.
German prosecutors, however, said that the driver was not drunk but it is not yet clear whether he took drugs.

"CHILDREN LYING ON GROUND"
Eyewitnesses described how the man ploughed his silver Mercedes at high speed through a barrier and into crowds at the traditional "Rose Monday" parade in Volkmarsen, a small town in Hesse state.
"There were 15 people lying on the ground when I arrived, including many small children," local journalist Elmar Schulten told mass-market daily Bild.
"Everyone looked as if they'd been crying, including grown men, fathers who had seen their children lying on the ground."
Early Tuesday, carnival floats and balloons were still in place around Volkmarsen, while emergency vehicles remained at the scene as the perpetrator's car was hauled away.
Rose Monday is the height of the carnival season in Catholic areas of Germany, especially in the Rhineland where tens of thousands of people dress up, drink alcohol and line the streets to watch parades and satirical floats.
Prosecutors on Tuesday urged organisers to review their security arrangements and adjust them if necessary, with policing potentially increased.