CHRISTCHURCH: Shootings at two mosques in the New Zealand city of Christchurch killed 49 people on Friday (Mar 15), police said. 
Prime Minister Jacinda Ardern described the shootings as "one of New Zealand's darkest days". Four people have been detained, and a number of suspected improvised explosive devices have been found and disabled.
The mosques - the Masjid al Noor in central Christchurch and one in suburban Linwood - were packed with worshippers gathering for Friday afternoon prayers at the time of the attack. 
A Palestinian man who did not want to give his name said he saw a man shot in the head. "I heard three quick shots then after about 10 seconds it started again. It must have been an automatic. No one could pull a trigger that quick," he told AFP. 

"Then people started running out. Some were covered in blood."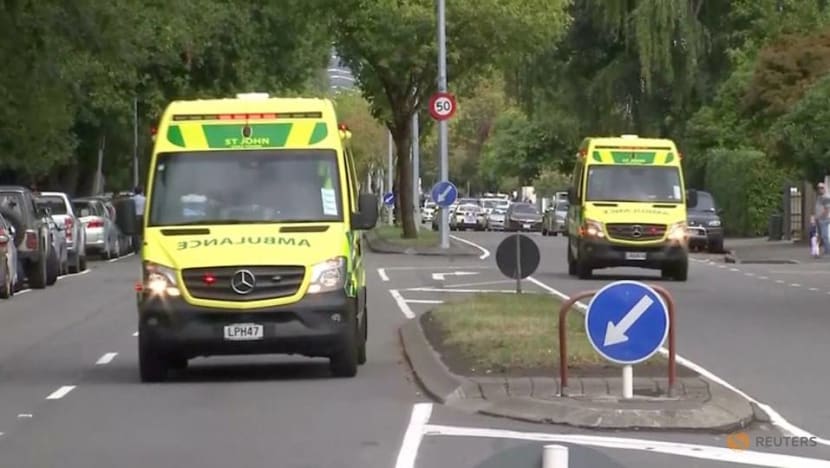 Another witness told stuff.co.nz he was praying in the Deans Ave mosque when he heard shooting and saw his wife lying dead on the footpath outside when he fled.
Another man said he saw children being shot. "There were bodies all over me," he said.
An eyewitness told Radio New Zealand he heard shots fired and four people lying on the ground, with "blood everywhere".

Members of the Bangladesh cricket team had just arrived at the mosque when the shooter opened fire. The team's spokesman said none of the players were hurt. "They are safe. But they are mentally shocked. We have asked the team to stay confined in the hotel," he told AFP.
Mario Villavarayen, strength and conditioning coach of the Bangladesh cricket team said the team was close to where the shooting occurred, but was safe.
"I'VE NEVER FELT THIS WAY BEFORE"
Ms Hana Saemon, a Singaporean who lives about five minutes away from one of the mosques that was attacked, said in an interview with Channel NewsAsia on Friday evening (New Zealand time) that she had not expected such an incident to happen in New Zealand.
"There's a lot of panic happening now ... Some of us cannot account for our family - not me personally, but some of my friends," she said.
"When news hit us that there was a shooting at the mosque, I was also panicking and calling up friends I knew might be at the mosque, just checking up on whether they were okay, whether they were at the mosque, whether they were affected."
She added: "There's a lot of panic. Because we also do not have exact news about what is happening, we don't know what to do, we don't know who is hurt, who is unaccounted for and where they are."
Ms Saemon, who has lived in New Zealand for seven years, said she had not expected anything like this to happen in New Zealand.
"It has been a safe place for me since I've been here in 2012, and I think a lot of Singaporeans who are living here will agree with me," said Ms Saemon.
"This is the first time that I'm actually really scared and worried. I've never felt this way before."
Rashmi Natarajan, 34, who lives just about 800m from Masjid Al Noor said her family was terrified, adding that there was heavy police presence in the area.
"The situation here is still very grim. We are all locked down in our houses feeling terrible and anxious about what might happen. The police have advised us to stay indoors until further notice. We hear helicopters hovering all over and we are just hoping that the situation soon comes under control," she told Channel NewsAsia.
Source: AFP/reuters/cna/mn