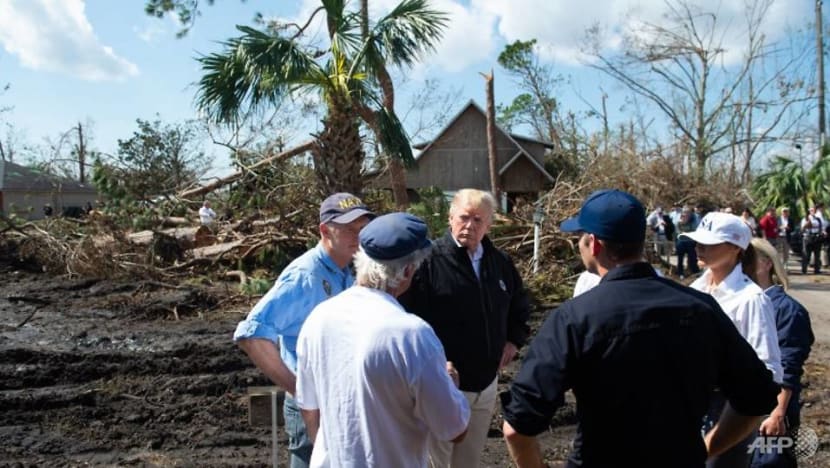 MACON, United States: President Donald Trump, a longtime climate change skeptic, said Monday (Oct 16) on a tour of hurricane damage in the southern United States that "something" is happening - but that the change is not permanent.
"There is something there, man-made or not. There is something there. It is going to go back and forth," Trump said while visiting Georgia, which was damaged by Hurricane Michael last week.
Trump, who earlier inspected devastation left by the storm in Florida, said "we have been hit by the weather, there is no question about it."
However, he noted that there had been violent hurricanes, causing widespread destruction, in the past.
"Fifty years ago, it was brutal. (The) 1890s were brutal. You have different times," he said.
"The one that they say was worse, two or three (times) worse - one was in the 1890s and one exactly 50 years ago. Winds were 322 kilometers an hour. Who knows? That's what the numbers are."
Trump in the past has dismissed claims - backed by an overwhelming international consensus of scientists - that greenhouse gases caused by human activity are responsible for a rapidly warming planet, triggering ever more extreme weather.
He has even dismissed international pushes to reduce greenhouse gases as a hoax invented by rival China to cripple US industrial might.
On Sunday, Trump said in an interview with CBS that he does not consider climate change made-up, but is not convinced that human activity, such as industry and agriculture, is to blame.
"I think something's happening. Something's changing and it'll change back again," he said on CBS.
"I don't think it's a hoax. I think there's probably a difference. But I don't know that it's man-made. I will say this: I don't want to give trillions and trillions of dollars. I don't want to lose millions and millions of jobs."
On Monday, Trump told journalists that he is "truly an environmentalist."
"A lot of people will smile when they hear that," he said, before claiming that he wants "the cleanest water on the planet" and the "cleanest air."
Last week, Trump said he had not yet started to read a major new UN report calling for urgent and radical measures if the Earth is to avoid a catastrophic further increase in temperature.
Again, Trump suggested he was skeptical about the findings, which were reported by the Intergovernmental Panel for Climate Change (IPCC).
"It was given to me and I want to look who drew it, you know -- which groups drew it, because I can give you reports that are fabulous and I can give you reports that aren't so good," he said.