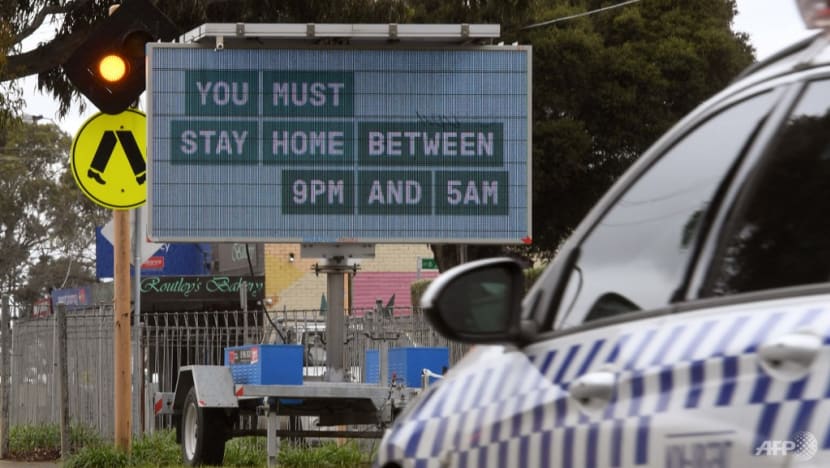 SYDNEY: Australia on Thursday (Aug 26) reported more than 1,000 new local coronavirus cases for the first time during the pandemic, as a Delta variant outbreak surged in Sydney.
New South Wales state, which includes the country's most populous city Sydney, announced a record 1,029 cases of COVID-19 for the previous 24 hours.
An outbreak that began in the city in mid-June has reached more than 15,000 cases and spread to smaller towns and cities, prompting the return of lockdowns and travel restrictions across Australia's populated southeast.
Despite the soaring figures and growing pressure on hospitals, state premier Gladys Berejiklian announced a modest easing of restrictions for vaccinated people from mid-September.
Up to five fully vaccinated people will be allowed to gather outdoors in non-hotspot areas after New South Wales hit a target of 6 million jabs in a population of about eight million.
"That was the option that met the mental health and wellbeing of our community but also provided the lowest risk setting," Berejiklian said.
She said the health system was able to cope with the added strain after capacity was boosted, pledging that "everybody who needs help will get that help".
It came as authorities extended stay-at-home orders for the rest of New South Wales to Sep 10, as concerns grew over rising cases in regional areas that deputy premier John Barilaro described as "a tinderbox ready to explode".
Meanwhile, Victoria state - which is grappling with a smaller outbreak that emerged in Melbourne - announced a further 80 new cases Thursday.
SYDNEY HOSPITALS GRAPPLE WITH WORST FLARE-UP
Two major hospitals in Sydney's west set up emergency outdoor tents on Thursday to help deal with an increase in patients as the city grappled with its worst flare-up in the pandemic.
The makeshift unit in the emergency department for COVID-19 patients will help "to offload delays", a Western Sydney Local Health District spokesperson told Reuters on Thursday.
Westmead and Blacktown hospitals have been grappling with a steady rise in COVID-19 patients, forcing officials to redirect ambulances to other hospitals, the Australian Paramedic Association (APA) said.
In a video posted on Twitter Wednesday night, APA said paramedics were given a choice to wait in their vehicles with COVID-positive patients or "wait outside in the freezing rain" due to the influx of patients.
More than half of Australia's 25 million people are stuck in lockdown, including in Sydney where residents have been under stay-at-home orders for more than two months.
Besides Sydney, the country's second-largest city, Melbourne, and capital, Canberra, are also in hard lockdowns, putting more than half of the country's 25 million population under strict stay-at-home orders.
The federal government is pushing ahead with the country's reopening plans once vaccination rates reach 70 per cent to 80 per cent, but some states have hinted they may delay given the rapid growth of cases in Sydney.
About 32 per cent of people above 16 have been fully vaccinated while just over 54 per cent have had at least one dose.