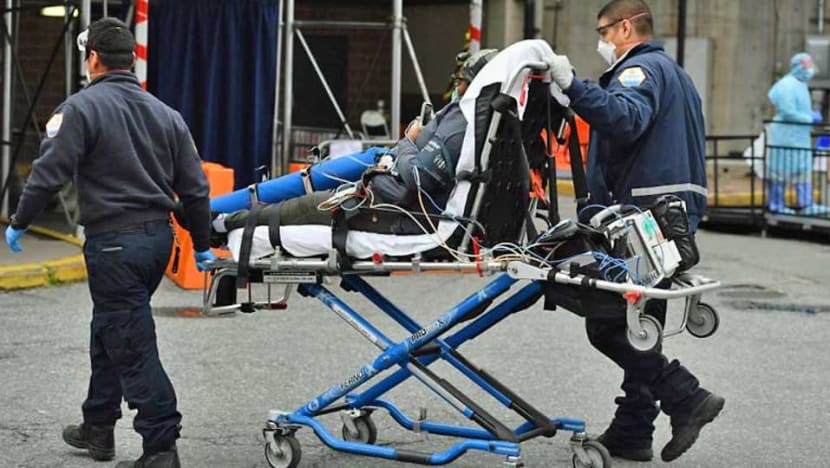 WASHINGTON: The United States on Wednesday (Apr 8) surpassed 14,600 COVID-19 deaths, the second-highest in the world after Italy.
The pandemic has now claimed the lives of at least 14,695 people in the United States, which leads the world in the number of confirmed infections with 429,052, according to a tally kept by Johns Hopkins University.
The 300,000-case milestone was passed on Saturday.
New York, the hardest-hit state in America, on Wednesday reported its highest number of coronavirus-related deaths in a single day with even veteran doctors and nurses expressing shock at the speed with which patients were declining and dying.
The number of coronavirus cases in New York state alone approached 150,000 on Wednesday, even as authorities warned the state's official death tally may understate the true number.
New York Governor Andrew Cuomo, who ordered flags flown at half-staff across New York in recognition of the toll, said 779 people died in the past day in his state.
New Jersey Governor Phil Murphy said 275 had died there. Both totals exceeded one-day records reported just a day earlier.
Despite the grim tally, Cuomo said overall trends still appeared positive. Cuomo cited a drop in new hospitalisations and other data points as evidence that New York was "bending the curve" and gaining some control over the infection rate.
Cuomo said the death count would continue at the current level or increase in the coming days as critically ill patients, who have been hospitalised for more than a week and on ventilator machines to assist in breathing, die.
Officials have warned Americans to expect alarming numbers of coronavirus deaths this week, even as an influential university model on Wednesday scaled back its projected US pandemic death toll by 26 per cent to 60,000.
Download our app or subscribe to our Telegram channel for the latest updates on the coronavirus outbreak: https://cna.asia/telegram