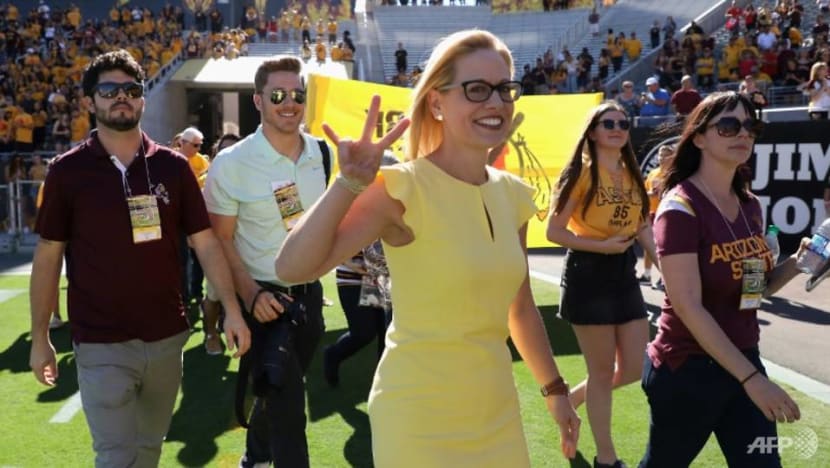 WASHINGTON: Arizona Republican Martha McSally conceded her razor-thin US Senate race Monday (Nov 12), providing Democrats a key pickup in a state that has not elected a Democrat to the Senate in three decades.
"I just called Kyrsten Sinema and congratulated her on becoming Arizona's first female senator after a hard-fought battle," McSally said in a video statement posted on her Twitter account.
US networks Fox and CNN called the race in Sinema's favor. She will replace the retiring Senator Jeff Flake, a conservative Republican who is a critic of President Donald Trump.
The victory by Sinema, an Arizona congresswoman, will provide Democrats a critical extra vote in the 100-member chamber, which Republicans will still control when the dust settles from last week's closely-watched midterm elections.
With almost all ballots counted from the Nov 6 election, Sinema had expanded her lead each of the last four days. On Sunday evening, Sinema held a lead of 38,197 votes, or 1.72 percentage points.
Trump weighed in to the Arizona race after the election, crying foul when authorities took days to count ballots and used a procedure that allowed voters to confirm their signatures in cases where there were discrepancies.
"Just out - in Arizona, SIGNATURES DON'T MATCH. Electoral corruption," Trump said on Twitter, citing no proof of wrongdoing.
"Call for a new Election? We must protect our Democracy!"
Sinema, who at 42 will be one of the Senate's youngest members, said she would be addressing supporters Monday night in Phoenix.
"As long as I've served Arizona, I've worked to help others see our common humanity & find common ground," she said on Facebook.
"That's the same approach I'll take to representing our great state in the Senate, where I'll be an independent voice for all Arizonans."
Her race was one of three Senate battles that remained undecided.
A fierce fight remains in Florida, where authorities are conducting a recount in the race for the seat held by Democratic Senator Bill Nelson, who is facing a challenge by Republican Rick Scott.
Mississippi's Senate race is headed to a run-off, which is expected to be won by Republican incumbent Cindy Hyde-Smith.
The Arizona race was among the most hotly contested of 2018, with a reported US$50 million spent between the two parties and outside groups.
McSally is famous for being America's first female fighter pilot to fly in combat. She had embraced Trump and his policies during her Senate race.