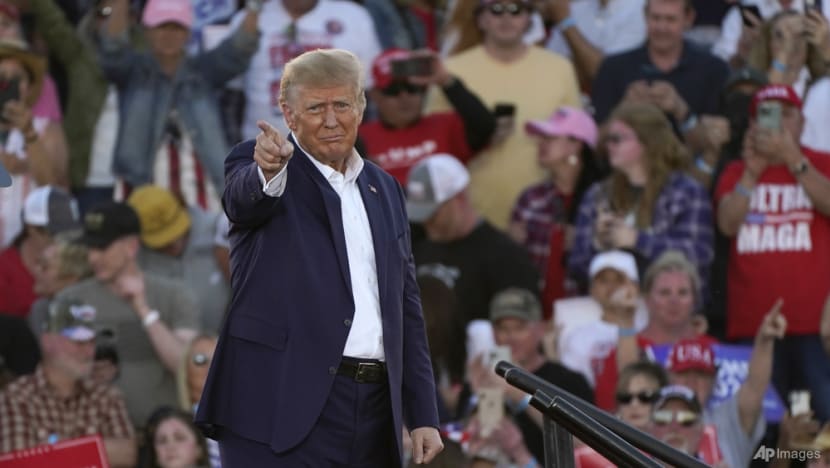 WACO, Texas: 
Donald Trump used his first election rally in Waco, Texas, to rail against the prosecutors investigating him, employing dark and conspiratorial language to fire up his base ahead of next year's Republican primary elections.
Trump told supporters gathered at Waco's airport on Saturday (Mar 25) that the investigations swirling around him were "something straight out of the Stalinist Russia horror show".
"From the beginning it's been one witch hunt and phony investigation after another," he said.
The legal threats hanging over the former president were front of mind for some attendees, many of whom flashed signs saying "WITCH HUNT".
Trump is being investigated by prosecutors in Manhattan for campaign finance violations stemming his alleged payment of hush money to an adult film actress ahead of the 2016 election. A special counsel appointed by the Department of Justice is investigating allegations he hoarded top-secret documents and masterminded a plot seeking to overturn the 2020 election.
Trump held his rally in Waco as the city marked the 30th anniversary of a raid by federal agents on the Branch Davidians religious sect there that resulted in 86 deaths, including four law-enforcement officers. Many right-wing extremists see the raid as a seminal moment of government overreach, and critics saw the rally's timing as a nod to Trump's far-right supporters.
A Trump campaign spokesperson said Waco was chosen for what the former president has billed as his first major rally of the 2024 presidential race because it is situated between several major population centers and has the infrastructure to host a large event.
Trump doesn't just face legal peril. His effort to lock in the Republican nomination faces a potential challenge from Florida Governor Ron DeSantis amid signs that his own support is softening, at least in places like New Hampshire, an early primary battleground.
"I'm not a big fan," Trump said of DeSantis, accusing of him of plotting to slash social security.
"Florida has been tremendously successful for many years, long before this guy became governor."
The former president is seeking to turn the hush money case in New York to his advantage by raising money off it and using it to rally supporters. On Friday, he issued an apocalyptic warning, saying the country faced potential "death & destruction" if he was charged with a crime.
Trump's escalating rhetoric has repelled at least some within his own party.
"Trump is walking on a high wire without a net, telegraphing that he has nothing to lose and is willing to risk dangerous outcomes to rally support," said Ron Bonjean, a Republican strategist in Washington.
LITTLE RESPONSE
Few supporters have heeded his calls to take to the streets to protest his possible indictment in the Manhattan case. Those calls will likely invite closer than normal scrutiny of how many people attend Saturday's rally - which appeared to have drawn several thousand people.
Matt Schomburg, 45, said he believed the rally was important to energise his supporters for the 2024 race.
"We are so divided as a country and Trump did so many good things for the economy, the border – we'd just love to have his leadership again," said Schomburg, who works in insurance and is from Houston.
While some pundits had expressed concerns about possible violence, the atmosphere was festive and there were no reports of trouble, although some rallygoers struggled with the heat. Medics were called in to assist one woman who passed out near the media pen.
Aside from his attacks on law enforcement and DeSantis, Trump's speech was largely devoted to prosecuting old grievances and making extreme claims about his enemies. Several times Trump repeated the false claim that his election loss in 2020 was due to a systemic fraud orchestrated by the Democrats.
Trump painted the stakes of the next election in apocalyptic terms, speaking of "demonic forces" trying to demolish the country, which he said was at risk of falling into a "lawless abyss" unless he is voted back into the White House. He described some American officials and senior U.S. politicians - including Senate Republican leader Mitch McConnell - as a bigger threat to America than China or Russia.
"Either the Deep State destroys America or we destroy the Deep State," Trump said.