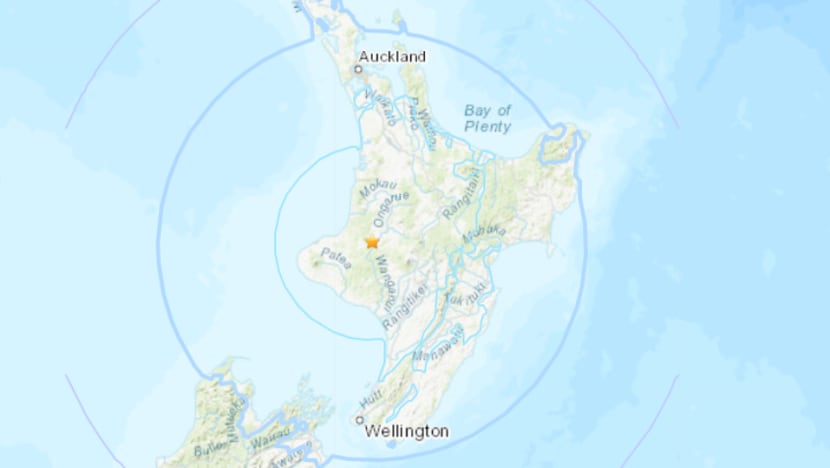 SYDNEY: An earthquake of magnitude 6.1 rattled parts of New Zealand's North Island on Tuesday (Oct 30), the United States Geological Survey said.
The tremor was felt by thousands of people, although there were no immediate reports of damage or casualties.

It was felt in Wellington during a parliamentary sitting, prompting deputy speaker Anne Tolley to stop deliberations for lawmakers to seek refuge as a precaution. 
Civil Defence Minister Kris Faafoi said proceedings in the parliament house were temporarily suspended because of heavy shaking in the building.
"We all felt it in the house, I was in there at the time ... and just for the immediate safety of those in the house (the speaker) saw fit to suspend proceedings," he said.
"I think that was the wise thing to do as we felt it quite heavily."
Ken Wheeler, manager of a hardware store at Taumarunui, 31km northeast of the epicentre, said it was "just a little wobble".
"We've got quite a gift section here, with crystal glasses, and it did nothing."
The quake had initially been assessed at a magnitude of 6.2.
The epicentre of the quake was just to the east of Waitara, a coastal town halfway between the North Island cities of Auckland and Wellington.
There were no immediate reports of damage in the nearby coastal town of New Plymouth.
New Zealand's GeoNet quake monitor said about 15,600 people felt the shaking, which most described as moderate or light.
Prime Minister Jacinda Ardern said it was "widely felt across central NZ", despite the epicentre being at a depth of more than 200km.
She urged Kiwis to "check on those around you".
According to the New Zealand Herald, the earthquake was one of the largest in New Zealand since a magnitude 7.8 tremor struck near Kaikoura in November 2016, which killed two people.

New Zealand lies on the boundary of the Australian and Pacific tectonic plates, which form part of the so-called "Ring of Fire", and experiences up to 15,000 tremors a year.
Prince Harry and his wife Meghan Markle are currently on tour in New Zealand, although the quake does not appear to have been strongly felt in Auckland, where the British royals are.