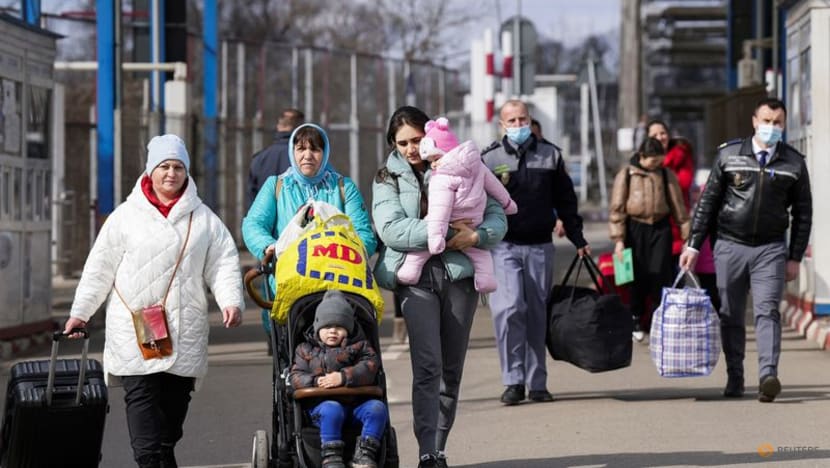 BRUSSELS: The EU's executive said on Sunday (Feb 27) that Europe was facing its biggest humanitarian crisis in many years following Russia's invasion of Ukraine, and the number of Ukrainians internally displaced by the strife could be more than seven million.
"We are witnessing what could become the largest humanitarian crisis on our European continent in many, many years. The needs are growing as we speak," said Janez Lenarcic, European Commissioner for Humanitarian Aid and Crisis Management.
"So for the humanitarian situation overall, the currently expected number of displaced Ukrainians is over seven million," he told a news conference in Brussels after a special meeting of EU member states' interior ministers to discuss the crisis.

A European Commission official later clarified that Lenarcic was giving "estimations in case the aggression continues", based on UN information.
Citing UN estimates, he said around 18 million Ukrainians will be affected by the conflict in humanitarian terms in the country or neighbouring countries, seven million internally displaced and four million who flee the country as refugees.
"Even though these are very rough estimates, the figures are huge, and we have to prepare for this kind of emergency, which is of historical proportions," Lenarcic added.

Under cooperation agreements, Ukrainians with passports bearing biometric data are allowed to enter the EU without a visa and stay for up to three months.
But EU Home Affairs Commissioner Ylva Johansson said the bloc needed to be ready to host them beyond that duration - and that it needed to prepare for potentially "millions" of arrivals from Ukraine.
"It would be the right time to use the Temporary Protection Directive," she said.
The directive was originally drawn up for refugees from the conflicts that wracked the former Yugoslavia, with provisions for handling a massive inflow of people and measures to distribute them across the EU's 27 nations.
Belgium was on the forefront of the member states calling for the protection directive to be applied.
"At this historical moment we need to take the right decision. Taking the right decision means ... the Temporary Protection Directive being put in place," Belgian Immigration Minister Sammy Mahdi said.
For the tool to be used, though, a qualified majority of EU states - 15 of the 27 countries representing a total of at least 65 per cent of the bloc's population - need to back it.
Johansson said she was preparing a proposal to activate it, which should be presented to interior ministers at another meeting scheduled for Thursday.
According to the latest situation report from the UN's Office for the Coordination of Humanitarian Affairs (OCHA), issued late on Saturday, "more than 160,000 people have reportedly been internally displaced".
"Over 116,000 have been forced to flee across international borders into neighbouring European countries" based on UNHCR estimates, OCHA added.
The document said the Ukrainian government estimated that there could be "as many as five million refugees in worst-case scenario".