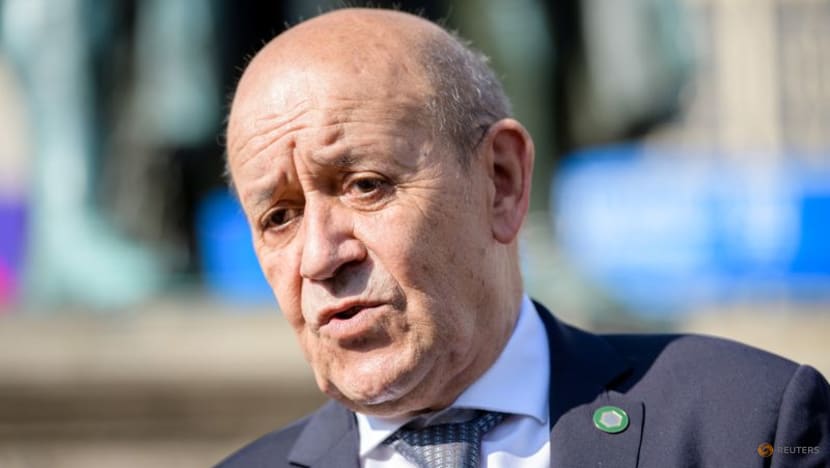 PARIS: France is in a "crisis" with the United States and Australia after Canberra's cancellation of a multi-billion dollar submarine order led Paris to recall envoys from its allies, French Foreign Affairs Minister Jean-Yves Le Drian said.
France said on Friday (Sep 17) it was recalling its ambassadors from Washington and Canberra over a trilateral security deal also involving Britain which sank the submarine contract with Paris.
"The fact that, for the first time in the history of relations between the United States and France, we are recalling our ambassador for consultations is a grave political act that shows the intensity of the crisis today between our two countries and also with Australia," Le Drian told France 2 television.
"There has been duplicity, contempt and lies - you can't play that way in an alliance," he added.
Canberra announced on Thursday it would scrap its 2016 deal with France's Naval Group to build a fleet of conventional submarines and instead build at least eight nuclear-powered ones with US and British technology after striking a trilateral security pact.
Le Drian said French President Emmanuel Macron had not spoken with US President Joe Biden about the submarine issue.
The minister again drew a parallel between the US president's action and the unpredictable style of his predecessor Donald Trump, adding that Biden had acted "without the tweets but with a sort of solemn announcement that is rather unbearable".
Le Drian also repeated criticism of what Paris sees as opportunism from former European Union member Britain in joining forces with Washington and Canberra, calling London "the spare tyre" of the initiative.
NATO would have to take account of what has happened as it reconsiders strategy at a summit in Madrid next year, he added.
France would make a priority now of developing a EU security strategy when it takes on the bloc's presidency at the start of 2022, he said.
Admiral Rob Bauer, chair of NATO's Military Committee, earlier played down the dangers, saying it was not likely to have an impact on "military cooperation" within the alliance.
"RESOLVE OUR DIFFERENCES"
Biden announced the new Australia-US-Britain defence alliance on Wednesday, extending US nuclear submarine technology to Australia as well as cyber-defence, applied artificial intelligence and undersea capabilities.
The pact is widely seen as aimed at countering the rise of China.
The move infuriated France, which lost a contract to supply conventional submarines to Australia that was worth A$50 billion (US$36.5 billion) when signed in 2016.
A White House official on Friday expressed "regret" over the French envoy's recall but added, "We will continue to be engaged in the coming days to resolve our differences, as we have done at other points over the course of our long alliance."
State Department spokesperson Ned Price said in a tweet that Washington understood France's position and was in "close contact" with Paris.
He added that the issue would be discussed "at the senior level", including at the United Nations General Assembly next week, which both Le Drian and US Secretary of State Antony Blinken will attend.
Le Drian had on Friday described the contract rupture as a "stab in the back" and said the behaviour of the Biden administration had been comparable to that of Trump whose sudden changes in policy exasperated Europe.
Australia has also shrugged off Chinese anger over its decision to acquire the US nuclear-powered submarines, while vowing to defend the rule of law in airspace and waters where Beijing has staked hotly contested claims.
Beijing described the new alliance as an "extremely irresponsible" threat to regional stability, questioning Australia's commitment to nuclear non-proliferation and warning the Western allies that they risked "shooting themselves in the foot".