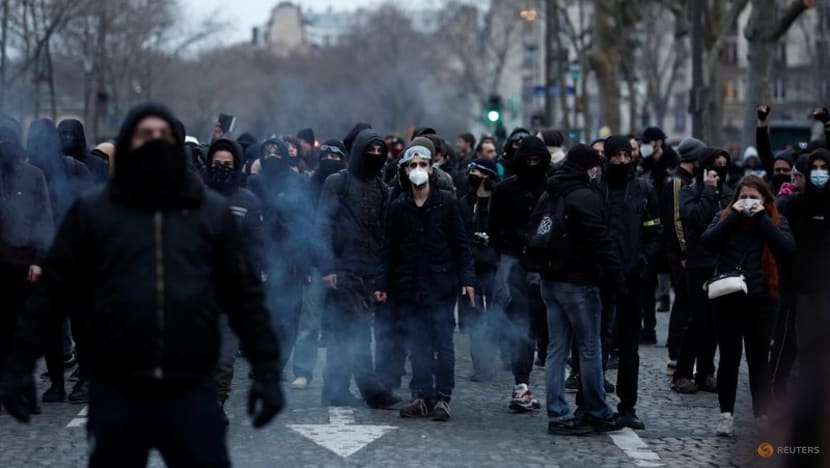 PARIS: French Labour Minister Oliver Dussopt said on Wednesday (Feb 1) that raising the retirement age to 64 was "non-negotiable", a day after more than a million people marched in protest at the proposed measure and a union leader called for rolling strikes.
Opinion polls show a substantial majority in France oppose increasing the retirement age to 64 from 62, a move President Emmanuel Macron argues is vital to ensuring the viability of the pension system.
A total of 1.272 million people took part in the protests nationwide on Tuesday, up slightly from the first nationwide demonstration on Jan 19, the Interior Ministry said.
"If we do not go to 64, the pension system will not break even. What is not negotiable is the issue of returning to break-even," Dussopt told France 2 Television.
"Mobilisation was large, this should lead us to continue to explain it," he added.
Hard-left CGT Union leader Philippe Martinez called for more industrial action, accusing the government of playing down opposition to its reform.
"I believe in rolling strikes. The government is trying to minimise the discontent. The prime minister and the president are leading us to it. They are playing the tug of war," he told France Inter radio.
For unions, the challenge however will be maintaining walkouts at a time when high inflation is eroding salaries.
Union leaders at a joint news conference at the end of the march on Tuesday said they would organise more strikes and demonstrations against the reform on Feb 7, a Tuesday, but also on Feb 11, a Saturday when most people are not working.