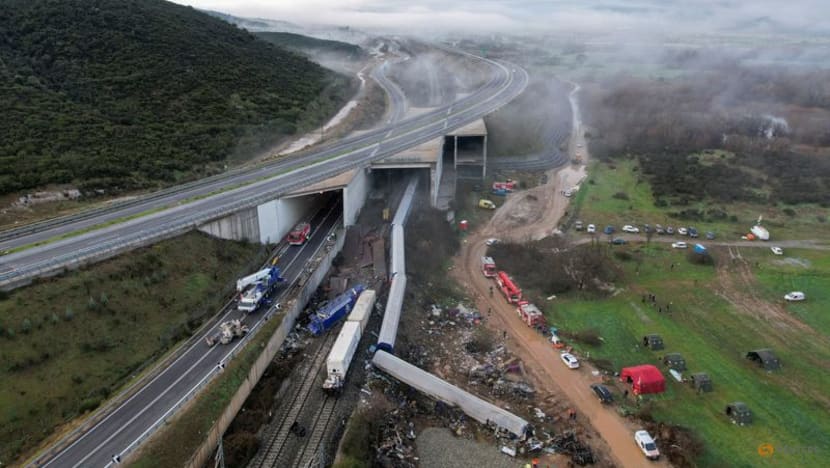 ATHENS: On Feb 7, Greek rail workers issued a statement complaining about yet another minor accident on the network earlier this year and warning a more serious incident was all but inevitable without urgent improvements to safety systems.
"We won't wait for the accident which is about to happen to see everyone shed crocodile tears ... safety should be on the front line," wrote the rail workers' union.
It turned out to be tragically prescient. Three weeks later a passenger train with more than 350 people on board collided head-on with a freight train on the Athens-Thessaloniki line, both travelling at speeds approaching 160kmh.
At least 57 people were killed in the worst rail disaster in Greek history.
While investigators are still piecing together events leading up to the accident last Tuesday, the government says initial indications point to human error.
The duty station master in the nearby city of Larissa has been charged with several offences and jailed pending trial. His lawyer said he accepted responsibility "proportionate to him", but that other factors were also at play.
Some rail workers and industry sources who spoke to Reuters pointed to remote surveillance and signalling systems, which control train traffic and guide drivers, saying they had not been functioning properly for years.
Larissa station had a local signalling system that tracked trains for a distance of about 5 km (3 miles), government spokesman Giannis Oikonomou said on Monday. That meant station masters had to communicate with each other and drivers by radio to cover gaps and signals were operated manually.
Railway unions have blamed years of underinvestment and understaffing - a legacy of Greece's decade-long debt crisis.
"That section has been a black hole," said a railway source close to the matter, referring to the stretch of track near Larissa.
"That's why station masters, in line with European railway regulations, have had to contact each other, once a train enters or leaves a station," the source told Reuters.
Prime Minister Kyriakos Mitsotakis, facing growing public anger over the disaster months before his term expires, appeared to accept some of the criticism. He apologised on Sunday on behalf of his and previous governments and saying that if the remote systems had been fully operational "it would have been, in practice, impossible for the accident to happen".
The management of state-owned Hellenic Railways Organisation (OSE), which is responsible for managing and maintaining the rail infrastructure, resigned after the crash. OSE declined to comment on Reuters questions about the state of safety systems, citing that resignation.
Oikonomou said the crash took place at a section where remote surveillance and signalling systems had not yet been set up. Systems that could have prevented such a crash have been installed on 70 per cent of the Athens-Thessaloniki line, he said.
GOING BACKWARDS
OSE did have remote surveillance in place from 2007 until 2010 at the section where the accident happened, Yiannis Kollatos, a former station master with the company who set up and operated the technology in Larissa, told Reuters.
But in the years after 2010, that system gradually creaked, with underfunding and workforce cuts leading to faulty maintenance of the equipment, the railway source said.
Panagiotis Terezakis, a management consultant to OSE, concurred.
"After 2011 this system started gradually to collapse. It was not maintained, to the point where the telecommanding system collapsed almost in its entirety," he told Reuters.
Terezakis and the government said cable theft along the network was common. "If part of the system is cut and I don't have the staff to fix it the next parts of the system start tripping as well," Terezakis said.
OSE, which was broken up in 2010 under the terms of Greece's first bailout, issued a statement on Sunday saying it would do everything possible for justice to be served over the causes of the accident.
In 2014, OSE ordered a revamp of the remote traffic control and signalling system that was due to be completed in 2016. But nearly a decade later, the equipment has not been installed throughout the 2,500km rail network.
Under that plan, OSE's construction manager, ERGOSE, signed a €43 million deal with engineering company Alstom Transport and Greek Tomi SA in 2014 to restore remote surveillance and signalling for some sections of the Athens-Thessaloniki route.
Alstom said it was fully cooperating with the Greek authorities and its customers to "assist with its technical expertise in the analysis of the recorded data on the sections of the line already equipped".
Terezakis said that the remote control system now covered about 55 per cent of the railway network, with the rest seen getting the equipment by September.
ERGOSE has also been in charge of installing a European Train Control System (ETCS) on rail tracks and on the trains, the EU-wide benchmark allowing for constant supervision of a moving trains and emergency braking. Such a system is used in other European countries including France, Germany and Belgium.
The company has delivered the trackside equipment for part of the Athens-Thessaloniki route but the remote control and signalling system must be fully operational in each section before it can work.
"CHRONIC ILLS"
Rail workers, who began a strike last week in response to the disaster, have repeatedly complained about understaffing.
"There are currently 133 station masters, while there should have been 411," said a third official from OSE.
Weeks before the accident, OSE had sought to hire 73 temporary station masters for six months starting April, according to a company document.
Hours before the carnage, another service on the same track was delayed, after high-voltage cables hit the train as it pulled into a station. The service was immobilised, and passengers were transported by bus to Thessaloniki. A similar incident with a severed cable was recorded in October 2022.
Greece's Regulatory Authority for Railways said it has launched a probe to examine if safety systems were in line with national and European regulations.
In its latest comprehensive safety report, from 2019, the regulator said that theft and financial problems had led to the destruction of signalling equipment along all main railway corridors.
The government has vowed to find the root cause of Tuesday's tragedy and a prosecutor has been appointed.
"Ιt's not one or two causes. It has to do with chronic ills and weaknesses of the Greek public administration," government spokesman Oikonomou said.