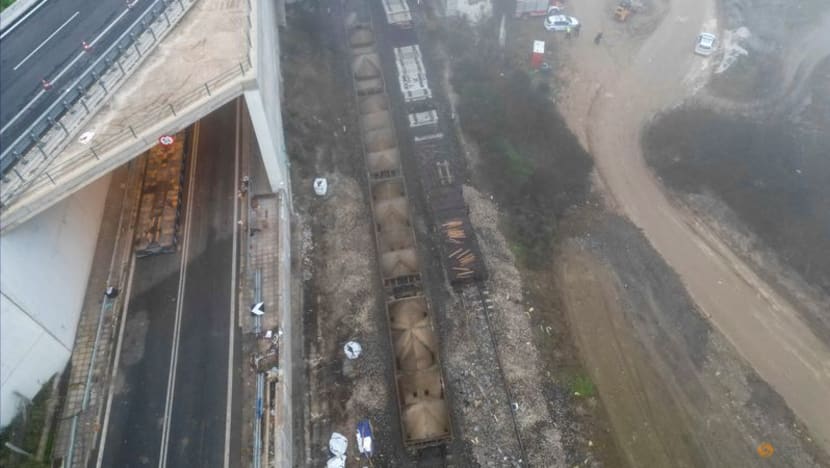 ATHENS: Greek rail workers went on strike for a sixth day on Monday (Mar 6) to protest over safety conditions following a train crash last week that killed 57 people.
The busy rail route that connects the capital Athens with the northern city of Thessaloniki has been suspended pending investigation into the Feb 28 disaster, when two services on the same track were involved in a head-on collision.
Almost all the victims, many of them university students, were in the fast-speed passenger train which hit a freight train.
A rolling strike by rail workers since the crash has brought passenger and freight rail services to a standstill across the rest of Greece.
Railway workers' unions and train drivers have extended their strike until Wednesday, saying that safety systems throughout the rail network have been deficient for years.
The crash has also prompted anti-government protests over the past week across the country, including one drawing 10,000 people in central Athens on Sunday, demanding better safety standards on the rail network.
A rail employee on duty at the time of last week's crash has been held in custody pending trial. Labour unions say the country's rail network has been collapsing under cost-cutting and under-investment, a casualty of the debilitating debt crisis which afflicted Greece from 2010 to 2018.
Authorities have not disputed this, and on Sunday Prime Minister Kyriakos Mitsotakis acknowledged decades of neglect could have contributed to the disaster.
Greece sold its state-owned railway operator under its international bailout programme in 2017 to Italy's Ferrovie dello Stato Italiane. Now called Hellenic Train, the company is responsible for passenger and freight, while Greek state-controlled OSE is responsible for rail infrastructure.
The European Union will provide technical support to Greece to help it modernise its railways and improve safety, EU Commission President Ursula Von der Leyen said on Twitter after speaking to Mitsotakis on Monday. 
"Rail safety is paramount," she said.