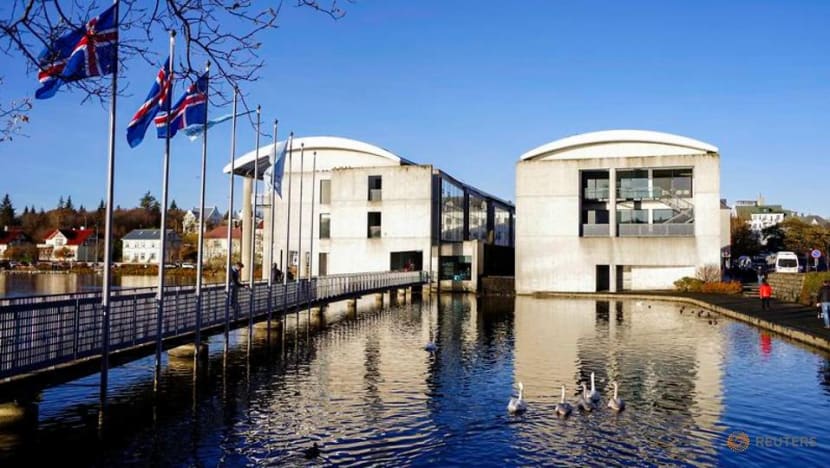 REYKJAVIK: Thousands of women across Iceland walked off the job on Wednesday (Oct 24) to demonstrate for the right to equal pay, in an event that takes place regularly on Oct 24.
The women walked off the job at 2.55pm, a symbolic time after which they are technically not paid, as women in Iceland - a country renowned for its gender equality - earn only 74 per cent of the average male wage, according to Iceland Statistics.
"My husband has always had a better salary than me, although we have almost the same education ... just because he is a man," said Gudridur Benediktsdottir, a 68-year-old preschool teacher, one of thousands attending a protest held in the capital Reykjavik.
"I don't want my girls and grandchildren to live like that," she added.
Organisers of the protest, the fifth such demonstration since 1975, noted that women are now paid for 30 minutes more work than in 2010.
But at that rate, it will be 2047 before women receive the same pay as men.
"I'll be 49-years-old," Birgitta Bjork Gunnarsdottir, a young bookstore cashier, exclaimed.
She was among the thousands who turned out for the Reykjavik gathering, listening to speeches, poems, songs and chanting slogans to protest against the wage gap between men and women, harassment in the workplace, and sexual violence.
"Don't Change Women, Change the World," was the theme of this year's Women's Day Off, which organisers said was even more topical in the wake of last year's #MeToo campaign.
For nine years, Iceland has held the top position in the World Economic Forum's ranking of gender equal countries.
And yet, women's gross hourly wages were in 2016 on average 16.3 per cent lower than men's, according to Eurostat. The EU average was 16.2 per cent.
Bjorn Thors, a 40-year-old actor, said he came out to support women.
"It's important to notice the difference between the sexes in the workforce and the workplace and to take part in the struggle for equality," he said, his one-year-old son in his arms.
At the first such protest in 1975, 90 per cent of women in Iceland walked off the job, and 25,000 people gathered in the capital in one of the country's biggest demonstrations ever.
Five years later, in 1980, the country elected Vigdis Finnbogadottir as president, the first woman in the world to be democratically elected as head of state.
Iceland has a new law in force since January 2018 which requires all Icelandic companies with more than 25 employees to be able to prove, with documentation, that a man and woman doing the same job are receiving the same salary.