TEL AVIV: A gunman who allegedly killed two people in Tel Aviv and sent the city into lockdown died on Friday (Apr 8) in a shootout with Israeli security forces who hunted him all night, police said.
"We succeeded this morning, in operational and intelligence cooperation, in closing a circle and eliminating the terrorist by exchange of fire," police commissioner Major General Yaakov (Kobi) Shabtai in a statement.
The Shin Bet security agency said agents and special forces found the attacker "hiding near a mosque in Jaffa", referring to the historically Arab quarter of Tel Aviv.
Israeli public radio identified the alleged attacker as a man in his late 20s from the Jenin refugee camp in the north of the Israeli-occupied West Bank.
The attacker had shot at revellers at a busy bar in central Tel Aviv. Police had closed roads and ordered public transportation shut down as they hunted for the suspect with more than 1,000 officers and Israeli soldiers.
A witness at a neighbouring bar described hearing dozens of bullets as terrified patrons scurried to seek shelter.
Unverified social media images showed panicked people fleeing the scene, with glass carpeting the ground.
"It's an atmosphere of war. Soldiers and police are everywhere ... They searched the restaurant, and people are crying," said Binyamin Blum, who works in a restaurant near the scene.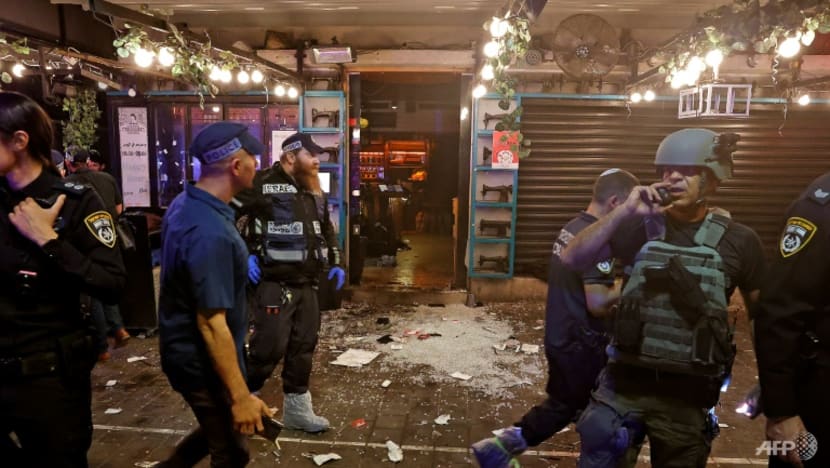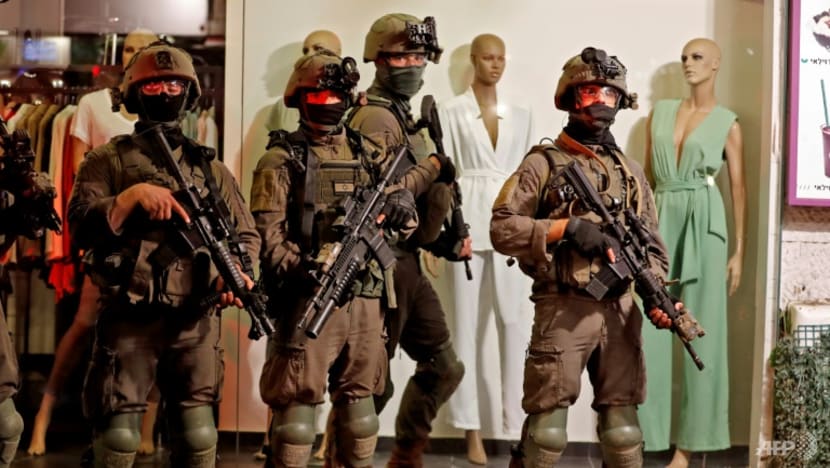 Tel Aviv's Ichilov Hospital, which was treating eight people injured in the shooting, said Friday morning that one of the victims was "in critical condition with an immediate risk to his life".
US Secretary of State Antony Blinken condemned the "terrorist attack" and said Washington would "continue to be in regular contact with our Israeli partners, with whom we stand resolutely in the face of senseless terrorism and violence."
STATE OF ALERT
Outside a cafe, a man comforted a woman sitting on a bar stool as heavily armed police deployed nearby.
Witnesses told AFP they had heard gunshots.
Brenda Ehrlich, 31, an insurance agent from the Tel Aviv suburb of Holon, said she learnt of the attack as she rode a bus into the city to celebrate a friend's birthday.
"I feel like I'm on high alert," she said, as she and her friends took cover.
"I feel like I need to look in all directions to not be caught by surprise. We were thinking of heading home but it feels a little dangerous so we might stay inside in Tel Aviv before we go home," Ehrlich added.
This was the fourth fatal attack in Israeli cities in two weeks, with 13 people killed in the violence.
Last week, the Israeli army raided the northern West Bank after a man from the area killed five people including two Ukrainians in the Bnei Brak Orthodox city near Tel Aviv.
Three fighters from Islamic Jihad, a Palestinian armed Islamist movement, were killed in exchanges of fire linked to these raids.
FEARS OF ESCALATION
Hamas praised the latest attack.
"Hamas congratulates the heroic operation that took place this evening, in the middle of so-called Tel Aviv, which led to the killing of a number of occupying soldiers and Zionist settlers," it said in a statement.
"It is a natural response in defence of our people and our sanctity and sanctuary."
There was also praise from the Gaza-based Islamic Jihad.
One of its leaders, Yussef al-Hasainah, said: "It confirms that the resistance can penetrate the security system ... and that the resistance will continue and that it is the best choice to deter the arrogant enemy".
The Tel Aviv attack also came with Israeli police on alert for the first Friday prayers of the Muslim holy month of Ramadan at Al-Aqsa Mosque in annexed east Jerusalem.
The third-holiest site in Islam, it is a flashpoint in the long-running Middle East conflict and scene of frequent clashes.
Last year, nightly demonstrations in Jerusalem and the Al-Aqsa compound escalated into 11 days of war between Israel and Hamas.