BUCHA, Ukraine/TOKYO: Japan's Fumio Kishida arrived in Kyiv for a meeting with President Volodymyr Zelenskyy on Tuesday (Mar 21), a rare, unannounced visit by a Japanese leader that underscored Tokyo's emphatic support for Ukraine against Russia's invasion.
The Japanese prime minister had been the only leader of the Group of Seven (G7) rich nations yet to visit Ukraine, which has seen an outpouring of popular support in Japan following the Russian invasion.
Zelenskiyy posted footage of him greeting Kishida, whom the Ukrainian leader called "a truly powerful defender of the international order and a longtime friend of Ukraine".
Earlier, Kishida toured the town of Bucha, where the mayor has said more than 400 civilians were killed last year by Russian forces and which is synonymous with Russian brutality during the war.
He laid a wreath outside a church before observing a moment of silence and bowing.
"The world was astonished to see innocent civilians in Bucha killed one year ago. I really feel great anger at the atrocity upon visiting that very place here," Kishida said.
"I would like to give condolence to all victims and the wounded on behalf of the Japanese nationals. Japan will keep aiding Ukraine with the greatest effort to regain peace."
The trip was kept secret until the last minute for security reasons. It is rare for a Japanese leader to make an unannounced foreign visit.
Kishida's trip coincides with Chinese President Xi Jinping's state visit to Russia. In what appeared to be a response to Kishida's trip, Russia's defence ministry said on Tuesday that two of its strategic bomber planes flew over the Sea of Japan for more than seven hours.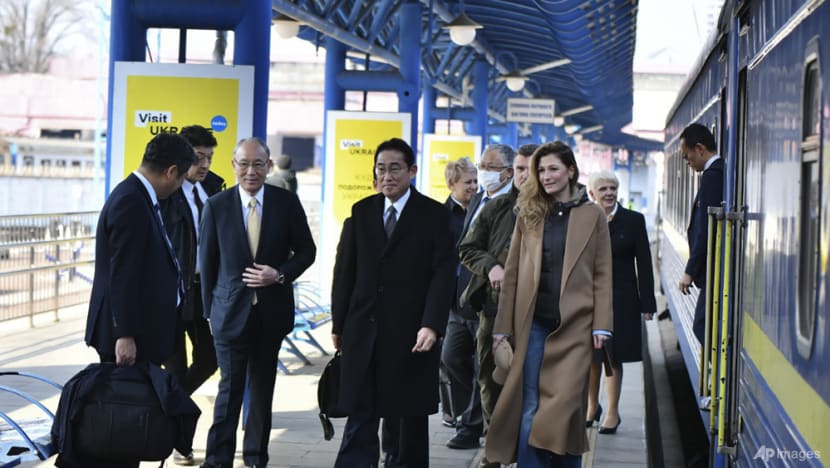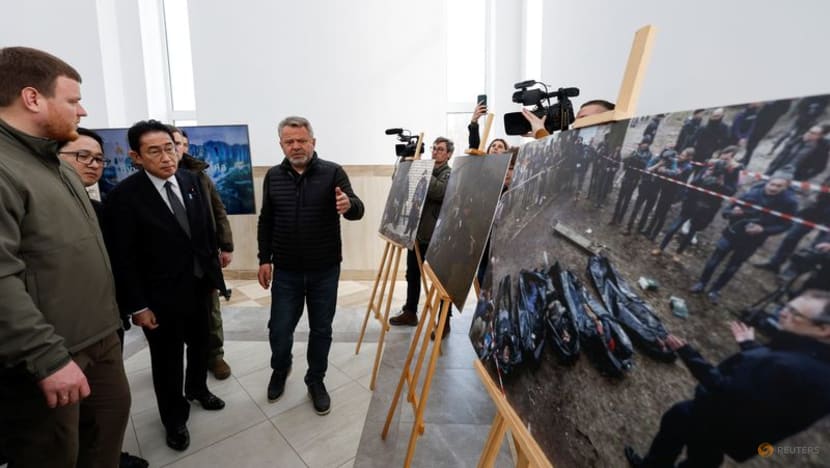 Zelenskiyy said Kyiv had suggested to China that it joined a Ukrainian peace formula to end the war but had yet to receive an answer. Beijing has proposed a 12-point peace proposal, but Kyiv insists on a full Russian troop withdrawal.
Japan is due to host a G7 summit in Kishida's hometown of Hiroshima in May. Tokyo has continually voiced support for Ukraine and joined other G7 countries in extending sanctions against Russia.
Zelenskiyy, speaking at a joint briefing with Kishida, said he would join the Hiroshima summit via an online link.
Public broadcaster NHK showed footage of Kishida talking to officials after his arrival in Kyiv by train, which he had taken from the Polish border town of Przemysl.
Kishida has said that the G7 summit should demonstrate a strong will to uphold international order and rule of law in response to the Ukraine war.
Japan, a key ally of the United States, has its own territorial dispute with Moscow that dates back to the end of World War Two. Russia's invasion has also deepened concern in Tokyo and among the Japanese public about what would happen to Japan if China were to invade Taiwan.
Encouraged by the United States, Japan in December unveiled its biggest military build-up since World War Two, with a commitment to double defence spending to 2 per cent of GDP within five years.
Kishida will also hold talks with his Polish counterpart before returning to Japan on Thursday, the ministry said.
Prior to leaving for Poland en route to Ukraine, Kishida visited India, where he met his Indian counterpart, Narendra Modi.