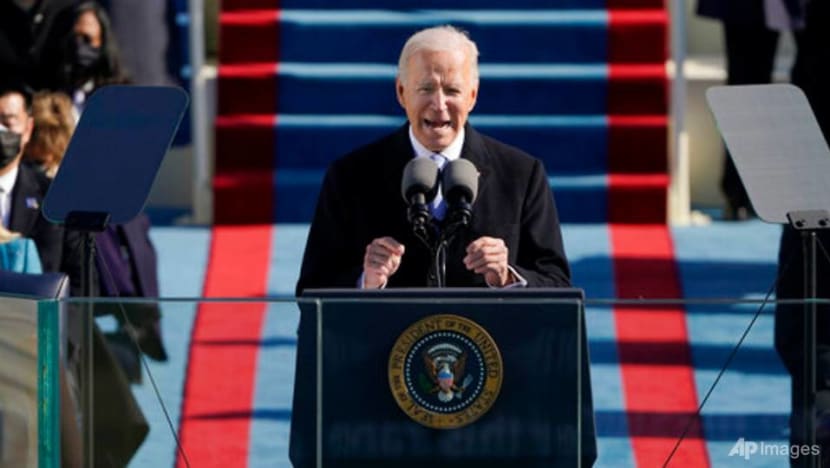 WASHINGTON: Joe Biden on Wednesday (Jan 20) took office as the 46th president of the United States with an optimistic call for unity, vowing to bridge deep divides and defeat domestic extremism two weeks after a violent mob tried to undo his election victory.
On a frigid but sunny day at the very Capitol building that was assaulted on Jan 6, Biden was sworn in moments after Kamala Harris became America's first female vice president, closing the book on Donald Trump's tumultuous four years.
"Democracy is precious, democracy is fragile and at this hour, my friends, democracy has prevailed," Biden said before a National Mall that was virtually empty due to the ultra-tight security and a raging COVID-19 pandemic that he vowed to confront immediately.

"This is America's day, this is democracy's day. A day of history and hope."

"We must end this uncivil war that pits red against blue, rural versus urban, conservative versus liberal. We can do this if we open our souls instead of hardening our hearts, if we show a little tolerance and humility and we're willing to stand in the other person's shoes."
"Together we shall write an American story of hope, not fear, of unity, not division, of light, not darkness. A story of decency and dignity, love and healings and goodness."
But Trump, who falsely said that he was cheated out of a second term and egged on his supporters before their rampage at the Capitol, broke 152 years of tradition by refusing to attend his successor's inauguration.
Biden – vice president for eight years under Barack Obama – appealed to supporters of Trump, pledging to listen to all sides after four years of deep polarisation.
"I will be a president for all Americans," the veteran Democrat said.

But Biden confronted head-on the rise of domestic extremism, as evidenced during Trump's presidency by the Capitol mob, deadly attacks on synagogues and immigrants, and a violent march by neo-Nazis in Charlottesville, Virginia.
The United States faces "a rise of political extremism, white supremacy, domestic terrorism that we must confront, and we will defeat", Biden said.
"Our history has been a constant struggle between the American ideal that we are all created equal and the harsh ugly reality that racism, nativism, fear and demonisation have long torn us apart."

IMMEDIATE ACTIONS
Biden and Harris paid their respects to fallen soldiers at Arlington National Cemetery and then arrived at the White House following a sombre, crowdless parade escorted by the Army fife and drum corps clad in the red coats of George Washington's time.

Biden plans to kick off his presidency with a flurry of 17 orders including rejoining the Paris climate accord, ending the US exit from the World Health Organization, rescinding a ban on visitors from several Muslim-majority nations and halting construction of Trump's cherished wall on the Mexican border.
Biden, who has vowed a major escalation of vaccination against Covid, warned that the "toughest and deadliest period" was still ahead from the pandemic that has claimed more than 400,000 lives in the United States, more than in any other country.
"We must set aside politics and finally face this pandemic as one nation," he said, striking a new tone after Trump's mockery of mask-wearing and business closings meant to halt the virus.
With so many domestic challenges, Biden delved little in his inaugural address into foreign policy, a longtime passion for the former senator, but said: "We will repair our alliances and engage with the world once again."