WASHINGTON: President Joe Biden by all accounts was having a quiet weekend at the White House, joining his wife Jill Biden for dinner at a restaurant on a rare outing in Washington on Saturday (Feb 18).
But behind the scenes, officials at the White House and other agencies were planning intensively for Biden to make an unannounced trip to Kyiv to show solidarity with Ukraine days before the one-year anniversary of Russia's invasion.
After months of planning, Biden on Friday decided to go ahead with the trip, according to the White House.
White House officials said Biden was taken to Joint Base Andrews outside of Washington and departed at 4.15am (5.15pm, Singapore time) on Sunday aboard an Air Force jet, accompanied by a handful of aides. A scaled-back news media presence went along with him - just one reporter and a photographer instead of his usual media pool.
The president flew overnight to the United States' Ramstein Air Base in Germany. The plane was refueled and he flew on to Rzeszow in southeastern Poland. After a one-hour drive, he arrived in Przemysl, a city along the Poland-Ukraine border.
Biden then boarded a train and travelled 10 hours to Kyiv. By then it was Sunday night, and Biden's train travelled in the dark with a heavy security presence on board.
The train came to a stop at the Kyiv-Pasazhyrsky station in the Ukrainian capital at roughly 8am local time (2pm, Singapore time) on Monday. The area around the platform had been cleared and the US ambassador to Ukraine, Bridget Brink, awaited Biden and his staff.
"It's good to be back in Kyiv," Biden said after stepping off the train.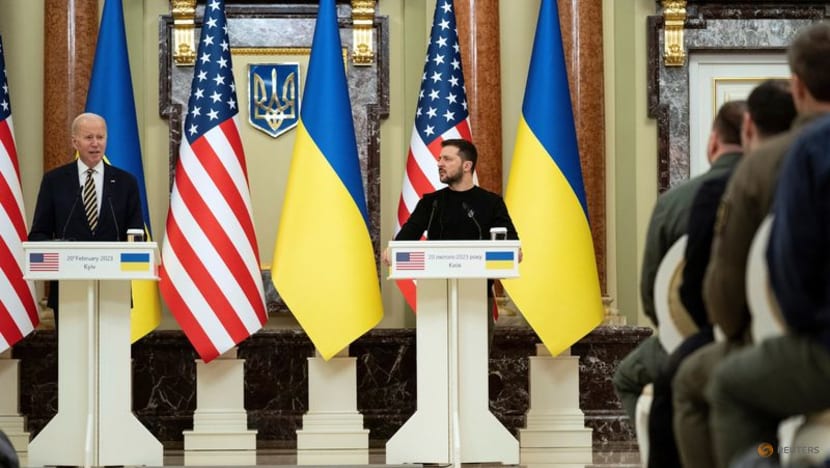 US national security adviser Jake Sullivan, who accompanied the president, said US officials did notify Russian officials that Biden would be travelling to Kyiv. "We did so some hours before his departure for deconfliction purposes," he told reporters on a conference call, declining to provide more details.
Sullivan said the trip had "required a security, operational, and logistical effort from professionals across the US government to take what was an inherently risky undertaking and make it a manageable level of risk".
Residents of Kyiv live under the constant threat of Russian missile and drone attacks.
After his visit, Biden got back on the train for the trip to Przemysl. After arriving there, he made his way to Warsaw.