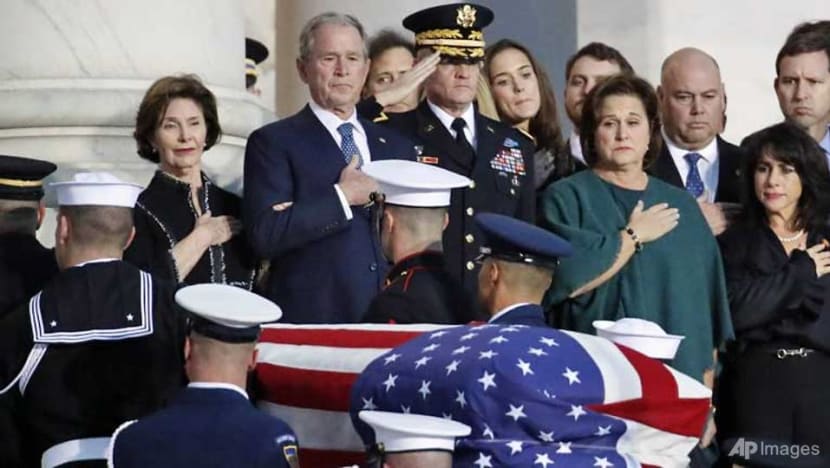 WASHINGTON: The body of 41st US president George HW Bush was placed in the US Capitol to lie in state on Monday (Dec 3) as mourners gathered to remember a hero who kept America "flying high."
Bush died Friday at age 94, at his home in Houston - "a very gentle and peaceful passing," in the words of his lifelong friend and advisor James Baker.

Only the second president to see his son follow him to the Oval Office, Bush is being honored with four days of services and tributes in Washington and in Texas, where he will be buried on Thursday.
The high point of the commemorations will come on Wednesday with a state funeral service at Washington National Cathedral - the first presidential funeral since Gerald Ford died in 2006.
US President Donald Trump was expected to visit the Capitol rotunda later on Monday to pay his respects.
Bush was a decorated World War II fighter pilot, former head of the Central Intelligence Agency, and vice president to Ronald Reagan before winning the White House.
Members of the military served as pallbearers, carrying the flag-draped casket from a hearse into the rotunda for a ceremony attended by his son George W Bush - the nation's 43rd president - and other relatives, as well as Republican leaders and other top officials.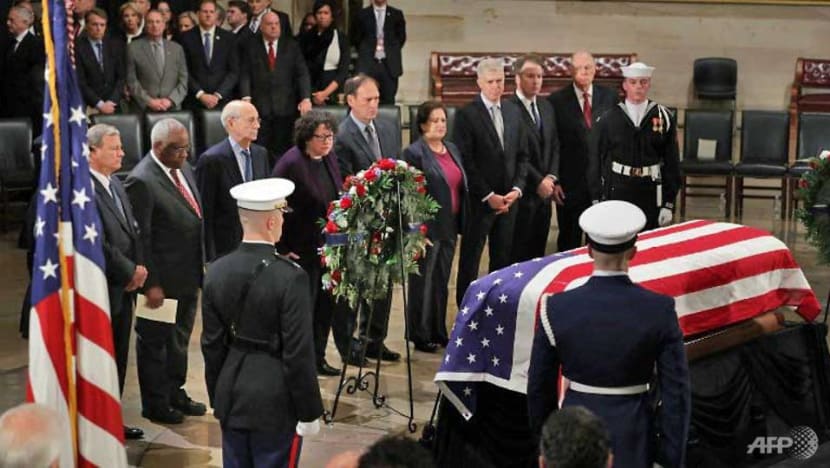 Senate majority leader Mitch McConnell lauded Bush - who occupied the White House from 1989 to 1993 - as a patriot who steered the country as straight as he had steered his airplane.
"He kept us flying high and challenged us to fly higher still. And he did it with modesty and kindness that would have been surprising in someone one tenth as tough and accomplished as he was," he added.
HANDS ON HEARTS
Bush was transported aboard the presidential Boeing 747 - made available at Trump's direction - from Houston to Joint Base Andrews, in Maryland.
The plane is only known as Air Force One when the sitting president is aboard.
Family spokesman Jim McGrath said the flights to carry Bush were being dubbed "Special Air Mission 41."
"A beautiful day In Texas - 'ceiling and visibility unlimited,' Mr. President," he wrote - using a phrase that Bush held dear from his time in the US Navy, and one used by his family and friends to discreetly spread the news of his death.
Relatives in Houston stood with hands on their hearts as the flag-draped casket was carried to the aircraft.
Also present as Bush left on his final trip to Washington was his service dog Sully. McGrath posted a photo of the yellow Labrador lying near Bush's casket Sunday with the phrase "Mission Complete."
Bush is the 12th US president to lie in state in the rotunda. Thousands of Americans were expected to file in to pay their final respects to Bush following the ceremony on Monday.
The casket will be transported to the cathedral for Wednesday's state funeral service - the fourth held there for a former president.
Trump and George W Bush will attend the ceremony, likely along with other living US presidents and dozens of foreign leaders, including Germany's Angela Merkel, and US luminaries.
Former Canadian prime minister Brian Mulroney said he would deliver one of several eulogies, at Bush's request.
The casket will then be flown back to Houston, where the former head of state will lie in repose at St Martin's Episcopal Church - where the Bushes worshipped for decades - until Thursday's funeral.
The remains will then be transported by train for interment at the George HW Bush Presidential Library Center, in College Station, Texas.
Bush will be buried next to his wife Barbara, who died in April, and their daughter Robin, who died of leukemia at age three.

ONE-TERM PRESIDENT
Baker, who served Bush as secretary of state, joined others in paying warm tribute on Sunday talk shows.
Baker called him "far and away the best one-term president we have ever had," alluding to Bush's single biggest political failure - his 1992 election loss to Democrat Bill Clinton.
Baker instead emphasized his friend's foreign policy successes: navigating the end of the Cold War and marshalling a global coalition to eject Iraqi troops from Kuwait in the first Gulf War.
Despite Bush's record approval ratings after "Desert Storm," he disappointed Americans on the domestic front. The US economy slid into recession in 1990, and recovery was sluggish, conditions which contributed to Clinton's victory.
The former president struggled for years with Parkinson's disease, which left him wheelchair-bound and often hospitalized - including after Barbara's death.